Discussion Starter
•
#1
•
so team o'neil rally school in dalton, nh had an open house today and had their practice cars out which where brand new fiestas some were a year old and others it was there first time out on the test track. so first thing we did was took a tour around the 600 acre lot and about 6 miles of rally roads and a lot of other 4x4 trails scattered throughout. after that 3 people at a time got to be co-drivers in the fiestas driven by 3 pro drivers. they had a gravel skid pad and slalom track they took us on. avg speed was about 60 and they never shifted out of 2 the entire time. got to ride in them about 10+ times and it was even better because it was wet out there so sliding around was even more fun. also had free food. it was a really fun time and will have to post when i see it happening again. here are a cple pics i took with my phone.
here is the end of run with a pendulum turn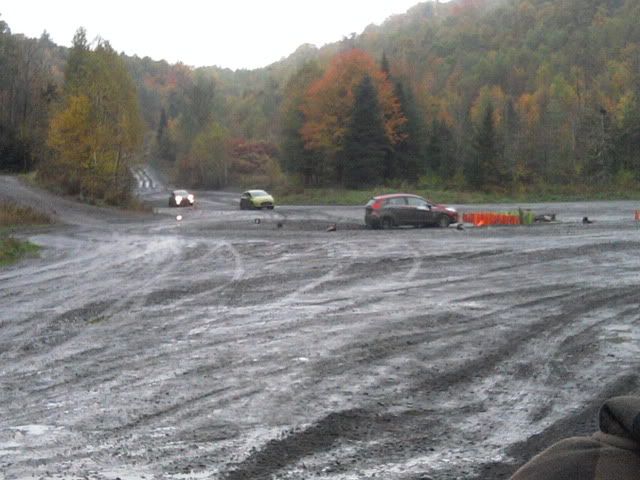 on to the cars. the green ones are a year old and have traction control and brake assistance(i think that is what they called it) turned off so they could left foot brake and slide the car easier. the red ones just got delivered like 2 days ago and this was the first time getting dirty. these still had trac control on so sliding was a bit harder. all the cars were stock with i think the muffler removed, snow tires, and a roll cage loop supporting the middle of the car with a harness bar attached to that and then one in the rear for the 2 backseat drivers. all were equipped with 4 pnt harnesses and we all had to wear protect bike helmets. these cars are a blast with a full car and can take a beaten and will never look at one the same again lol.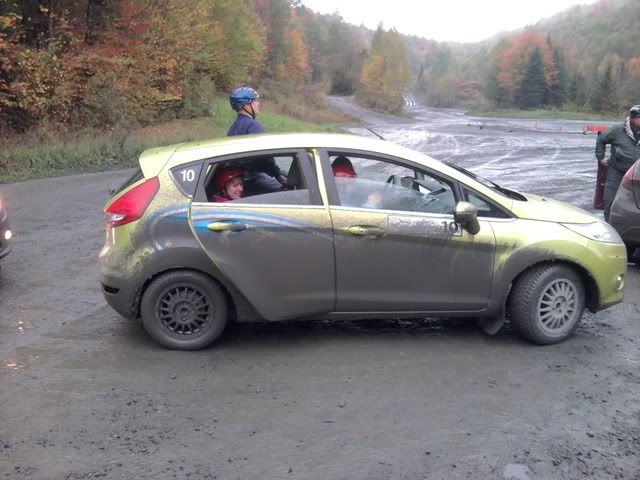 and this was just one of there rally cars they had which was actually last raced by a umass student and the proof is the name on the rear windows. this was all caged up with seats and full rally suspension and engine mods too.