So ... Visiting my family in Dallas TX my brakes starting acting funny and squeaking and all kinds of not so good noises.
Well it turned out to be my rear brake pads were over due for a change.
So I decided, since there are lots of new owners of previously owned SVTs now, I wanted to share a "How-To" do the Rear Brakes since the SVTs have discs instead of drums. And the manuals do not have the SVTs in them ... unless you get the FORD Standard Manual ... which I found is hard to find.
I also looked in the How-To Archive and the Rear SVT ones are not here. I've done this before ... but just wanted to share.
Anyways, here you guys go.
1ST off You want to go to AutoZone and buy a Disc Brake Piston tool.
Now ...
1)
Find a good place to do this. I like finding shade when working on the car ... especially since I live in TX. Goodness.
2)
Put a brick or something equivalent to the other tires that you are not working on. Helps the roll of the car.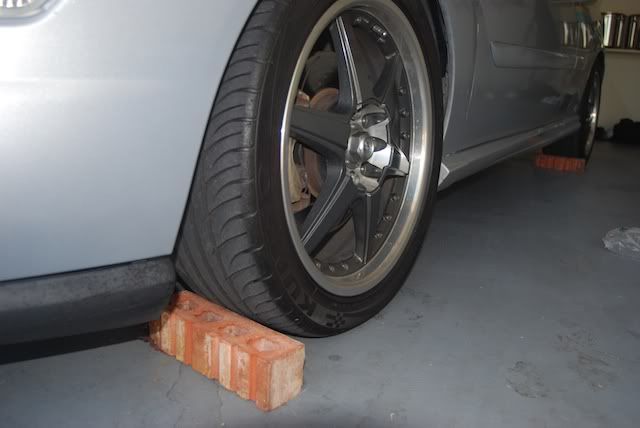 3)
Put your car in 1st Gear and release the E-Brake.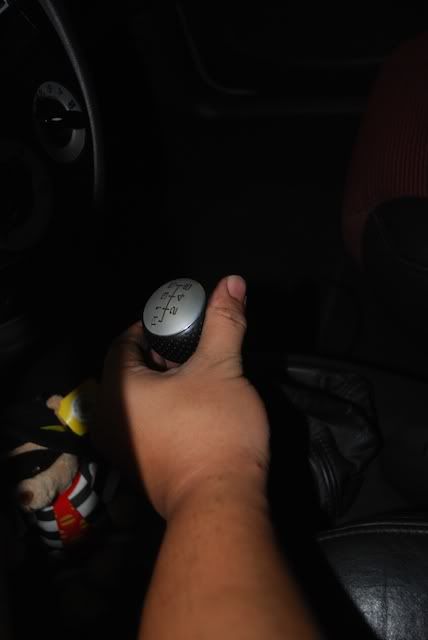 4)
Good a good Hydraulic Jack (Ummm if you use the Small dinky one from Ford in your car ... please be careful) I also recommend some good Jack Stands as well. (If you are new ... )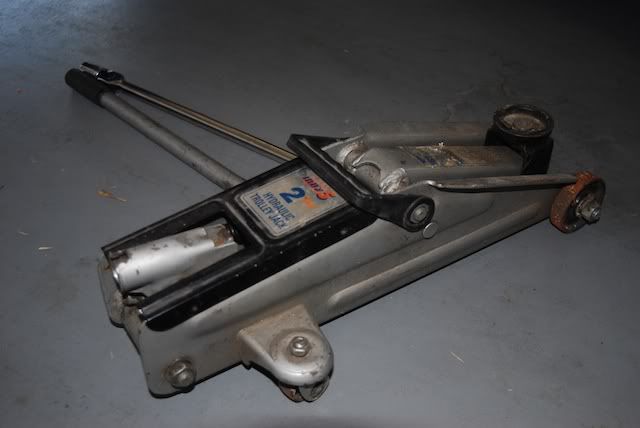 5)
Next Start to Take off the Lugs. I do this in a criss cross pattern that way it's evenly taken off and evenly put on.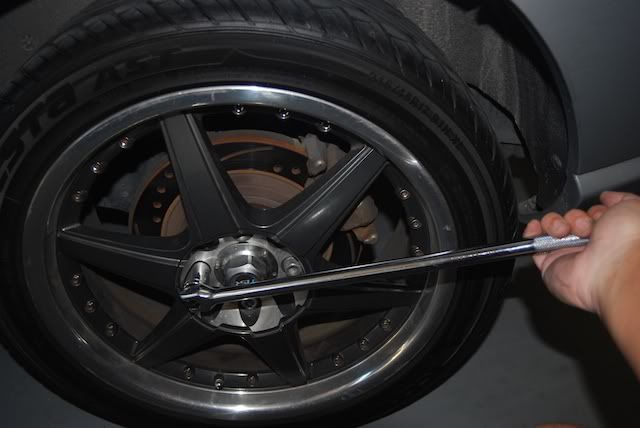 6)
As an extra precaution I put my wheel under the car as well. ... Hey can never be overly Safe. It's just something I do. Wheels are cheaper than fixing the the whole strut and all ... But that's just me.
7)
I would also recommend some good ol' Gloves. Alrighty well lets do this now ...
8)
Now with the wheel off you will see the brake caliper. There are bolts on the back side of the caliper. You will need a 13mm socket and a 15mm wrench to get this off. There are 2 of them. One on top and one on bottom. The 15mm is too help the bolt from just spinning and not coming off.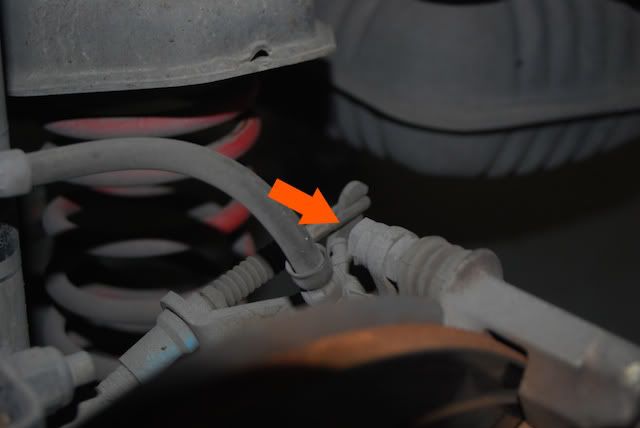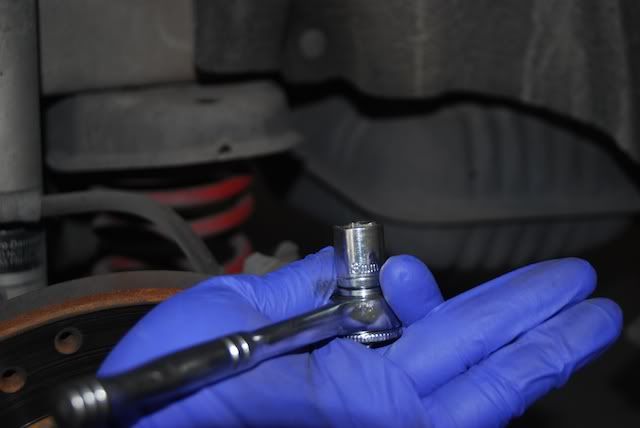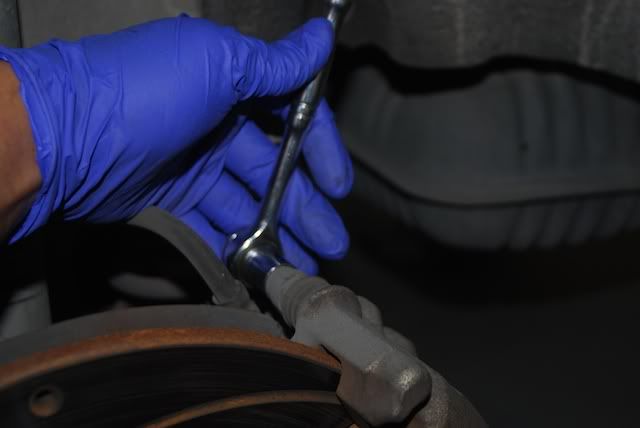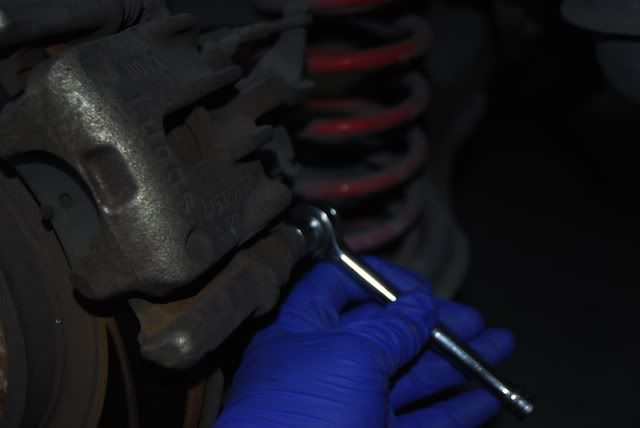 9)
Now that you have the bolt off. You need to wiggles the Caliper off. It's on there. So wiggle with some force. The Force wasn't with me, so I just used my hands and rocked it back and forth til it came off. (Okay that was corny ... anyways).
10)
Take off the pads. Eww some nasty ones here with not much beef. I am embarrassed to show you my other side ... (**OH FOOTNOTE**) When changing brake pads. It is best to change both sides not just one side.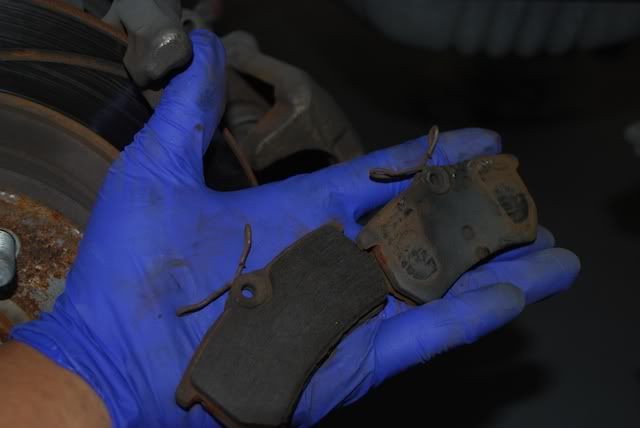 New ones are shiny. Too bad Tommy Boy wasn't around ... I would've bought his ... nevermind.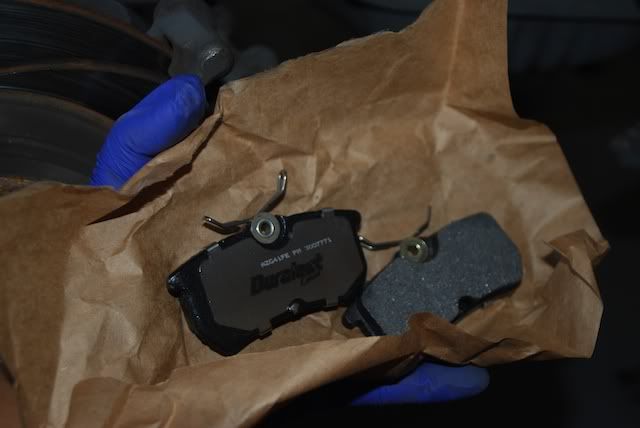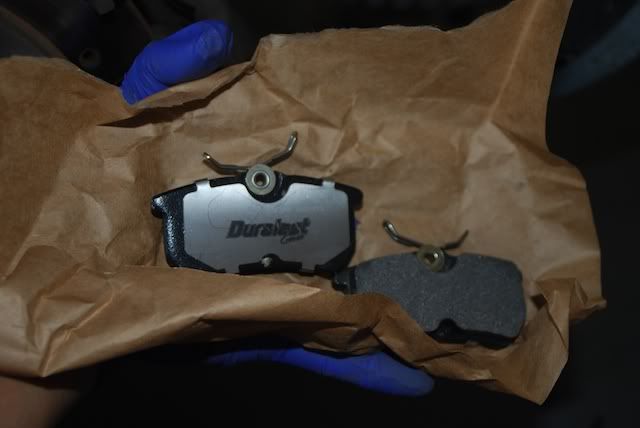 11)
Test Fit.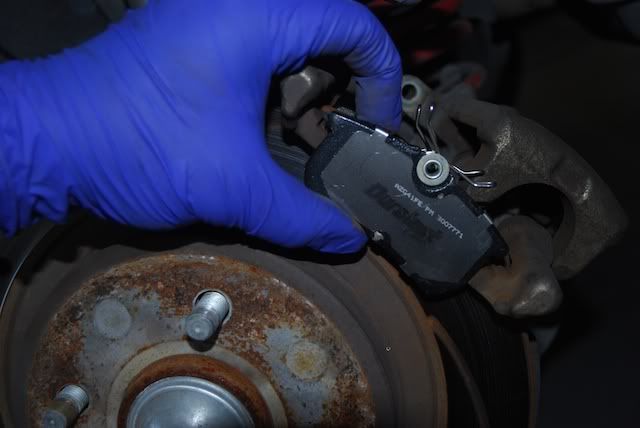 12)
Okay now for the Brake Tool. Here is a pic for those of you still scratching their head.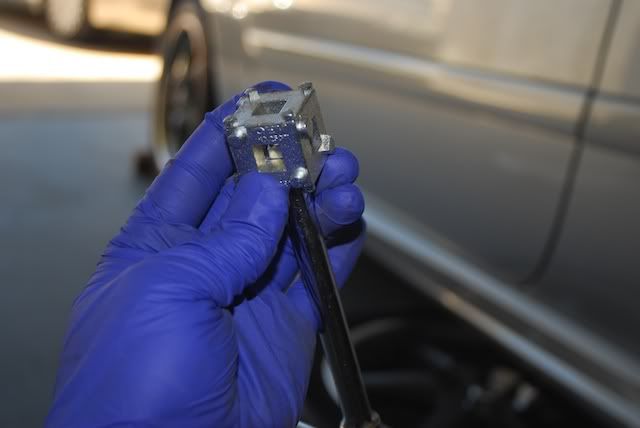 13)
You need to Screw the Brake Piston Back into its home ... funny. Yes people think you push this in when you actually have to turn it in. It screws back in.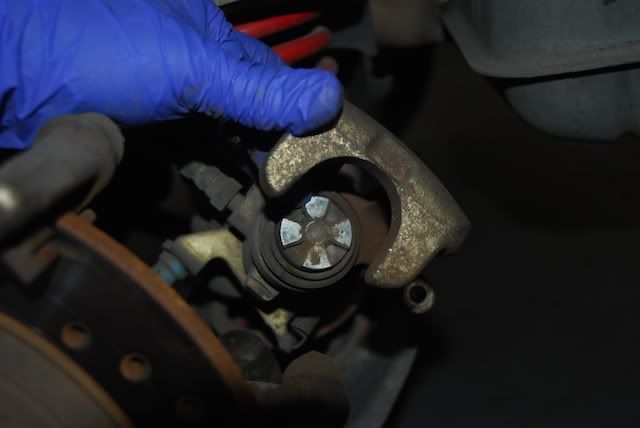 Tool Goes over it.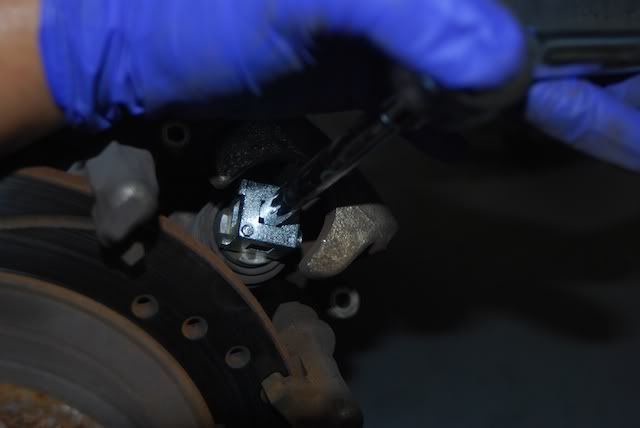 13)
Now once you get the Piston Down, I recommend some good Lube. Brake Lube that is. This helps with some of the Squeaking noise and also helps put the caliper back over the brakes. Easy to slip on ... hehehe ... anyways.
Lube the spots that come in contact with the Brake Pads (NOT THE SIDE OF THE PAD TO THE DISCS!!!)
14)
Okay dokey. Lets put the caliper back over and Put in the Screws.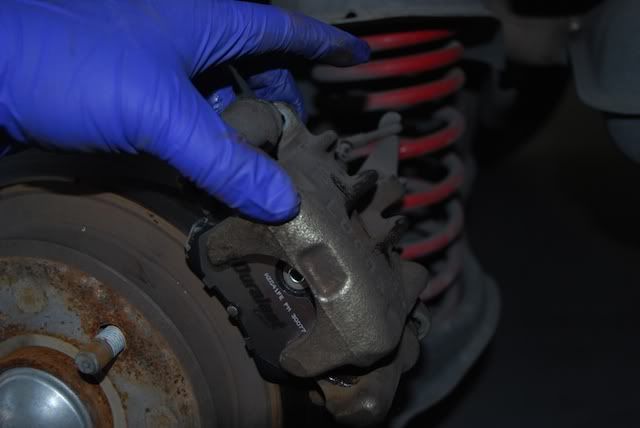 Just reverse the install and you will be done.
Time for some Ice Cream.
Hope this helps many of you. [
]
-Ray-