Discussion Starter
·
#1
·
So I searched all over the boards here and still couldn't make heads or tails out of a somewhat weird issue. I got some new ST170s in from Germany about a month ago. Great lights, but they're not adjusted right. The passenger seems fine. Great throw. The driver seems to be adjusted up (vertical) fine, but it seems to be pointed more right (passenger side) than it should, leaving a gap or "hole" right in front of me.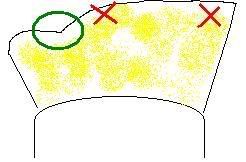 The red X's are were the lights seem to be pointed at, but as you can see form my highly detailed and technical drawing, the green circle is where I'm missing coverage. Is there a way to adjust my left light (low beams)
horizontally
left just a bit?
Pictures of any adjustment points and "how to" would help. Assume I'm 7-years old when explaining it to me.