I have the 2012 Focus Titanium. Original Radio is the 10 speaker Sony/Sync 2 system with Sub Woofer and Amp!.

I Bought a Seicane H7605M
Android 9.1 2012 2013 2014 2015 Ford Focus 9.7 inch HD Touchscreen Car Stereo Radio Head Unit GPS Navigation Bluetooth Support Steering Wheel Control USB WIFI OBD2 Rearview Camera
www.seicane.com
I put it in and some plugs are ignored some not converted. I have no sound other issues!
Attachment #5 and 0 (1st and 2nd Pic) Is the large plug from the 8" monitor screen. not used?
Attachment #7 (3rd Pic)I believe this USB connects Sync to system no adapter and currently unplugged
Attachment #2 and 8 (4th and 5th Pic) Cars Antenna plug no adapter to old style Motorola plug
Attachment #4 (6th Pic) is plug for Flasher and Door Locks and there is no where to plug it in Flasher/Doors Locks did not work
Attachment #1 (7th) is old plug for old volume/Tuner which is not available to new radio yet its plug still plugs in?
Attachment #3 (8th Pic)shows old front face Panel take note there is no plug in for cable #4 on new radio yet there is a plug for spinner on this picture no longer used yet there is a plug in #1!
I like this radio's look and functions I really would like to keep it if I can work this out!
Their Customer service said this after finding out I have an Amplifier
"Please connect the amp wire to your car's amp wire first". There is an Amp wire on new head unit but were do I splice it in?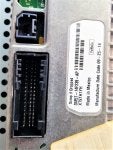 Help me please!
Bob