Discussion Starter
·
#1
·
I have a really bad power steering leak on my focus. I searched the forums but couldn't find anything.
First of all I am not much of a car fixing guy although I like the challenge. I've used this forum many times to fix minor repairs by searching the forums. So please know I'm half way car illiterate and speak to me in lay mans terms.
I have some pictures. When I fill up the power steering and turn the car on and turn the wheel the fluid comes out the part that is circled red and more specifically the green. To me that looks like an electrical part. If I remove the piece like in the little picture then the fluid just leaks out from there.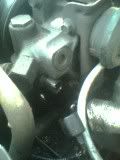 Is my pump a gonner? anyone know what could be wrong? Anymore tests that I can do? Or please ask questions if I need to be more specific.
Thanks in advance.