I wanted to do a simple write up for you SPi guys. We have been doing this type of loom on race cars for years and i noticed the other day that some members on here would probably like this method of securing your plug wires. It not only looks very neat, but is very functional.
Start by wraping one tiewrap around all four of your plug wires like this: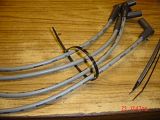 After you have done this as ill. above, take and place a tiewrap between each wire wrapping these around the first one. Dont tighten these yet. It should look like this at this point: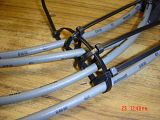 Now, take and snug the main one down enough to draw them together and then pull the others tight. Dont pull these so tight that it pinchs the wires, just tight enough to secure them. Then one last pull on the main one and youre done. Snip off the excess and youre done, instant wire looms that look good and wonk come off.:
I hope you guys like this, they look good and are very functional. One thing also, once you have worked your way down the line on your wires, if you ever need to take them off to change plugs or whatever, these will keep all your wires just like they were and you can just put the wires back on as an assembly.
Forgot to add, if you dont want to see the ends, just do the steps underneath the wires, it will come out slick.