Discussion Starter
•
#1
•
I have hit 3 deer with my focus in under 6 months. Im getting sick of rebuilding it, and everytime its becomeing crappier and crappier, so i decided to take up a new hobby. I had a small budget, and i bought an 87 Honda 600 Cbr Hurricane for 400$. now...it wasent really a bike. it was just a rolling frame with a good running engine. I had never worked on a motorcycle before, let alone even riden/driven anything with a clutch so i was just...diving in with a manual and learning everything i could about my new gem and riding.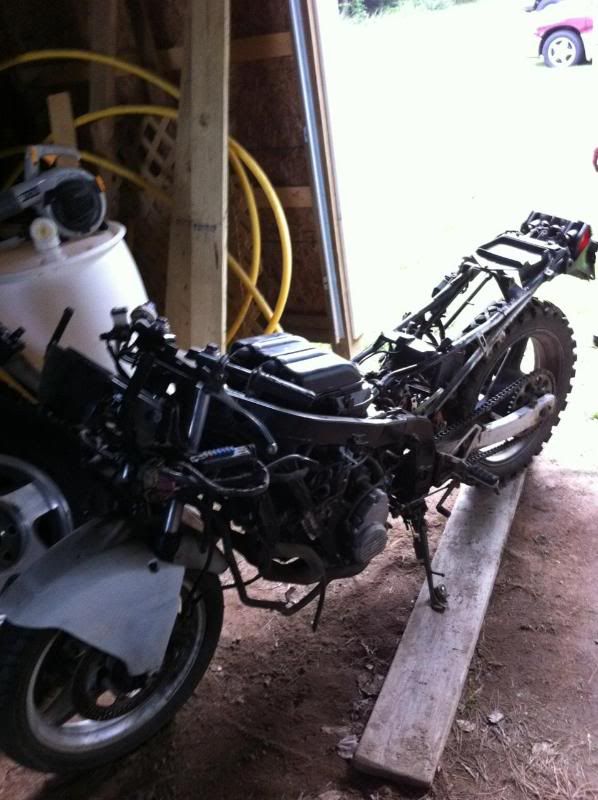 Yup thats a dirtbike tire on the back, and and engine....and nothing else...mismatched rims...no gas tank, no electric.
This is it 3 hours later. Not bad for a rookie.
the next day in concentrated on tearing down the parts of the engine i could, and cleaning EVERYTHING. It was disgusting. CAKED in grease. And i learned that a new gasket set costs about 300$ so I didnt mess with internals. Everything else though got taken off cleaned with a brush and degreaser. This is it after a 10 hour day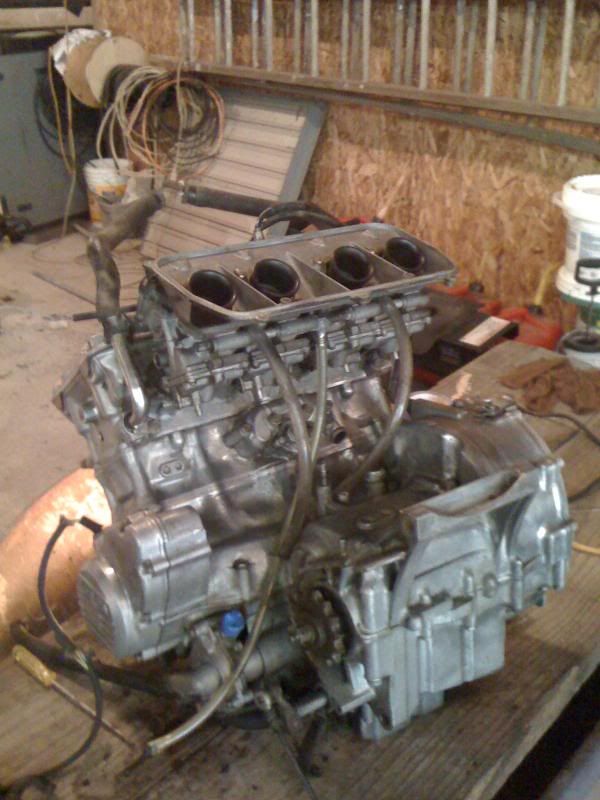 K so i did that sort of thing for a few days, tearing everything off the frame and cleaning it, then i got the swing arm off and painted that, and bought a White rim from ebay with a used tire already on it. Painted some random other things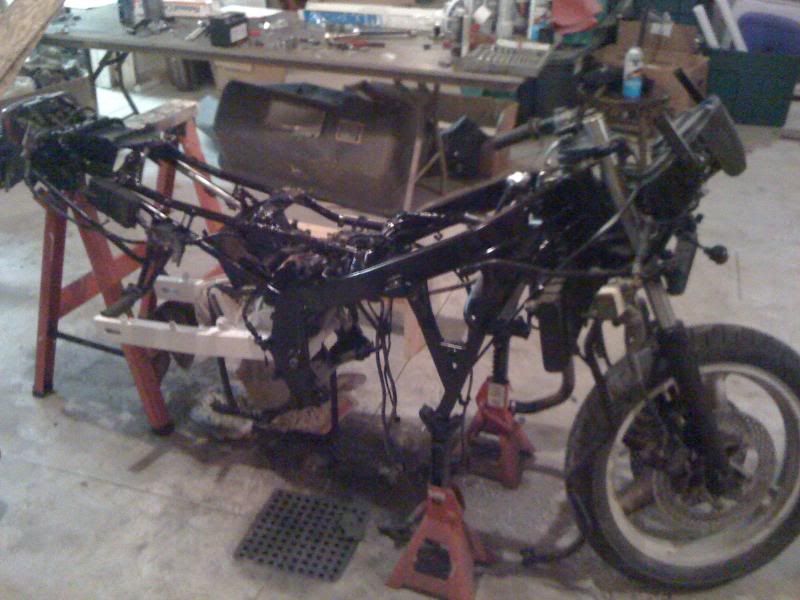 THen another week went buy of buying parts and spending to much money, and time. Me and abuddy got the engine back in and all the tires back on. I started looking at wiring diagrams and harness's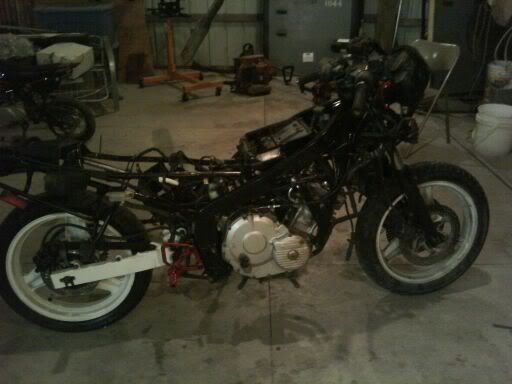 needed more paint stuffs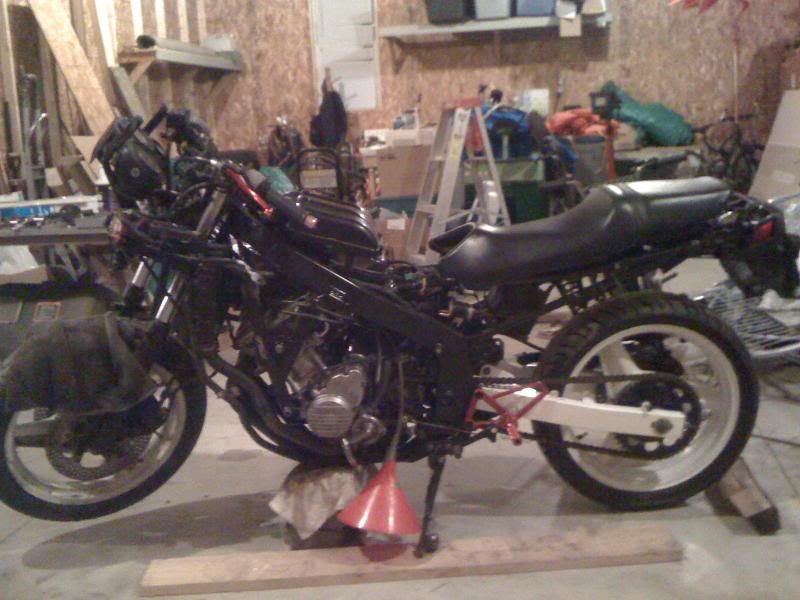 this was the parking lot of autozone....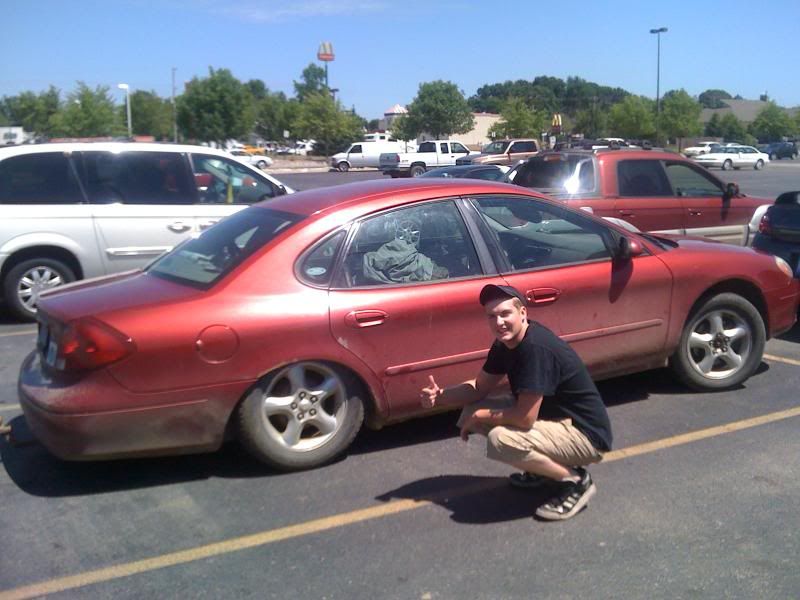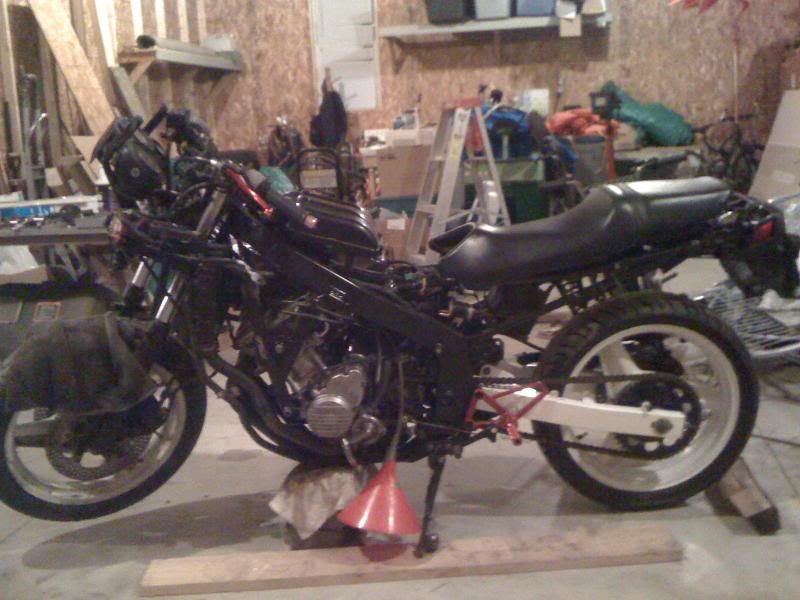 so i then bought a used wiring harness off ebay and started running that through the bike and figuring out the wiring. That was a PITA, but after a few days of work, I made progress and succeeded!
I decdied the front white tire was too dirty and old for my liking, so i brough it to a powder coater, and while it was there for a week i did what else...more painting and wiring and buying and spending.
Its starting to look like a bike!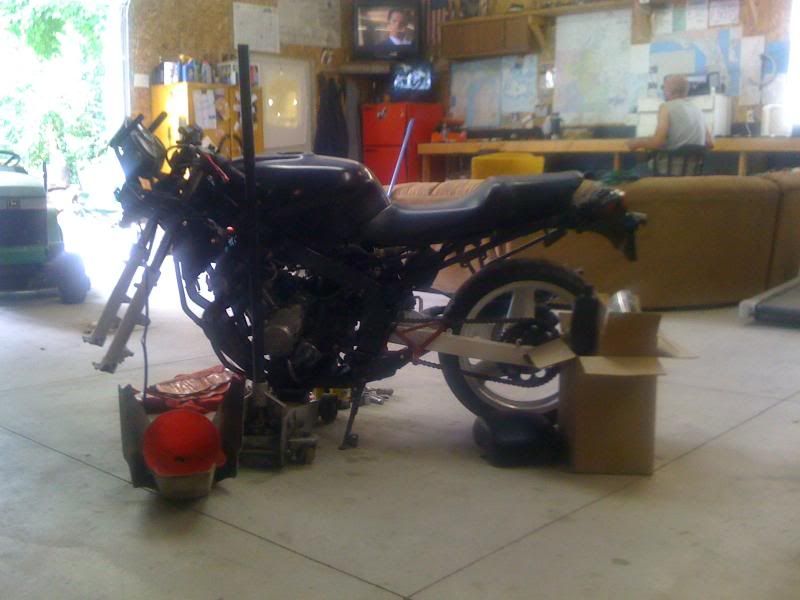 I found my helmet, and bought that, and started buying plastics for the bike now too. And keep in mind, this bike has been ripped apart and rebuilt in about 2 months, ive never ridden a bike yet lol
Got my helmet, and got my front rim back and put a new tire on the front, along with some more painting
It was at this stage that i learned how to ride. it was pretty easy, a few adjustments throughout, my throttle was a little messed up, clutch needed some tuning, just buggy stuff. But yeah, then i bought the rest of the panels and did a mock up so i knew what it would look like, and came up with a design in my head.
then i got a new, better paying job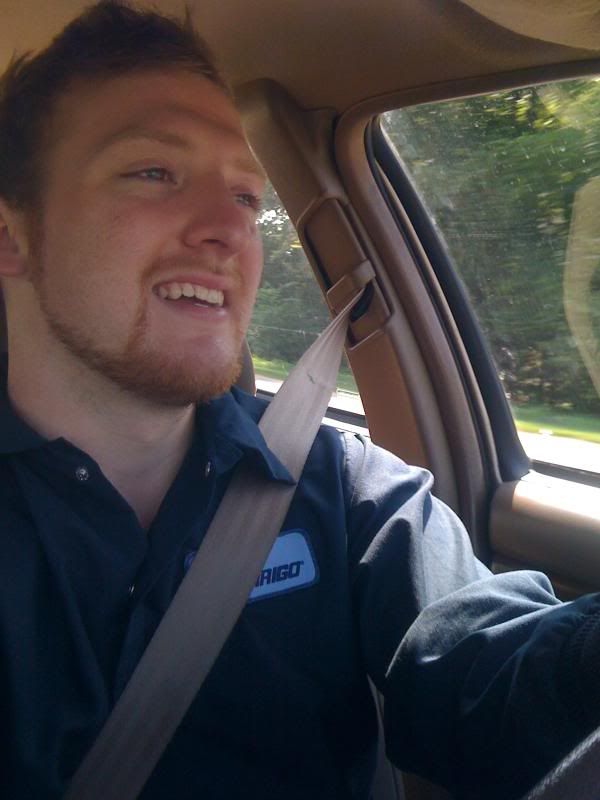 and after 6 weeks it looked like this, early coats before sanding. I did this all with Duplicolor and blue painters tape and ALOT of patience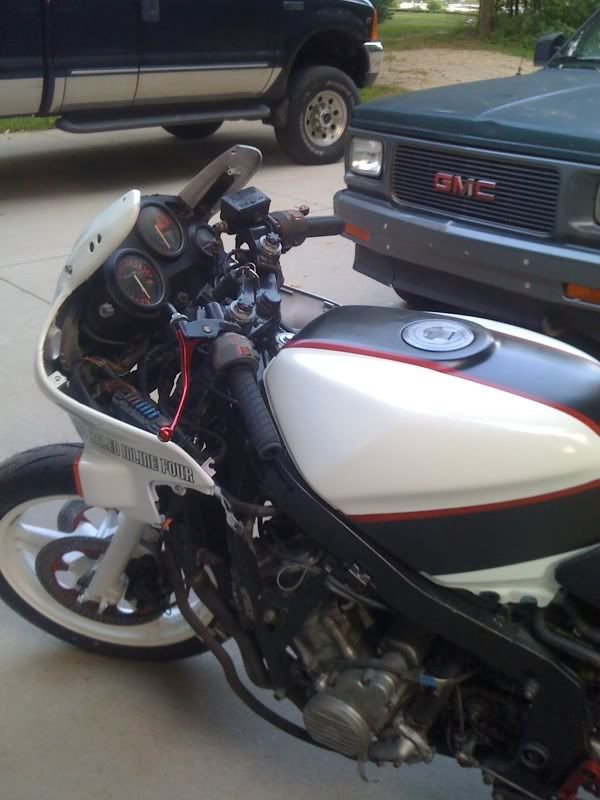 I then got to noticing that i had a blown fork seal, and that hydralic fluid was leaking all over my newly coated rim and white + brown doesnt look good.
So i brought my front forks to a shop, and while theyve been there for the past week i did finishing sanding, and did my tail fairings and my handbar fairings and just....got everythnig nice and smooth and shiny.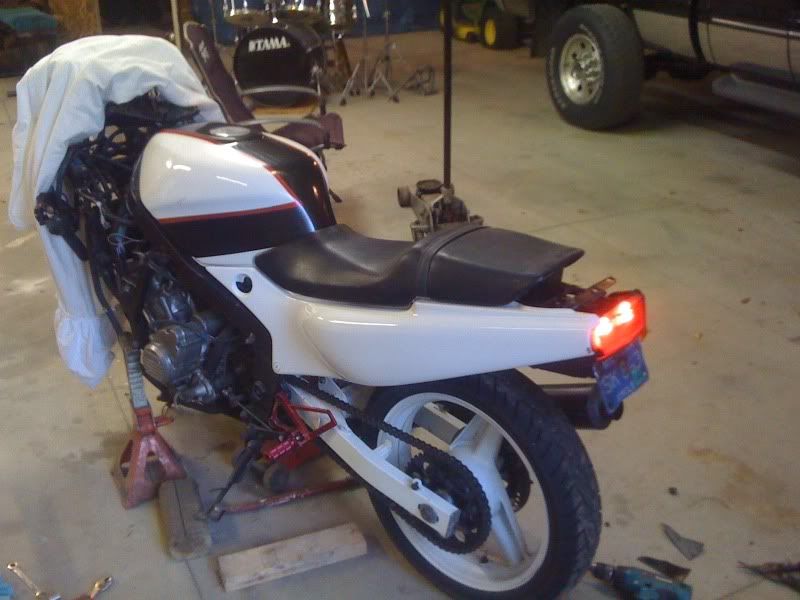 got her back today and this is the end result.
After 4 months of owning her, and One thousand dollars spent getting her to be pretty, she is my new baby.
In all buying and rebuilding I've spent 1400$
Thanks for looking. For more pictures visit my Photobucket.
photobucket.com/helga600
this is my rough ending design, the red is metallic red, but MS Paint doesnt have that color
I will finish over winter. Right now, im just going to enjoy riding her.