Discussion Starter
·
#1
·
This weekend, I literally got the opportunity of a lifetime to drive as a guest with the Ferrari Club of America.
I got the invitation on Wednesday, and after frantic parts searches and service, the car was ready. Unfortunately, the camera wasn't quite up to the task, but more on that later.
What an AMAZING EVENT! It was a 140MPH Car Show!
F355 Challenge Cars
F430
F40
Dinos
308
Masserattis
Alfas
The list goes on...
The best part was watching them on track.
Even better were the accolades bestowed upon our little SVT focus for holding his own in such a big horse (pardon the pun) power crowd.
Unfortunately, I was only able to get a handful of videos. The camera shock sensor was going crazy after the first run group and I could never get the camera to stay on for more than a lap or 2.
Unfortunately, that means you are missing all the good stuff (well, not ALL of it). A lot of these cars don't corner nearly as well as I would expect and I was crawling all over them through the tight portions. Of course, as soon as a nice looooong straight showed up, I was peddling and just trying to get out of my own way.
There were a few successes though.
I ended up cooking the brakes this morning and had a miserable afternoon using OEM "equivalent" pads *ahem*. I got 6 laps before the entire cabin smelled like brakes I was forced to pit.
I came in and smoke was POURING from the front wheels. Hawk or nothing baby! [rant]
So, enjoy! There are a few surprises below as well. [race]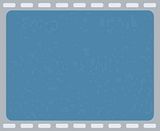 More to come...