Discussion Starter
•
#1
•
Hello everyone,
I recently finished installing Massive's new front big brake kit and rear disc conversion kit for the MK1, and have put some mileage on the setup. Here is the link:
Massive Brake System Components FORD - Massive Hardcore Racing Performance Parts - Massive Speed System - Ford Focus Specialists
Since these kits are fairly new and I haven't seen any posts about them, I wanted to make this post to summarize the installation process, document the major changes, and give my impressions on what it's like to drive with the final setup.
FRONT BIG BRAKE KIT
What it's doing
Basically, it builds upon the SVT or '05 - '11 knuckles with a bracket that brings the caliper mounting points out even further from the hub, enabling usage of bigger rotors compared to standard SVT. It uses the 2-piston aluminum 2011-2014 Mustang GT caliper, and Mustang GT rotors that have been machined to be slightly smaller in diameter.
Installation
This isn't a step-by-step guide on how to install, but I can speak generally about the process.
If you don't already have SVT or '05 - '11 knuckles, you'll need to find a pair and put them on. I have a plain old MK1, so I had to do this. In the below image, the SVT knuckle is on the right. Note that this is a great opportunity to get new wheel bearings pressed in.
It's also a great opportunity to inspect the tie rod ends, ball joints, sway bar end links, and CV joints for tears in the boots or overly tough movement. I replaced tie rod ends on both sides because they were torn, and one sway bar end link for the same reason.
Try not to damage the ball joint and tie rod end boots when separating them from the knuckle. Especially if you're using pickle forks. I ended up buying a specialty ball joint separator to do the job.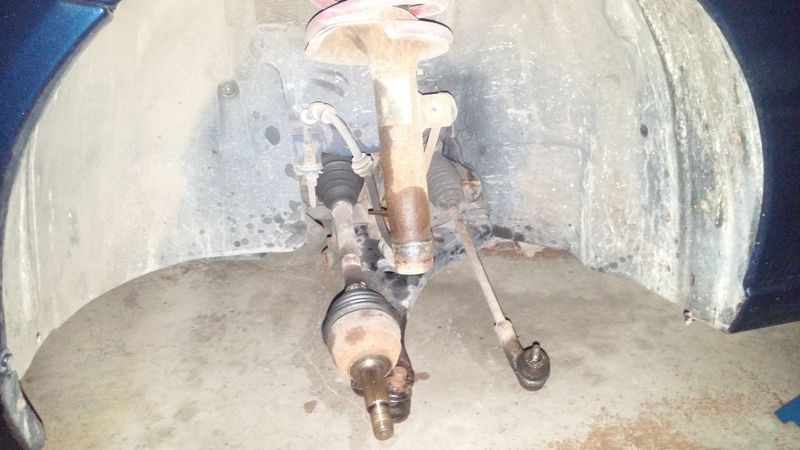 After the new knuckle is on, it's time to start installing the kit. This is the part where I'm lacking photos. I do have new / old comparison shots though. New aluminum, two-piston caliper compared to stock:
New 13" rotor (bottom) compared to stock (on top):
Fast forward a bit and you'll be looking at this. The purple thing is the Massive bracket that bolts to the knuckle using two bolts. Then the caliper bolts onto that bracket. Braided stainless steel flex lines are also included, with a small bracket to locate them onto the main purple bracket.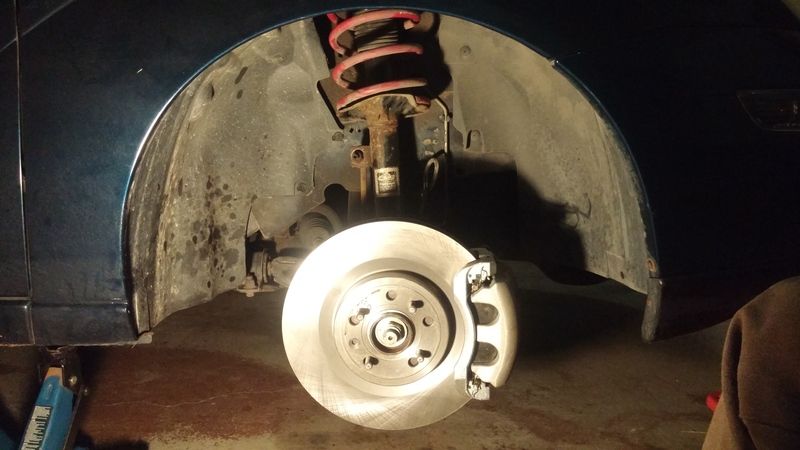 Wheel clearance
You need at least 17" wheels to clear these brakes. EAP wheels will just barely fit, but I wouldn't do it. The caliper is quite literally a millimeter or two away from the wheel barrel.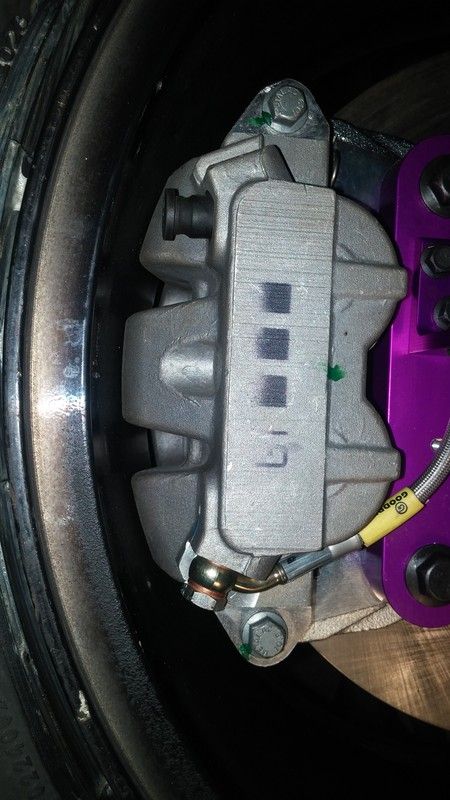 I have 17x7 Team Dynamics Pro Race 3, +42 offset, and they have more comfortable clearance.
REAR DISC CONVERSION KIT
What it's doing
This kit uses brackets to adapt a rear hub, caliper, and rotor to your existing trailing arm, while retaining the existing spindle. It uses SVT rear rotors and MK3 Focus aluminum rear calipers. New parking brake cables and flex lines are provided.
Installation
First, remove everything relating to brakes in the rear, until you're left with a bare trailing arm. Unfortunately, I don't have a photo for this stage.
The four bolts on the backside of the trailing arm that secure the spindle will be corroded, tight, and be incredibly difficult to access. You need to unbolt the lower shock mount and get creative with how you position yourself and the ratchet.
This is a good opportunity to replace other rear suspension components if you need to. I replaced both lower control arms since they were really rusty (photos later).
Sandwiching Massive's bracket between the arm and the existing spindle. The caliper bolts to this bracket.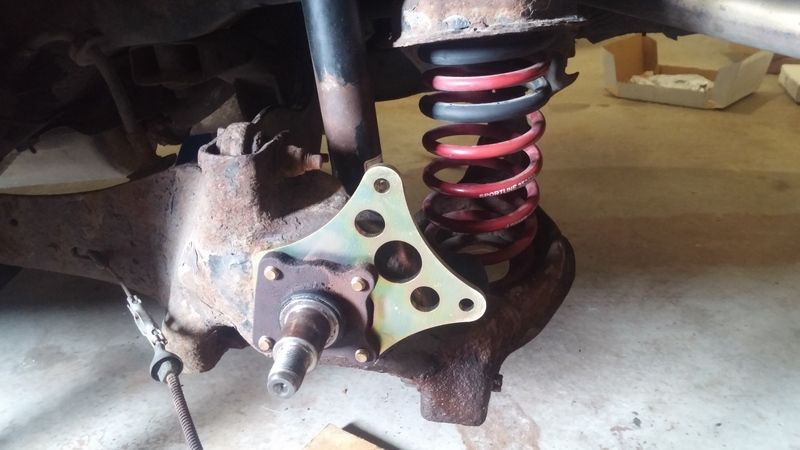 And then the new hub with fresh wheel bearings goes onto the spindle.
Then the rotor and caliper can go on.
Then you have to install new flex lines and the parking brake cables. Unfortunately I have no photos of this work.
Here are some photos of the end result: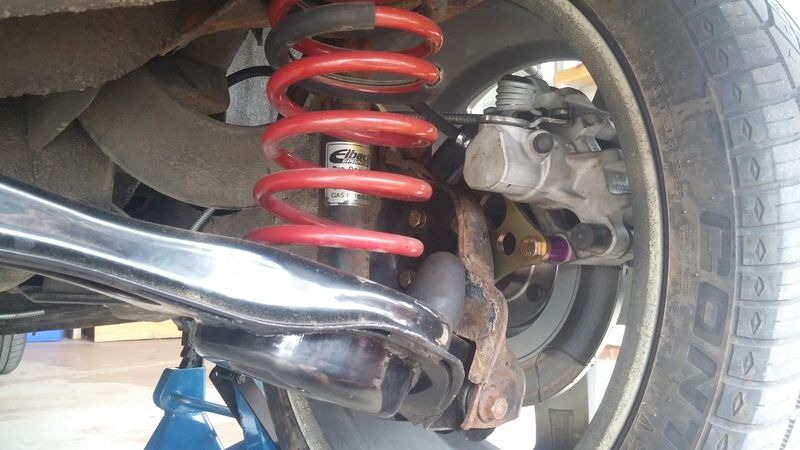 Brackets are supplied to locate and route the parking brake cables and flex lines at the camber arm. They are nicely done and keep things away from the wheel and shock.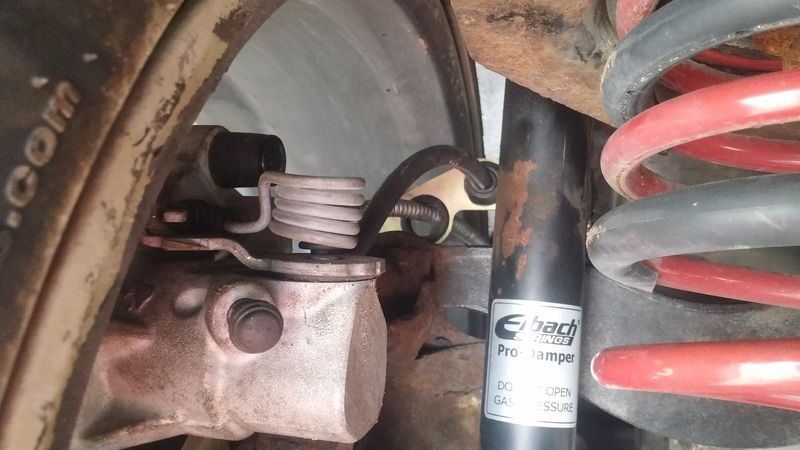 New control arms too:
Then bleed your brakes and get an alignment. The finished product:
Driving impressions
The car can stop much shorter and with less fade during repeated stops. Pedal feel is firmer past 50%. Hard braking makes your head feel funny. I am happy with it! A driver can feel more confident and safer.
The limiting factor for me now is my all-season tires. My next set will be sticky summer tires, which should reduce stopping distances further. Also, I don't know if the supplied brake pads are performance-oriented compounds; there is probably room for improvement there as well.
Other notes
The rear kit is available in three versions: One with brand new calipers, one with low-mileage take-off calipers, and one with just the brackets (you supply the calipers and rotors). I got the take-off kit and the quality of the calipers was fine. You could go with brand new stuff if you want, but I don't see the need.


In theory, you could bolt on Mustang GT Performance Pack Brembos for the front, or even GT500 calipers, but then you'd have to run at least 18" wheels and find different rotors. I don't know if the flex lines would reach, or if the stock master cylinder could keep up. I also think that it would be expensive overkill, although it would look totally badass.


The front kit retails for $700, and the rear with take-off calipers goes for $460 ($610 if you want new calipers). So basically $1200 plus the install time. I think the value proposition here is fair, especially given the bolt-on nature (no cutting or welding), the fact that you get nice, new fasteners, and the detailed instructions with pictures.


My only concern is with the front rotors. They are not stock Mustang GT rotors; Massive has machined them to be slightly smaller diameter and so they are the only source for replacements. I don't know what the cost is, and I don't know how long they'll be available for. I'll have to figure out a sustainable method long-term.
Overall - great product. Affordable bolt-on solution for serious stopping power.
[loveff]