Hey guys this has been on my list of mods to do for sometime now and I finally got around to doing this before work today. I ordered my cutting die from Napa, the size is 12x1.25 and it ran me $4.55 after tax. I was able to complete this project using only the die, a wrench, a flathead, some cutting oil, and a hacksaw. The first thing you have to do is to remove the trim surrounding the shifter. Check out Twenty's review on how to do that here:
http://www.focusfanatics.com/forum/showthread.php?t=273852&page=2
. It's pretty easy and just requires a flat head and some muscle. After you get the boot and knob off put a plastic bag around the base of the shifter to catch any metal shavings. Take not of how long the stock threads are (1 inch), and mark where the stock threads end and where you want to put new threads to (Down and inch from end of stock threads). You can do more or less but just make sure the amount of threading left comes to an inch. Then you can thread your die on.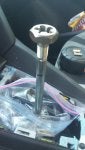 Make sure you use come cutting oil to help the die go down the threads and take your time and go slow. I used a wrench but you can use a socket if you can get one that fits. The die gets hot from the friction so do a half or quarter turn at a time then go back up a half or quarter turn to break free any shavings and keeping the threads from melting or stripping. After you have your threads as deep as you want them move your die up 1 inch from the end of the new threads and use it as a base to keep your hacksaw even.
After you have your thread cut you simply reattach the boot and knob and screw it back on firmly. It helps to apply downward pressure on the knob to get it to lock tight. Whala! you now have a lower sportier shifter and it only cost you ~$5 depending on what tools you already had and an hour of your time! The shift feel is much better and feels a little shorter plus the position is now perfect for me to rest my arm on the center console while shifting. Hope you guys found this useful!