Discussion Starter
•
#1
•
I wanted a small amount of lighting, enough to be useful, and not enough to bother you while driving at night. These do it.....there were blues, red, green, or clear (Advanced Auto Parts $15). I used blue....I think the clear might have been better. They come in two strips of four, the 3/4" LEDs are about 18" apart.
I mounted them with velcro, rather than the 2-sided tape it came with. I can re-locate them to get the best angle. There are plenty of spots to stick the things. The one by the driver right knee was mounted using an "L" bracket for clearance issues (I mounted it high enough so my knee wouldn't hit it). None of the lights can be directly seen when sitting. The lighting is plenty for me.....two over the driver foot-well, two over the passenger foot-well, two over the glove box (when the glove box door is closed, these cannot be seen at all). They are wired into the dash lights (spliced into the shifter lighting). The LEDs dim with the dash lights, and can be turned off completely by a switch located by your right knee.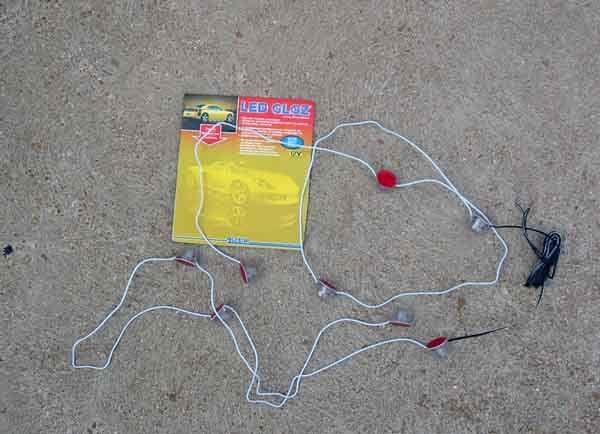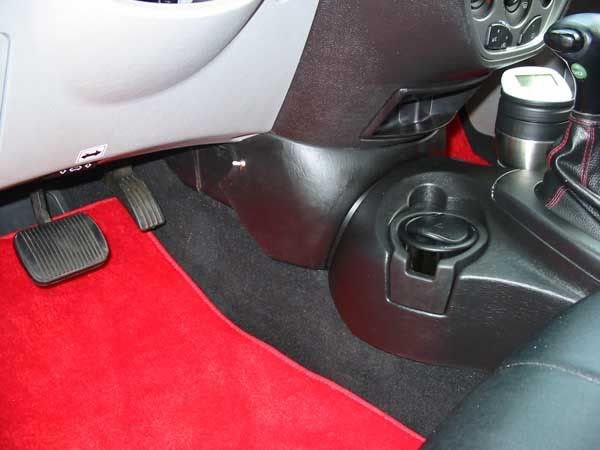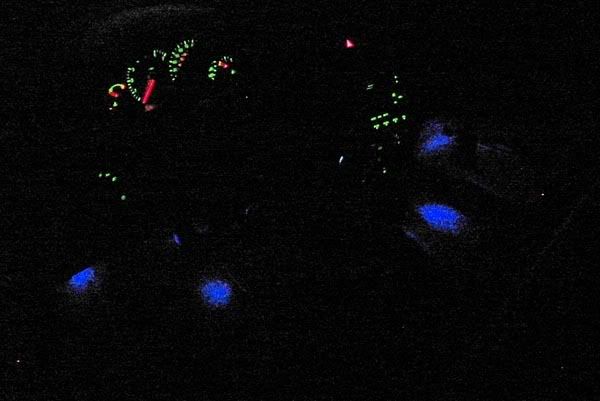 Now the light for the rear seats is not LED....it's a small utility light from Advanced Auto Parts ($3). I tried a few different ones (the one in the first picture was too bright). This is mounted to the removable panel under the rear of the arm rest, using a DIY bracket to get a better angle. It's about 5w and it also doesn't bother you left on while driving. It's also wired into the dimming circuit. It provides a useful amount of light to the rear seating area.
There are several ways these lights could be wired....but I think I'll leave them as is....seem to work great. Sorry for the poor night photos...