Discussion Starter
•
#1
•
Yesterday I wanted to hook up my iPod to my stereo, with the best sound quality possible, and without spending much money. I did some research (lots on this site) and realized that tapping into the CD Changer on the back of my 2000 Focus' 4600 stock radio wasn't likely possible, so I went a different route.
I took the stereo apart and eventually found two little markings on the CD player's circuit board: LOUT1 ROUT1. I found them on the underside of the player, near the plastic strip wire that connects the cd players circuit board to the main board*. I then very delicately ran two little wires through these holes and carefully soldered them to the board. I also soldered a little black wire to a ground on the board (large areas of solder are usually grounds, especially near a mount).
Red and Yellow wires are signal, black is ground.
I then went and got an old 3.5mm stereo plug with chord from a drawer. Stripped the one end and soldered the ground, left and right channels to the wires now soldered to the cd player circuit board. Shrink wrapped the signal wires and left a bare section of wire on the ground. Routed the wires out through the bottom side of the CD player (AS TO NOT GET IN THE WAY OF THE CD EJECTING!). I then took the bare section of the ground and pinched it between two plates holding the frame together (extra grounding**). Routed the wire out the back, and through a convient little hole in the back of the stereo.
I drilled a hole in the back of my cig holder and routed the stereo chord out that.
Lastly I needed to make a CD of about an hour of silence. That was easily done and I was ready to go.
Put everything back together, shoved it back in the car, checked to make sure everything still worked correctly (and it did), put the silence CD in and plugged in my iPod. Success!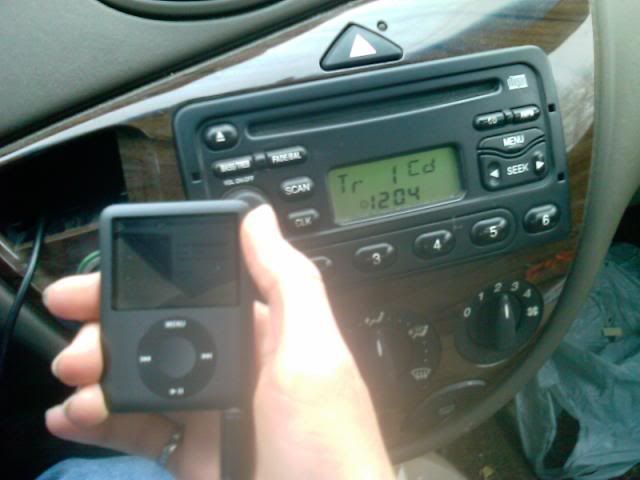 Fake wood panel, so sexy.
If anyone has any questions or comments, please let me know. I'm not a big Forum person but felt that if someone else out there was searching the web for a similar solution to mine, that I could help them out.
A little disclaimer
, if you don't know how to solder and/or don't feel comfortable accidentally ruining your CD player then avoid this method.
-----------------------------------
* I think these solder points are put on the player for testing purposes.
** orginally I didn't pinch the wire between the frame and soldered it instead, but it fell off and caused some weird crackling while a CD was playing.