[
][
][
][
][
][
] this will be being edited to clarify- add pics, etc until this line is removed[
][
][
][
][
][
]
I'm sure there's a good number of you out there who have replaced CV axles on other vehicles you've owned. I can't even remember how many I've changed on my cars and helping my friends out. I've never had an axle get stuck in the knuckle, and I've always been able to pry the axle out with a pry bar. This is not easily possible on the MTX-75 because of Ford's case design. I don't know if that was for structural integrity or what, but they certainly made it very difficult to remove axles from this transmission.
Planning ahead for the whole situation will make everything much easier for you, and with the right tools, this job should only take a novice a day to replace both axles. Save yourself a ton of pain and suffering- plan to replace both axles. In this car, if you're having problems with the driver's side axle, it is
easiest
to remove the passenger side axle to drive the driver's side axle out with a hammer and a punch of some sort. Even if you only need the passenger side axle, it's been my experience that the other axle will go out very soon, and you could damage your new axle removing it to easily replace the driver's side axle.
Besides your sockets and typical tools, you'll need a hammer and some sort of 1/4" punch. Nothing larger than 1/4" round will fit through the slot in the differential. I used 1/4" steel rod 4' long from a hardware store for $6. I tried a 5/16" rod, and it did not work. Make sure that whatever you plan to use is
no more
than 1/4" round, and at least 8" long.
I will discuss alternate methods. For those of you with a limited slip differential, you will not be able to drive the driver's side axle out as described above. Make plans and have the appropriate tools on hand for an alternate removal method.
Extra, Special, or tools you'll need or *might need:
Transmission fluid- 3 qts
Torx T50
5/16" or 8mm hex key (Allen)
1/4" round stock rod at least 12" long
Hammer
Long pry bar
Tie rod puller
PB Blaster or Kroil penetrating oil (not WD40)
*7mm hex key (Allen)
*Large 3 jaw puller
*Slide hammer
*Slide hammer attachments for CV axle pulling
Torque Specs:
Tie rod ends: 35 ft-lbs
Caliper bracket mount bolts: 90 ft-lbs (see Alex method)
Axle nut: 200 ft-lbs
Carrier bearing nuts: 18 ft-lbs
Strut mount bolts: 22 ft-lbs
Pinch bolt: 35 ft-lbs
Ok, let's begin. The first thing you're going to have to do is expose the axle nut on your wheels so you can loosen it. Torque is 200 ft-lbs, so be prepared to have something long to give you sufficient leverage. The axle nut is a 32mm. Because of the torque, you want to loosen this nut before you jack up the vehicle.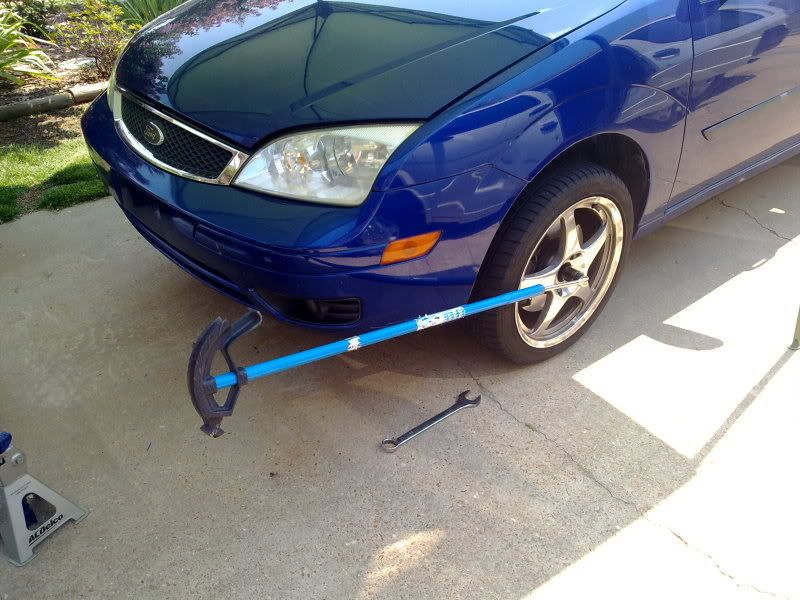 Jack up the whole front of the vehicle securely, and use jack stands on both sides. There's a nice flat reinforced place just behind the crossmember that holds the steering where you can put jack stands securely. I would not use the pinch weld for jack stands. Make sure you have wheel chocks in place, and the E-brake as tight as you can. Drain the transmission fluid, for this you'll need a 5/16 or 8mm hex key socket. 8mm might be better, my 5/16 was slightly loose. Now remove the caliper. I removed the caliper mount bracket itself. Ford factory torque is 90 ft-lbs on these nuts, and it's a 17mm. Be prepared to suffer some pain, but you must gets these off to get the rotor off. Most of the time you'll be able to tap on the end of the axle with a hammer once the nut is removed, and the axle should free up. If you want to try that before removing the caliper and rotor, then I don't see why you would have to remove those parts to do this job. You will still want to free the flexible brake line from the strut to provide more swinging room. You will run a risk of damaging the flexible brake line, so be careful if you go this route. As you can see I hung mine up out of the way with a bungee- but really a coat hanger is better.
I removed that pesky rotor too. I like stuff out of my way- especially things that I might knock off on to my foot unexpectedly.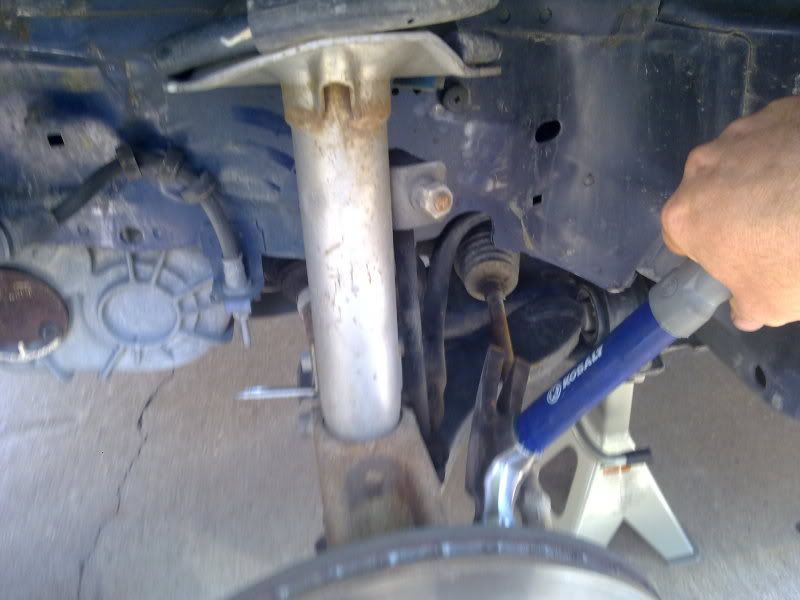 Now it's time to remove the rest of the things holding the suspension. Remove the sway bar end link from the strut. Get a tie rod end puller, and use it to remove the steering tie rod end from the knuckle. Remember when you're pressing the tie rod end out of the knuckle use a sacrificial nut on tie rod end to prevent it from separating violently, and to prevent damage to the threads on the tie rod. On my car, it was the same nut as what held down the sway bar end link. I'll edit in a proper size later. I'm sorry, for some reason I didn't take any pictures of this process.
Do not
use a pickle fork to remove the tie rod end.
Now it's time to remove the ball joint. First you'll need a Torx T50 to hold the pinch bolt while you loosen the nut. Once you loosen the nut, remove the pinch bolt. In a perfect world, it would slide right out. If it's stubborn, then tap on it with a hammer. If that doesn't work- put on a sacrificial nut, and wail on that puppy. If you have to use penetrating oil, be aware that all penetrating oils dissolve grease, so be on the lookout for ball joint noises in the future- which will probably be a long while if there's no other damage to the joint.
Once the pinch bolt is out, it's time to get the ball joint out of the knuckle.
Do not
use a pickle fork. Mine were well stuck, and I used a 2x4 and a hammer to knock the lower control arm down. The pickle fork pic is provided for warning. On these non-serviceable joints you'll squish all your grease out with a pickle fork. Unless you have a hypodermic needle and a lot of patience- you don't want to do that. In this pic, I used my jack to support the knuckle while I hammered down on the control arm.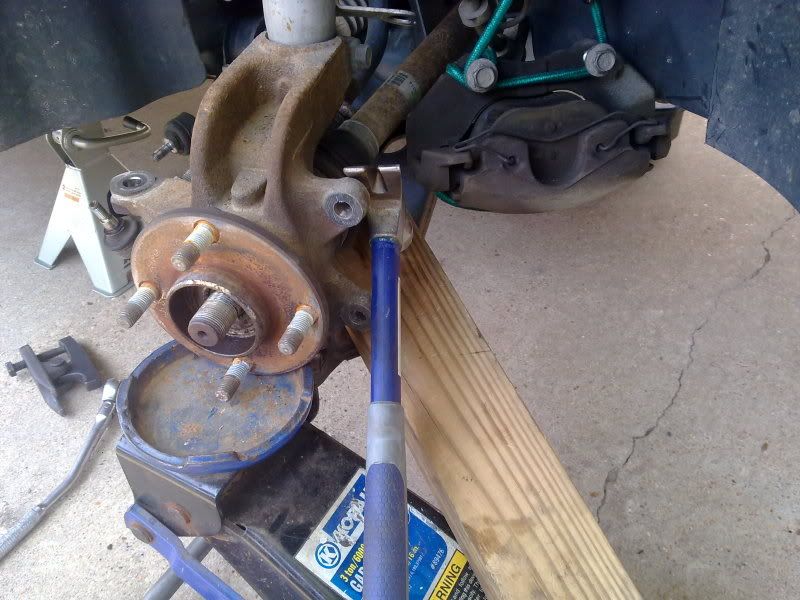 Here's the evil pickle fork along with the proper tools for the job. The pry bar is to pry the control arm down so you can put something over the top of the ball joint to protect it from damage. A large socket will work. I used a plastic cap from a strut assembly that was laying around in the van.
Here's where it started getting fun for me. I guess I shouldn't have told my wife that I'd be done in a few hours- like this was a normal CV axle repair. Typically I simply hammer the end of the axle until it's loose in the hub. This one never got loose. I was going deaf from hammering on it. I had to use a puller to remove both sides. This is where the 3 jaw puller comes in on the tool list at the top of the thread. You might need a puller to remove your axle from the hub. I sacrificed an old steering wheel puller, so if you're smart rent a heavy duty 3 jaw puller from your parts store just in case- and make sure that it has a good spinner with it.
It took so long, I had to take another picture of it. I've never had an axle stick like these did. It's like Ford glued them in place. People in the salt belt might experience this sort of trouble regularly. In this picture you can see the ball joint protector I used.
Finally, it came loose, hurrah. At this point you should loosen the 3 nuts that hold the strut assembly in place so that you'll have enough slack on the strut to remove the axle. I simply removed the strut assembly to make things easier to work around. It's really not that much more trouble.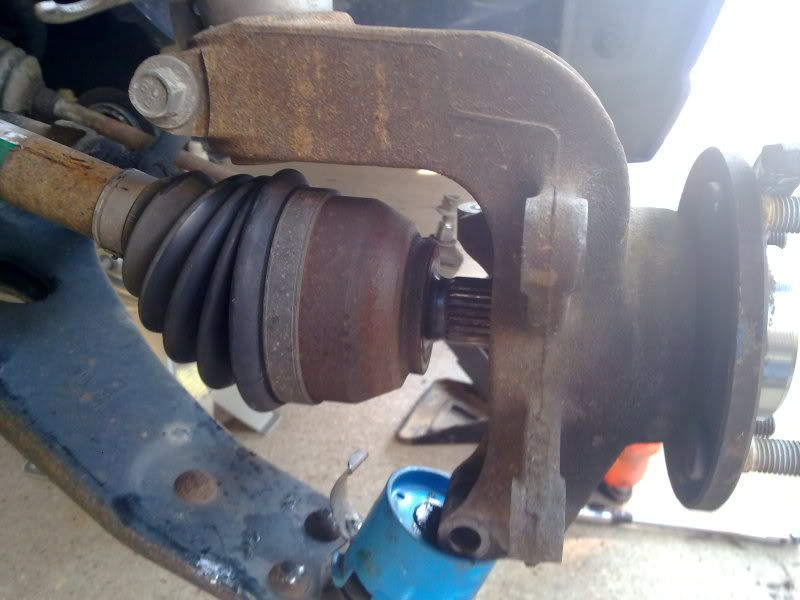 Now how the hell am I going to get this thing out?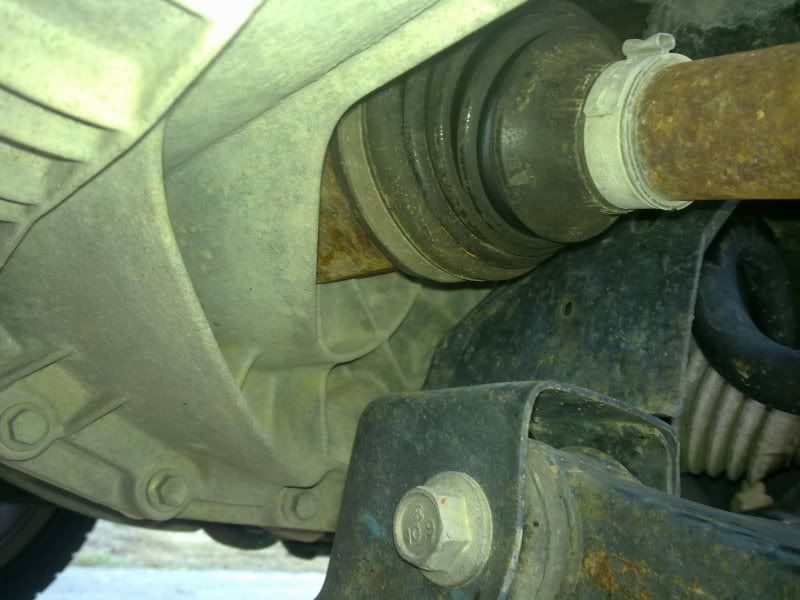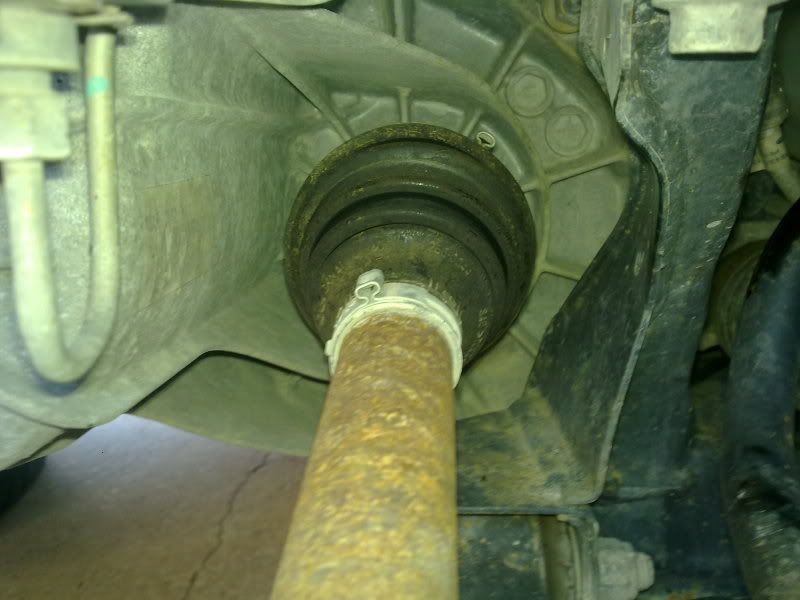 As you can see, there aren't the traditional places to put a pry bar or pickle fork behind the axle and pry it loose from the transmission. There is a place in about the 3-5 o'clock position in the second picture where there is barely enough space to put anything. I went tool shopping because I was determined to only remove the driver's axle. Here are the tools I got from Autozone and Advance, O'Reilleys did not have a CV axle puller.
From Advance- this is a really slide hammer kit, lots of choices. None worked for me. The one that might work for some people out there is one I'll show hooked to the axle in a later pic.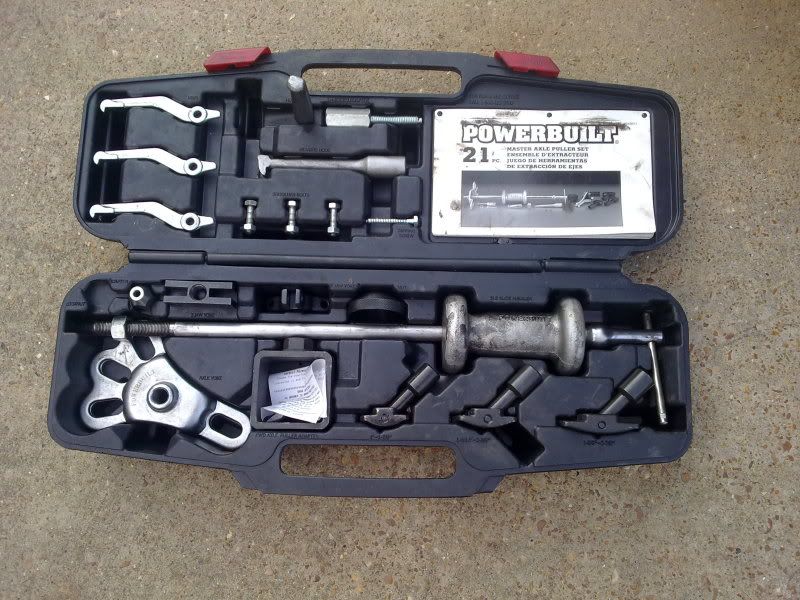 From Autozone- this is actually 2 separate tools. If you ask for a CV axle attachment, the C shaped part is what you'll get. Later I'll add the part numbers.
Here's the Advance axle puller ready for action. Simply use your old nut to secure the axle to that box, attach the box to the slide hammer, and rock and roll.
Here's what happened- FAIL!!! Destruction of the inner CV joint. That's the reason I was replacing this axle. I heard a noise that sounded like very bad bearings, but upon inspection- I realized that the inner CV was shot. When rotating it made a fast clicking sound like someone running a playing card across bicycle spokes. I figured I'd tear it up with the slide hammer, but I like destroying stuff sometimes- and in other situations it might work. That sure would save a lot of pain and suffering if it does. You've got nothing to lose except time.
I've heard suggestions from other FF's that you can remove the battery tray, and use a medium sized pry bar to get behind the axle from the space between the firewall and the transmission. I've also heard you can drop the steering cross member slightly to insert the Autozone tool. If you have a limited slip differential- you will have to use one of these 2 slide hammer tools, or some method of using a pry bar. The Zone adapter will not work without either dropping the steering cross member, or disconnecting the dog bone mount from the engine any prying the engine forward to insert the tool. You really only need about 1/4" more clearance for the tool to fit back there. I have also heard that a tire iron will work back there as well, and one FF used a differential gear puller to pop the axle out.
After using these 2 tools to not avail- I purchased the 1/4" round stock I mentioned earlier, and hammered the driver side axle out after removing the passenger side axle. I'm not going to give any directions on that axle. It is really that simple. The suspension removal and separating the axle from the knuckle is the same. Then all you have to do is remove 2 nuts that hold the center carrier bearing, and the axle slides out easily- no clip. Once that axle is removed, shine a flashlight into the differential. You'll see a hole, and a slash through it. You have to fit your 1/4" rod through there to hit on the back of the driver's side axle. Watch what you're doing so you don't damage the differential. Check your axle after you hit it the first time. I couldn't believe mine came loose that easy, so I drove that silly 1/4" rod in there until the old axle fell out on the ground. Here are the winning tools: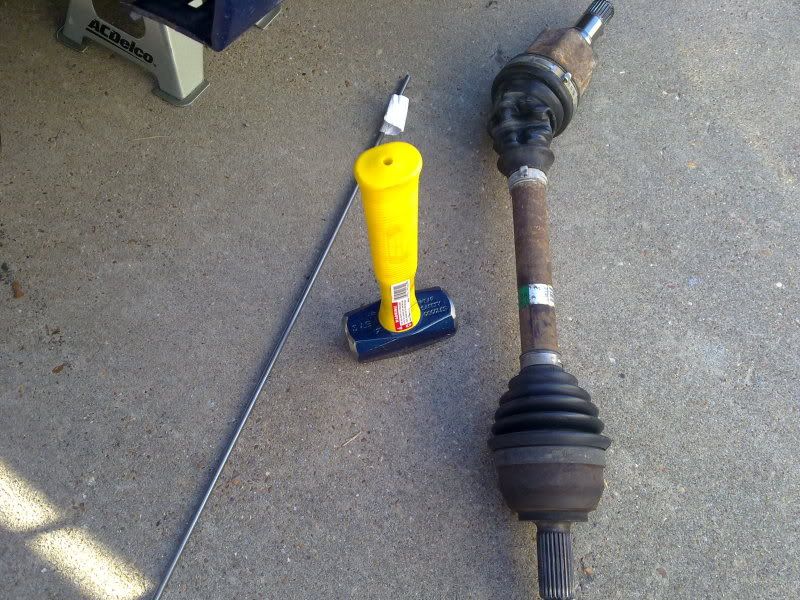 Reassembly- I used plenty of nickel anti-seize on the inside of the hub to make sure that if I ever had to remove an axle for whatever reason, it wouldn't cause me as much pain and suffering. I wouldn't have had to sacrifice my steering wheel puller that I've had for like 15 years. Of course, if I'd been smart enough to rent a puller as I suggested, then I wouldn't have sacrificed that puller- so who's fault is that. There was a lot of residual crud in the hub that I had to use a wire brush to clean out. It looked to me like there might be a galvanic reaction of some sort in there, or Ford does use glue to hold axles in.
Don't damage your ball joint boot putting that dude back together. Ford says to lever the control arm from underneath, but you can do it from above. If you live in the salt belt- you cannot go wrong by using anti-seize on the pinch bolt and the ball joint hole in the knuckle.
I did not tighten the axle nut to 200 ft-lbs until I dropped the car back on the wheels. I did tighten it to draw it back into the hub.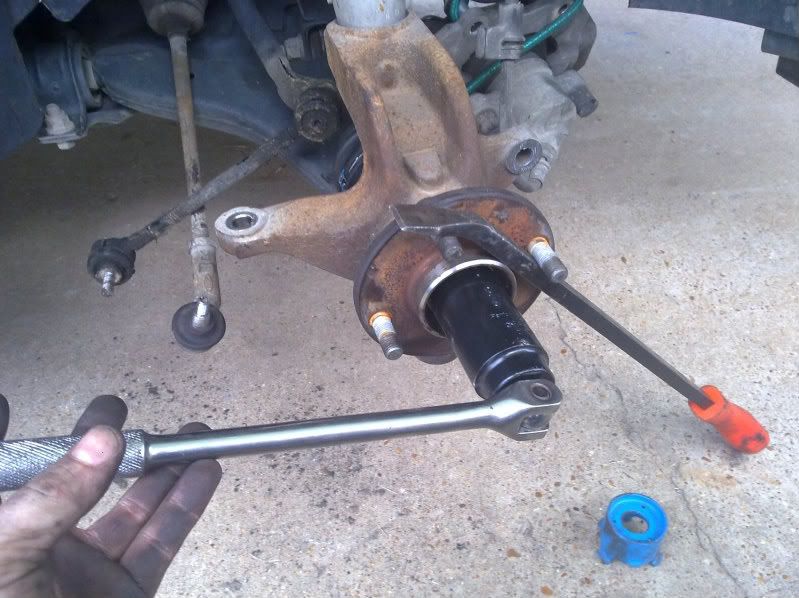 Now comes the part where we put the caliper bracket back on. Without getting into too much detail- 90 ft-lbs of torque is freaking ridiculous for caliper mount brackets. On top of that Ford recommends red thread lock- WTF?? Apparently the plan is to invite the DIYer to install brackets that will never be able to be removed again without using heat or replacing the knuckle. That's one way to sell parts. Let me tell you a story: A guy who has been working on cars for 20+ years put an SVT kit on his raggedly wagon. This required removing the caliper mount brackets in order to replace the rotor. He re-installed those brackets like he'd done every other caliper bracket in his life-
really freaking tight.
It took 58 ft-lbs to break those bolts loose when he removed them the next time, and he didn't even put any thread lock in there. You can do what you want- it's your car. I don't suggest you use red thread lock though- use blue, or nothing. I know the last time those brackets were removed was at 55k miles, and now I have 130k. That's proof enough for me not to go hog freaking wild with torque on my bracket bolts. I did not use thread lock then because I was out of blue--- and I know better than to use red if I ever want to remove that part without using heat. When you get to this point, if you want to double check the caliper mount pins, you'll need a 7mm hex key. Torque on those is 20 ft-lbs, or tight- but not really freaking tight.
Torquing the axle nuts when you're on the ground might prove to be a problem for some people. You might want to see if you can rent a 1/2" drive ratchet from your local parts store that goes up to 200 ft-lbs. I thought that mine did, but it only went up to 150 like most. The difference between 150 and 200 in rotation is not much. I feel very comfortable with torquing my nut down to 150 ft-lbs, then using my extension to tighten it 90 more degrees. If you run into this problem yourself, don't get scared. I've never had a torque wrench that goes up to 200, and I've done a lot of axles for myself and close friends. Nobody has ever called me saying that their axle came loose, and I've never had one of my axles fall out either.
Always double check everything you've done before moving on to the next point, or installing the next part. Like before I put the wheels on, I double check all the suspension parts. I know, it takes forever to re-torque and check things, but then you catch stupid stuff like this. Years of screw-ups taught me to double check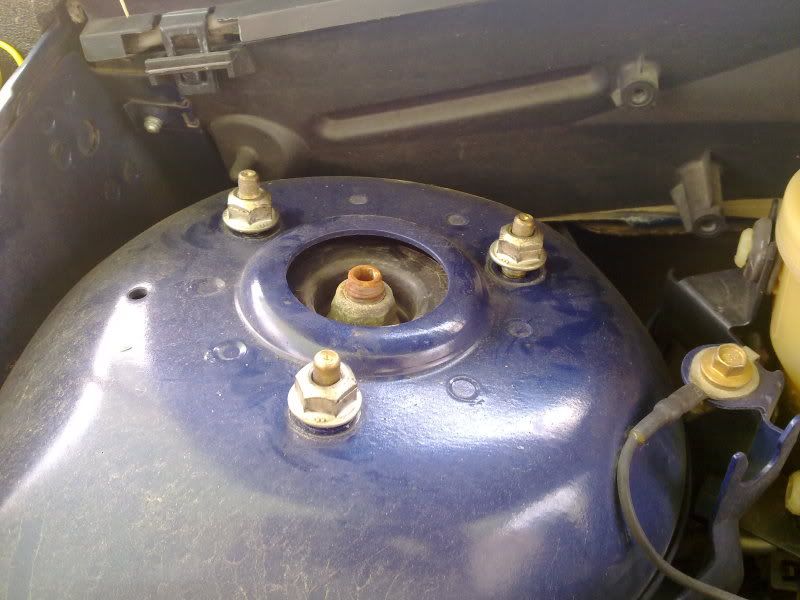 Another thing that can totally screw you over- and a great portion of what screwed me over on this project was the weather. I did this during 115+ heat indexes. I had to set an alarm on my phone to go off every 30 mins so I'd go inside and get some water. If you ever work in that kind of heat- do yourself a favor and make time for frequent water breaks. I've had heat stress before, and I can tell you that you'll feel just fine until it's too late. If you're all alone, that will be the last wrench you turn. My house of pain: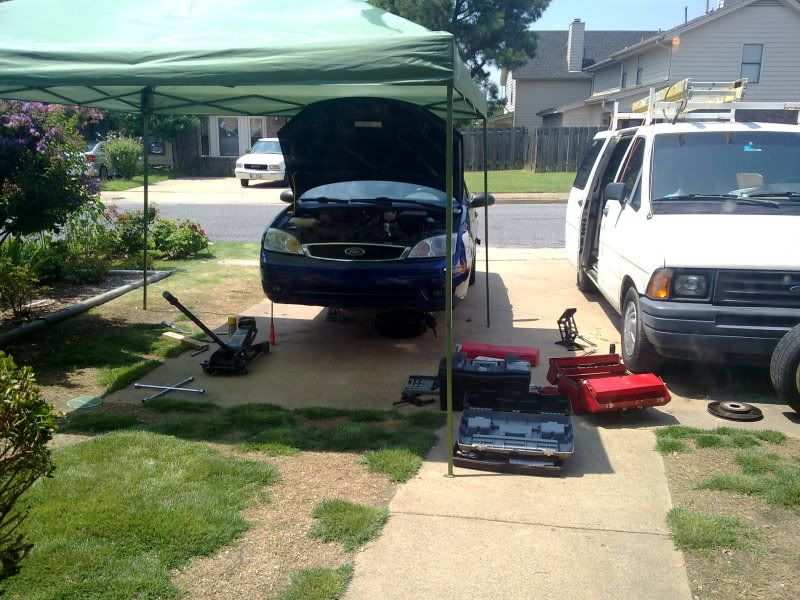 I look forward to all suggestions, and I hope over the next few days I can write this so that people who have never done this kind of project will save themselves the pain and suffering I went through when I did mine. No matter what- work safe!! There's nothing wrong with double checking safety- that saved me from having a car on ramps fall on me years ago.