How-To Paint Eyebrow on 2005-2007 2000-2004 ADDED!!!! Foci by Sn4ckm4st3r
How-To Paint Eyelids on 2005-2007 by Sn4ckm4st3r
Materials-
1x Can of paint of choice (color match or a basic color)
1x Can of Sandable Primer
1x Can of Clear Coat
800 Grit Sandpaper
1000 Grit Sandpaper
Rubbing alchohol or cleaning solvent
Clear packing tape, or automotive masking tape (green)
Preparing-
Open hood of focus
Remove headlight if you don't know how refer to the how to archive for further inscrtuction.
Once headlights are removed take clear tape or automovtive masking tape and tape off entire headlight except the eyebrow area (see Below for instruction)
The Black outlined area on these headlights is the taargeted eyebrow.
You will actually tape off below that bottom edge and will fill the top part to achieve your eyebrow.
Once you have taped everything off prepare the surface by cleaning with rubbing alchohol or cleaning solvent.
Take your 800 grit sandpaper and use this to scuf the shiny surface up to leave nice are to lay primer on.
Clean scufed area with solvent or alchohol again.
Creating Eyebrow-
Spray a light even coat of sandable primer on the targeted area above.
Sand lightly with the 1000 grit paper after the first coat.
Continue this process for about 3 coats sanding each including the last and making sure to get dust off.
Take your paint of choice. After the primer has dried lay a even nice coat of you color on.
Repeat this process until desired look of eye brow has ben achieved.
Wait for the paint to set.
Take your clear coat and lay a even THIN coat. This will be the ground clear for the remainging coats.
I layed about 4-5 but lay clear in a even and thin manner until desired shine occurs.
Let sit over night in a temp controlled area.
Make sure all areas are even and correct.
Remove your tape and re-install the headlamps back onto your focus.
Enjoy your aggressive new look like others have!!
UPDATE!!!!! For 2000-2004 Owners
This is the target area on a 2000-2004 headlight for an eyebrow. I extend to the corner because i feel it finishes off the look better.
Finished Result-
SYZ-
Auto-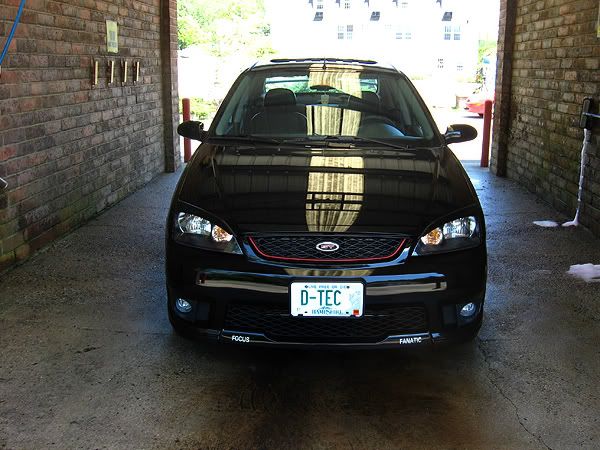 P.S. MEMBERS!! If you picture is here and would like it removed pm me. And if you want one of yours added let me know.