I wasn't able to post on the "how to section"...so move if needed please.
This write up will be based on how to fix your instrument cluster dashboards lights. Sometimes they are intermittent and in some they complete just don't work. Anyway, the solution is simple, but actually going in there and doing it can be pretty hard. Here we go…
First, we will start by taking off the positive wire on the battery. Disconnect the positive wire and set it aside where it cant jump back up and hit the post lol
Next, take your black dash cover off. Disconnect the trunk button. Theres a clip on the back side when you pop the black dash off.
Make sure you pull off the big rubber piece by the steering wheel off the black dash cover and careful not to rip it![nono]
And tada, pops off just like that.
Next, go to the oil cluster, the oil temp and pressure gauges. The inverter sits inside of it.
Unbolt it. 3 bolts on it, take it off and disconnect the one harness on the back of it.
Pic1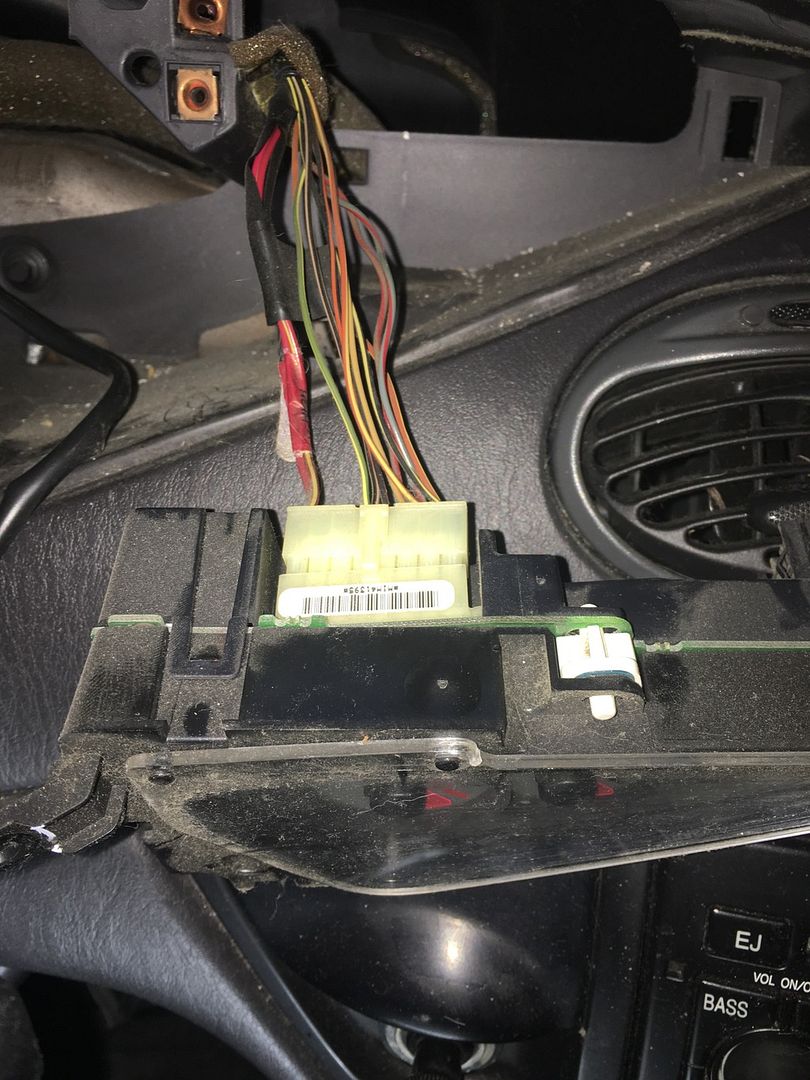 Next, we open it, should be 3 clips IIRC. Be careful to not break any clips and be careful with the needle, you don't want these to move.
Once you have it open, you should be looking at this. Right where the red arrow is pointing, inside that red circle is the inverter.
Pic2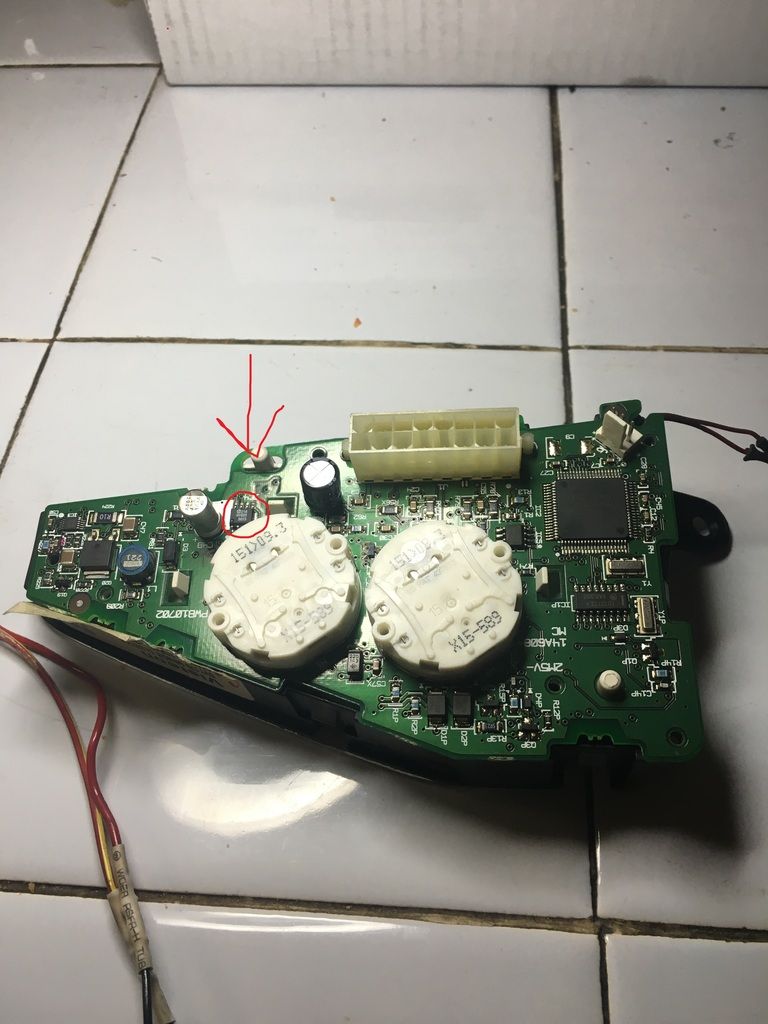 We will replace this tiny microchip. Yes it's a PITA to take off and resolder on there.[bash]
Once you take it off, I recommend snipping one leg one by one slowly and very carefully. Or if you have the actual solder tool to grab all the legs and pull the whole microchip off then even better. Just whatever you do, DO NOT DO WHAT I DID. I managed to break off two legs! [mecry]
Pic3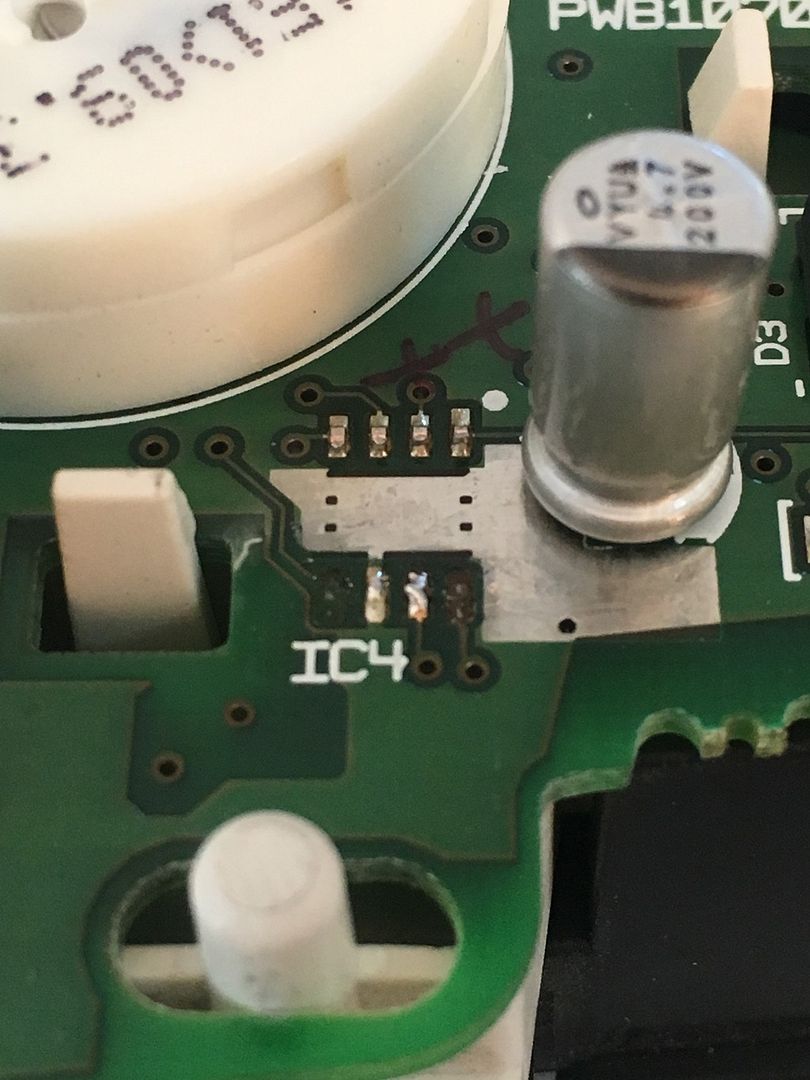 I had to re-solder new legs on there and it looks like a hack job, but it worked. [thumb]Take your time and DO NOT BURN THE BOARD. I recommend some solder flux to help you have your solder flow better. And stick to the legs better. And pay attention to the direction of the chip on how it mounts, notice the little dimple on the chip goes top right.
Here is the part link. Get the HV809 SG version.
http://www.microchip.com/wwwproducts/Devices.aspx?product=HV809
Pic4
Here is a final picture of how I did my hack job. Lol[cheers]
Pic5
After you are done, test your lights by pluggin in the small oil cluster gauge back up, hook up the battery and turn your lights on, you should see everything light up. If it doesn't, then you have not soldered a leg correctly. Good luck guys! I will post pictures of the dash soon as I get the odometer light fixed, this one is just a bulb.