HID Retrofit in progress with pics (update on page 9)
This all started with the purchase of some projector head lights from Cosmo Dynamic. I've wanted to upgrade my stock head lights for some time now due to a bad condensation problem and a large crack on my driver side. After some searching I decided to purchase these.
Upon receiving these I was very anxious to install them. I wanted to use a Plug and play HID kit that I had purchased on ebay awhile back as well. I actually posted a thread about not being able to get the bulbs into the halogen housings. Some people said to file the opening up a little to get the bulbs installed but I was still having problems. So I decided to just install the head lights using the halogen bulbs. The results were not what I had hoped for. The cut off line was ok at best and the light throw was rather dismal. I drove with these for one day and the next day I immediately removed them and re-installed my factory lights. That's when I decided that I wanted to do a retrofit. So it started. I bought a set of HID projectors, ballasts, and bulbs. Everything I needed. Actually I'm still waiting on a few parts as I write this.
OEM HID Projectors from an Audi
Ballasts from a Cadillac (Still waiting on these, should be here tomorrow)
6000k D1S HID bulbs. (These should be here in a day or two)
I started with opening up the head lights.
Preheating the oven
I let the headlights bake at 200 degrees for about 10 minutes.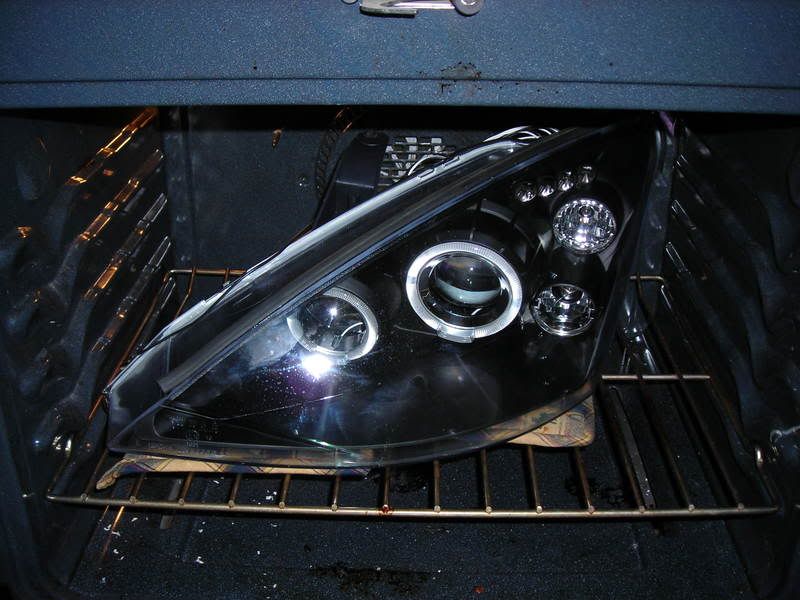 Here's the headlight opened up.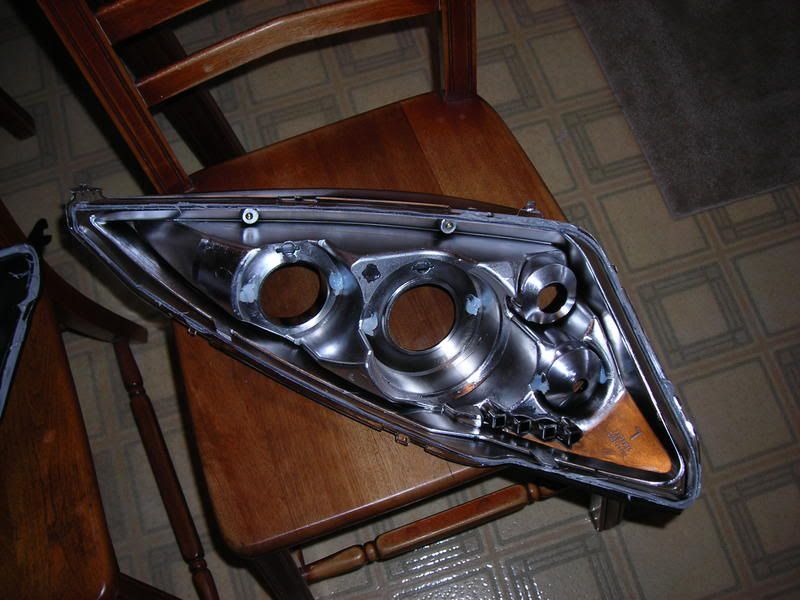 Removing the halogen projector
Right now the HID projectors are at my work. We're making a custom bracket so we can mount the new projector exactly the same way as the old one. This way we'll have the same adjustability. These should be done tomorrow and I'll be able to get these mounted and back together.
Many more pics and info to come soon... Please be patient. I welcome all comments and suggestions.