Discussion Starter
·
#1
·
(Thanks Mike Carter for these awesome FR15 shots!)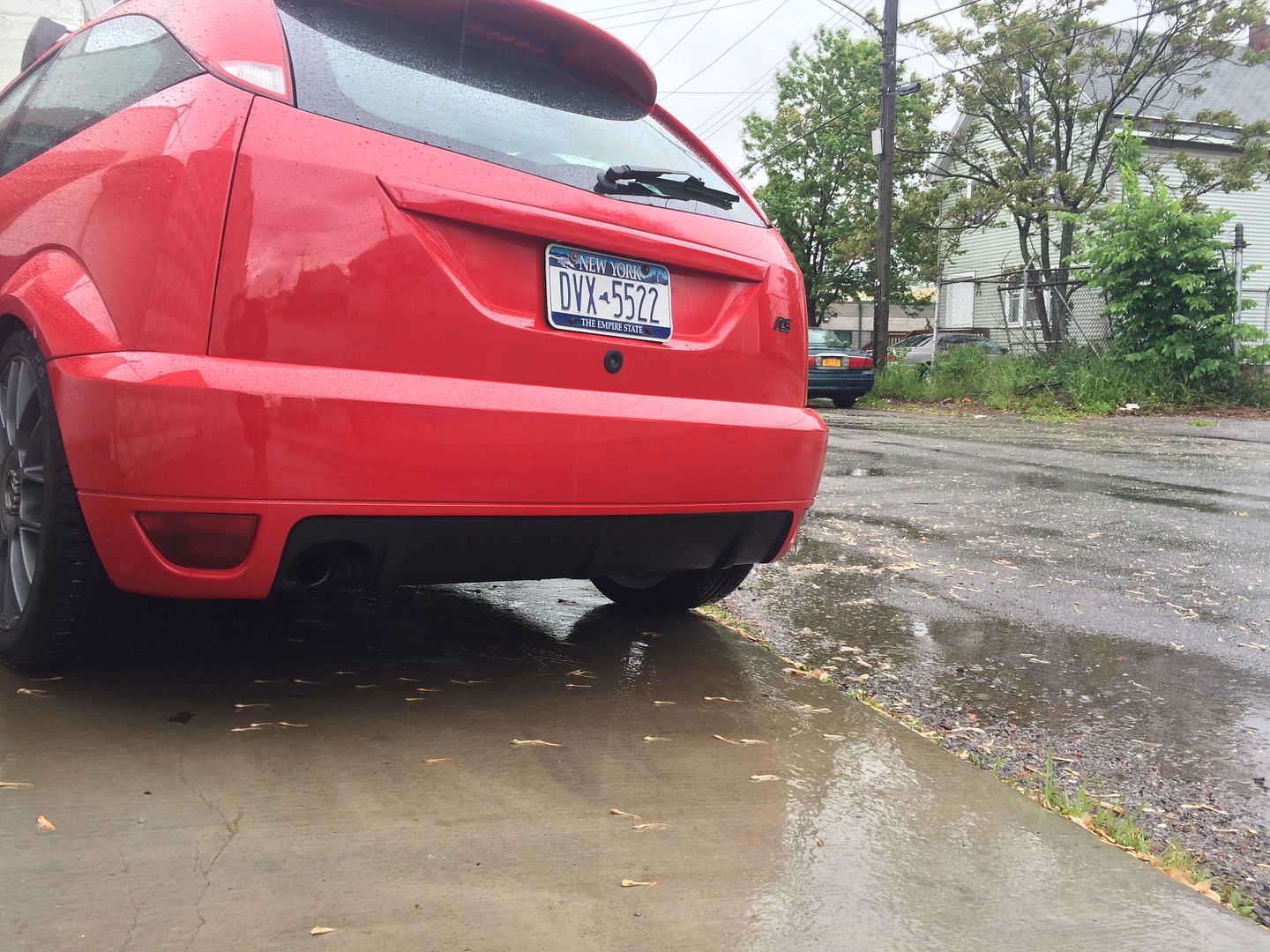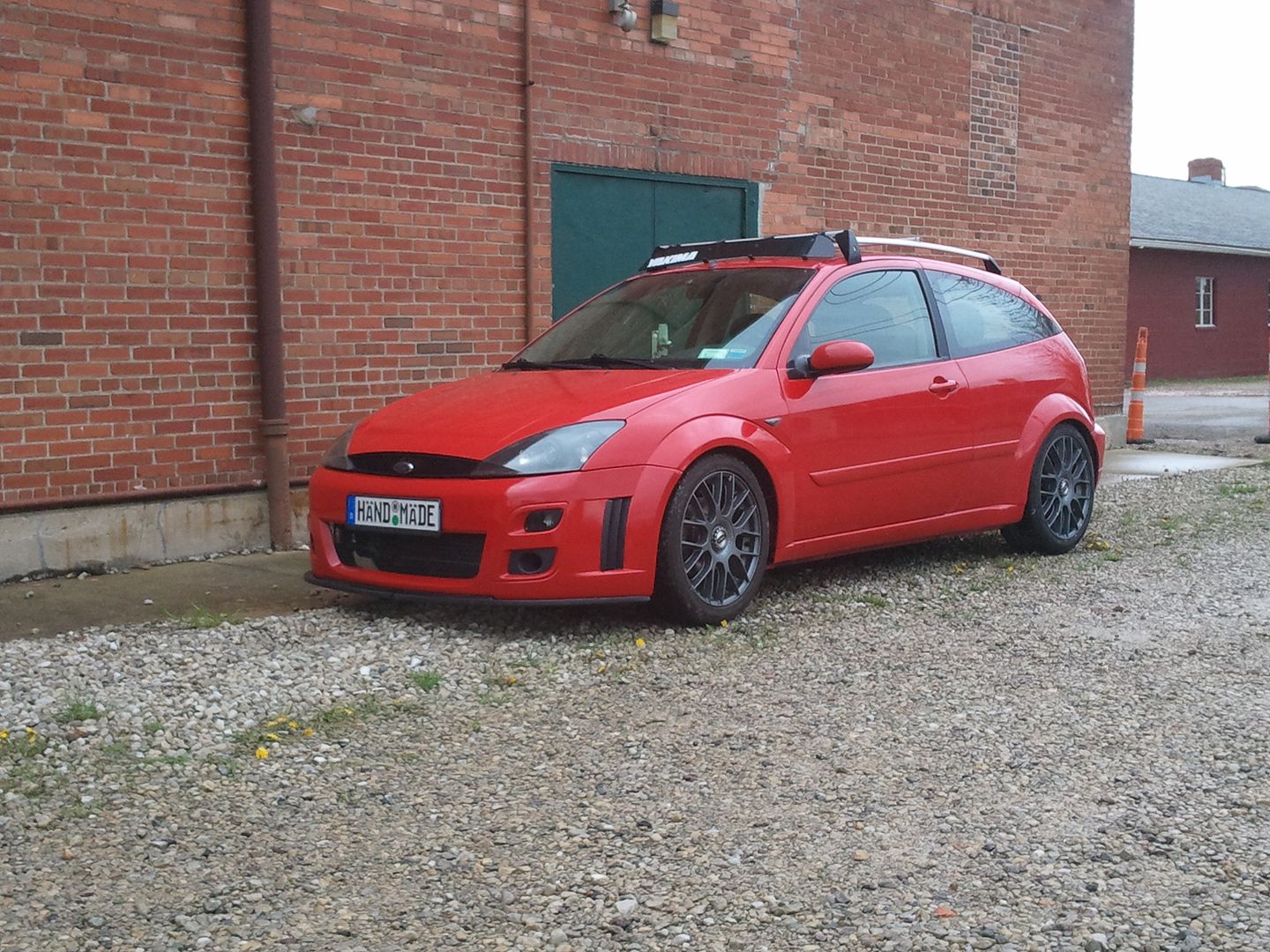 (Spring-Into-Focus 2013 I think these were)
For Sale: 2003 Focus SVT, converted to mk1 RS body
I will talk about the car first, and then my reasons for listing it at the end.
I bought this car in 2006 with 58k miles on it. It has not seen winter in my ownership. I'm currently at about 95,8xx miles. The list of modifications and parts within this car is pretty substantial, with many rare or one-off pieces.
Important stuff: Maintenance.
@91k miles-
-both front MOOG lower control arms
-Suspension Techniques front coilover suspension kit
-MASSIVE adjustable front swaybar endlinks
-pads and rotors all around
-SPC adjustable rear camber arms
- four-wheel alignment
-new rod ends in Focus-Central rear control arms
-rear swaybar endlinks replaced with OEM equiv.
@95k miles-
-driver front wheel bearing
-Reman rear calipers
-NAPA e-brake cables
-re-aligned on account of new wheel bearing (just in case)
-primary O2 sensor (OEM)
-new updated battery cables
-delrin shift linkage bushing from
[email protected]
(eliminates side slop in shift lever)
-fresh plugs and wires
-new valve cover gasket
-cabin air filter
-Air conditioning re-charged
-inspected timing belt (no cracks or dryness)
Modification/parts list:
-OEM Focus RS F/R bumpers, with OEM rear lights, front brake duct gills, front fog trims
-OEM Focus RS front fenders
-Fiberglass replica RS rear arches, grafted in and molded by hand
-Fiberglass replica RS sideskirts
-PumaSpeed replica front bumper splitter
-Focus-Central ram-air hood and airbox, with half-strength custom ordered Redline Tuning strut kit
-OEM Focus RS hatch spoiler, modified/molded to retain factory 3rd brake light
-OEM RS front bumper mesh grille
-Rear Hatch shaved of "FORD" emblem
-Euro OEM roof rack
-Yakima wind deflector
-smoked side triangle signals and front bumper indicators
-Projector foglights mounted where stock RS fogs go in front bumper
-98-spec euro upper grill
-Euro washer bottle
-OEM Hella HID headlights, baked apart and blacked out
-Powdercoated valve cover
-DiNoc carbon fiber-wrapped door pillar trim
-Mustang 6-spd shift knob from CFM
-CFM short-throw shifter
-mk1.5 Focus ST red-stitch steering wheel
-Euro radio bezel with clock
-ST170 center console
-Euro map tray under-steering column panel
-Euro headlight switch (for rear fogs to work OEM)
-Euro e-brake handle from Ken Appel
-Suspension Techniques front coilovers
-Focus-Central rear coilover kit on custom adapted bilstein monotube shocks
-Focus-Central adjustable tubular rear control arms
-Focus-Central adjustable rear toe arms
-SPC adjustable rear camber arms
-TeamDynamics IMOLA wheels, 18x8et42 with 235/40/18 contis up front, Pirellis rear.
-FocusSport rear stress bar
-Explorer covered rear wiper
-RallyArmor mud flaps
-JVC DDIN headunit with metra insall kit, ASWCC controller for steering wheel controls
-headliner flocked in black micro suede, with euro rear dome light, front euro vanity lights, and the euro sliding-mirror visors.
-Early defroster vents swapped in dash
-black washer fill cap
-rear shock mount shims
-All of the euro lighting mentioned is fully wired up and functioning
-Switch modded per "FocusHacks" to keep low beam on when high beam is selected, as well as the amber lenses in the headlights used as turn signals. Bumper lamps are wired as parking/driving lamps and not as blinkers. Fender indicators are wired as blinkers.
I know I am forgetting things, it's hard keeping track of everything I've done over almost 9 yrs. This is an audiophile sound package car with factory subwoofer (works with the JVC unit as well). It's a non-sunroof, non-winter package car. That means no heated seats and most importantly NO TRACTION CONTROL. There is NO rust, amazing for a northeast car (Buffalo, NY).
I have loved this car from the day I was handed the keys. I am at a point where I would really like to make a real go of starting my own business, and to get myself into commercial property I need 20% down to buy something. I don't NEED to sell this car, but it's surely the easiest way to get a lump of cash in the bank to start working with a realtor. I also feel I am at a cross-roads with the car…..I can either spend a crapload more money continuing to further the car, or I can pass it on to someone else and start setting myself up for the mk3 RS. I've always dreamed of swapping a jag x-type v6 AWD 5spd driveline into this build, but I simply don't think I'll ever have the time to track down a wrecked jag and actually do all the fab work to swap it…..after spending two years not driving it while doing the body conversion I don't know if I'd be able to put myself through it again not being driven. I feel I've done everything I ever wanted with a mk1 aside from that, and am OK with letting this car go to someone who can appreciate it…and use the money to move my life in a new direction altogether.
Things of note:
-seats are in AWESOME shape, as are door cards….with the driver seat only just recently starting to show signs of that spot that usually turns tan and then rips. I am planning on pulling the cover back and re-welding that bolster support that is known to crack there and causing said rip, so that this doesn't actually cause a rip in the future. I will also have the small tan stress cracks died at an upholstery shop to factory leather color.
-The front bumper has taken quite a few stone chips as I've driven the car regularly since completing the RS conversion…. I will be removing and re-painting the front bumper as soon as I have time
-The FC hood and airbox are not yet installed as they are not yet in my possession. They will be soon so I apologize I cannot provide pictures on that.
-I bought a gates timing kit a while back because I knew I was getting close to mileage where everyone does it. I have the tool kit for the job as well, all new in packaging. I was going to do it this upcoming winter, as when I recently inspected the belt it was in good shape and I saw no reason to rush into doing it yet. These items are included in the sale.
-I am STILL working on the car regularly and cleaning/repairing/etc anything that I feel isn't 100% on the car, and will do so until a sale. Because of this, I am not posting a slew of detailed pictures of the car….I assume there will be some time before anyone SERIOUS inquires about the car and I can discuss where I'm at on the car with what I'm doing/planning to complete before a sale as well as detailed pictures at that time. Last year one of my motorcycles fell on the driver rear quarter and scrapped some paint off, I will be repairing this at the same time I re-spray the front bumper.
-I have taken all of the build pics and posts of mine, and made a booklet out of it….I will make a copy to send with the car so I can keep one for nostalgia. Same goes for a build-board I made up for shows that I never actually used.
I'm sad to close this chapter, but I am very extremely happy that I took this journey with the car. I will forever have fond memories and sad stories about the time I was young and did crazy things with my car. Thank you to everyone that followed along, shared in the smiles and the frustration, and especially my friends Luke and Nick that helped with a lot of the labor.
I am listing the car at $12,500 or best offer. I anticipate it taking some time for REAL interest to come forward on the car, but I will be giving this car to the next person in 100% the condition only I would accept it in. Any random spares I have will come along with the car. I have no idea what I actually have spares of, though. I am prepared to work out some payments….but nothing like a loan plan. Handful of lump sum payments would be acceptable while I retain the car. I will remove it from use upon a deposit and store properly if a buyer comes forward.