Discussion Starter
•
#1
•
Hi there!
My name is Jan, I'm 22 years old and live in Holland.
I grew up in a true Ford family, throughout my childhood my father owned:
1 Ford Fiesta
2 Ford Escorts
1 Ford Sierra
3 Ford Mondeo's
So naturally when I started looking for a car of my own, Fords were high on my wishlist. Initially though I couldn't afford a Focus, and the alternatives from Ford that were within budget didn't really suit my needs: Fiesta's are simply to small, and Escorts (Focus' european predecessor) aren't nearly as comfortable, or well equipped. And on top of that most '90s Fiesta's and Escorts have serious rust problems. That's why I owned 2 other cars before buying the Focus:
1999 Peugeot 306 1.6 XR Break - A French-made competitor of the Focus. Very spacious and comfortable, and well equipped. However there's some stupid design flaws and the electrics are a disaster. Also, reversing into a concrete wall didn't do her to good...
1995 Mazda 323F 1.8 GLX - Having crashed the Peugeot, I needed a car fast! and my budget was even lower. So I bought the car from a private owner for next to nothing. This car had lot's of problems: Valve seals were leaking, it used more oil than gas! And all of the suspension was nackered: Ball joints, stabilizer rods, shock absorbers, etc.
I decided to save up some money and finally invested in a 2003 Ford Focus 1.6 Cool Edition. A very basic model, with standard rims, cheap plastic interior. But it has Aircon, electric windows/mirrors and a trip computer.
Here's some pictures from when the car was still at the dealership: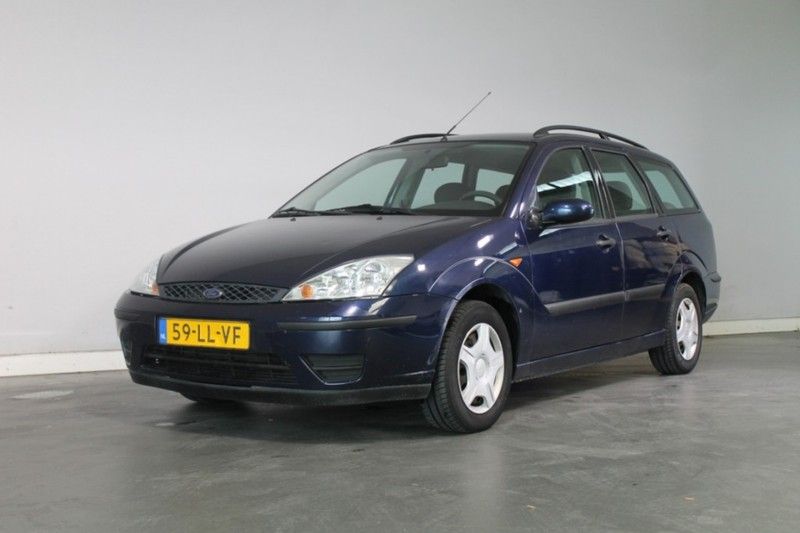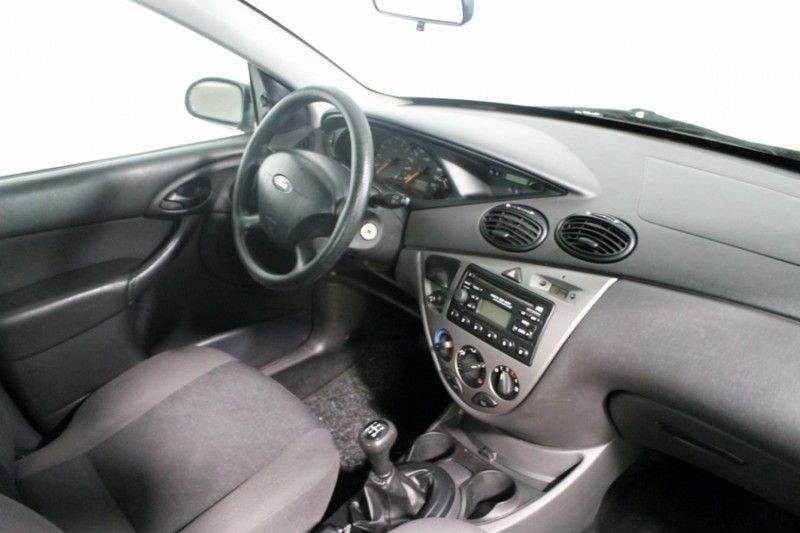 Since I bought the car last october, some minor changes have been done:
Exterior:
-The front grille has been replaced by one with blue trimming round the outside (matching the cars colour)
-Replaced the left taillight by an english one, so that left and right are symetrical (normally the foglight on the left has red glass in front of it, now it's white with a red LED light. So it looks the same as the reversing light on the right)
Interior:
-Black plastic doorhandles have been replaced with aluminum ST170 ones
-Gear knop replaced with a Focus II one (silver colour, matching the door handles)
Audio:
-JVC KD-R641 Radio
-Focal IC570 speakers
-Steering wheel stalk adaptor
As for future plans:
Exterior:
-16 inch alloy wheels (I've got my eye on a set 12-spoke Fiesta wheels...)
-repaint door handles and all plastic trimming matching the car's main colour (spraypaint already bought, just waiting for the outside temperatures to rise...)
Interior:
-Armrest
-Different front seats, I'm thinking about taking & modifying the front seats from a Volvo S40/V40, Those are much more comfortable! Again, waiting for the weather to improve so that i can go to a car junkyard and make some measurements.
-Cruise control, preferably an OEM Ford system. This does require some modifications to the gas intake manifold, since the 1.6 Zetec engine was never shipped with cruise control. And all the wiring needs to be installed. So i'ts a lot of work...
Audio:
Just fine as it is really. The JVC radio has excellent EQ options, and those Focal speakers give quite a punch indeed!
So that's about it right now. I'll post some more recent photo's as soon as I have them. Again: waiting on the weather...