Discussion Starter
•
#1
•
So my Focus was recently making an odd noise. At idle it had a whining noise and after shutting off the engine it would hiss/wine for several seconds. I tinkered with it for a while and decided it was a vacuum leak but after spending hours under the hood poking around at everything vacuum related I came up with nothing. Short on time, I took it to Ford who told me the PCV hose was cracked and it was going to cost $600 to fix. I told them to order me the part and told them I'd come get the car. So I paid $138 for diagnostic and $40 for the PCV hose.
FYI, my car is a 2004 ZX3 2.3L manual transmission.
I found this page very helpful due to the diagrams showing you where all the bolts are
http://duratec.wikispaces.com/modification-cosworthIM
There is a video in this thread and the noise this car is making is identical to mine. I'm assuming it was the same problem.
http://www.focusfanatics.com/forum/showthread.php?t=196726&highlight="intake+manifold"&page=2
So this weekend I went to swap the PCV hose, which is much more work then I had anticipated and I see why Ford wanted $600… I wasn't intending on doing a full write up on here so the pictures aren't a complete how to but show some of the issues I encountered.
Also I cant guarantee that my methods are by any means the "easiest" but it worked.
There are a total of 8 bolts holding the intake manifold onto the head/block. 7 of them are near the intake runners just as you would expect and there is one that you access from under the car that goes into the block. All of the bolts are fairly obvious except one and it is located between intake runners 2 and 3 (assuming the pistons are labeled 1-4 in order). To get to this bolt I had to remove the following:
- Electric fan - 2 electrical connectors and 2 clips, pretty easy and straightforward, the fan comes out of the bottom of the car not through the top.
- Cover of the plastic grill and the plastic grill (the one with the turn signals in it).
- Remove the lower radiator support (2 10mm bolts on each side of the car, 4 total) and then use a floor jack to lower the radiator and AC condenser about 2"
Then I used a 12" and an 8" extension and a 10mm socket to remove the final bolt in the intake manifold. The pictures below should help to explain this. Also the link above shows pictures of the intake manifold removed so you can visualize it.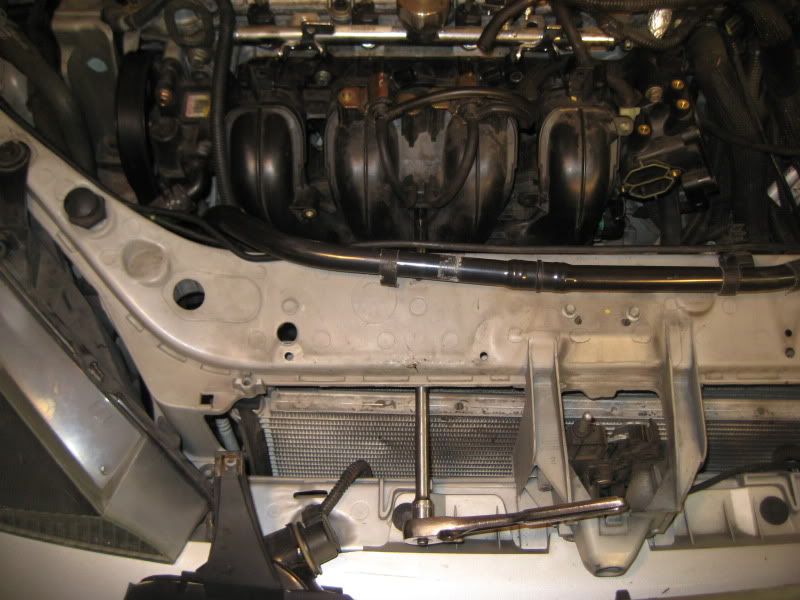 Once the bolts are out and all the electrical connectors and vacuum hoses are disconnected the manifold comes out pretty easy.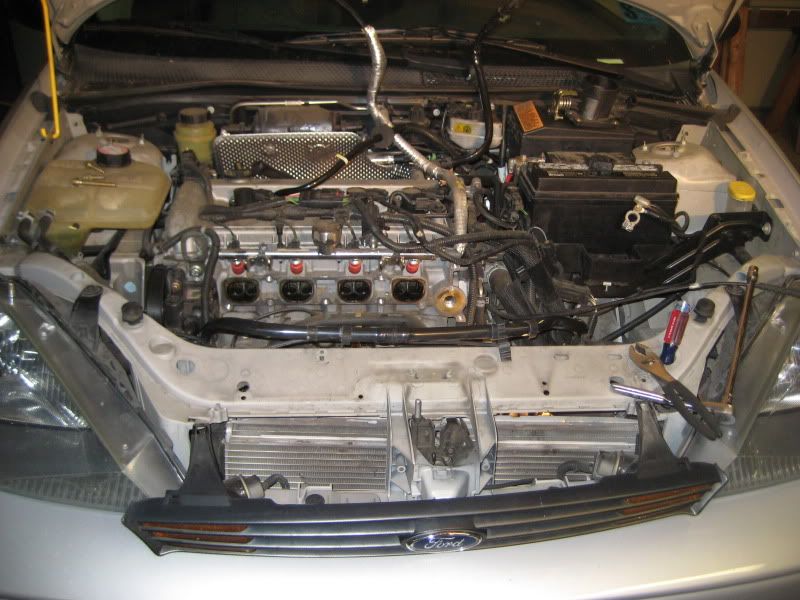 In this picture you can see the black box on the block with the yellow/whiteish plastic hose outlet on it, this is where the PCV hose connects.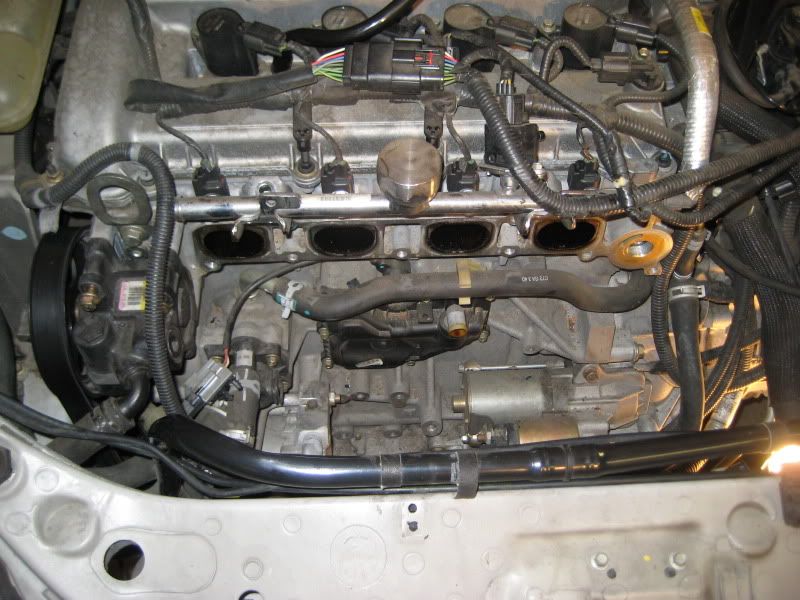 And here's the stupid hose that caused all my problems. Thanks for burying that on me Ford!
While I had it apart I flushed the inside of the intake manifold with some degreaser and warm water.
All back together
Its all back together and working fine, then noise is gone and I managed not to F up anything else. Total repair time took me about 6 hours, mostly because I didn't know about that bolt between the 2 and 3 intake runners and then once I learned it was there had to figure out how to get to it! It's a pretty tough repair and I'd say you have a be a pretty competent mechanic to take on this one. Oh and your fingers will be cut up from working in all the tiny little places you have to get to.
So that's about it for me. Like I said its not a complete write up but details the issues I ran into which is the most important part I suppose. Hopefully this helps someone save $500 by not having Ford do the repair. Good luck if you have to do this.