Discussion Starter
•
#1
•
I have a Nikon D40 I picked up when it was brand new and at first I loved the thing because it was my first DSLR and I thought it took brilliant photos. The more I've used it the more I realized I really don't like it at all. The autofocus only works about half the time and it over exposes almost everything. I figured out how to go in and adjust it so that problem is kind of fixed but I still feel extremely limited in what I can take a picture of. I find it difficult to work with and it seems to fight me on everything. I have found myself taking a lot of pictures in extremely low light and the D40 just doesn't seem to have the capabilities to capture what I want without being blurry (I've tried a tripod and messing with the f/stop and the aperture). I also shoot a lot of fast movement in low light too, something I cannot do well with the D40. Is this just me or is it the camera?
I'm looking into buying a new DSLR, but I'm not sure where I should look. I've heard wonderful things about the Canon Rebels, but have no experience with them. Should I bump it up to the D80? I'm considering the Canon Rebel T3, but as far as I can tell the lens is not detachable which weirds me out for some reason. How is it compared to the D40?
I don't have unlimited funds to work with so I kind of want to stick to something $300 or under. I realize you get what you pay for when it comes to electronics, but maybe there is a camera out there that is worth the price... To be honest, the D40 just feels cheap to me and even though we've been through so much together, it just may be time to move on from it.
I take pictures for work of our DJ and almost none of them turned out alright. I may just be doing everything all wrong though...
Here's an example (not altered in anyway):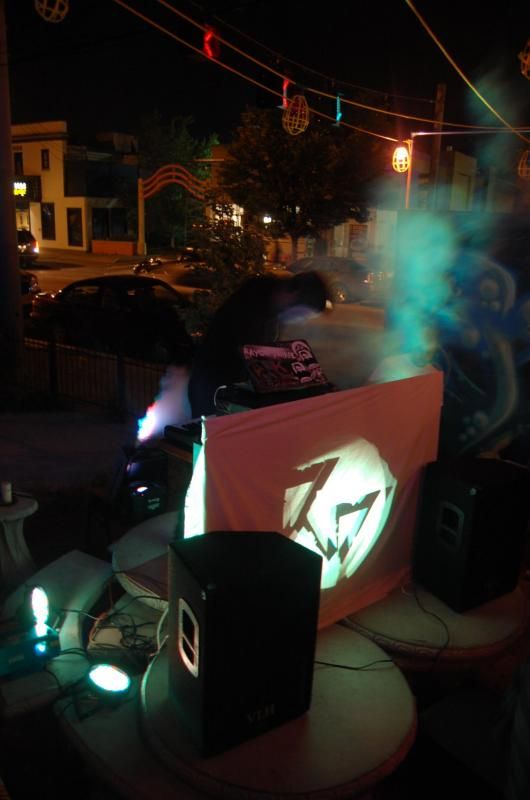 This was taken with F at 3.5 and exposure program at 4. I need his mask/face to not be blurry but because of his light set up his face is almost always dark/not in direct light and he moves very quickly. Is there something I can do to change how I shoot or can it be blamed on the camera?