Discussion Starter
•
#1
•
Ok, got the tranny out after having to get towed home last week. Was told that it had a new LuK clutch kit installed shortly before I bought it. Still has the machining marks on the flywheel and pressure plate to back up his claim. And look at all that meat on the disc...
Talked to LuK and he said that in his 14 years he had never heard of this happening before.
The friction material on one side is loose on the rivets, it moves around quite a bit. Other side is still tight. I'm pretty sure the disc may have been in reversed, meaning flywheel side on the pressure plate.
You can see in the pictures that all the splines inside the disc are stripped out. It's an almost completely smooth bore.
I did a
quick measurement
of two tranny input shafts and got close to the same number: around 0.950 to 0.965.
Will be double checking the shafts after I get the slave cylinders off.
Anyone seen this before?
Any thoughts as to what the heck happened? Definitely don't want to go through this again...
I don't beat on the car, hardly drive it much at all, maybe 1500-2000 miles since I got it on the road in February.
Not sure now if I want to go with Luk again or not. Borg Warner maybe.
Really don't need a ClutchMasters type of setup.
Opinions guys...........Thanks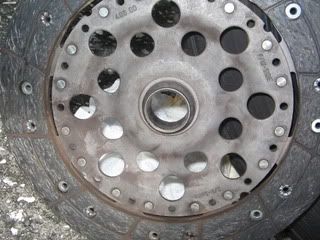 [werd]