Discussion Starter
•
#1
•
Okay...here's the story. A while ago I switched my factory airbox/panel filter over to a K&N cone. All I did was take the top of the airbox off, remove the panel filter and used a large clamp to attach the new cone directly to the MAF housing. While this seems to flow much better (and sounds awesome), it also sucks in hot underhood air (as you can see below), causing the car to bog down under heavy acceleration from a stop (especially in the 90 plus degree weather we've been having for a week a so now). Now, it's pretty well known that colder, denser air means more power. After all, that is the basic principle behind a CAI. However, I don't want to risk hydrolock, or spend the money on a CAI, so I decided to find my own solution.
Basically, I'm making a heat shield that will (hopefully) keep the hot underhood air away from the filter. The shield is similar to the ones that come in the K&N FIPKII kits.
Making the shield:
The first thing I did was remove the cone filter, the lower airbox piece and disconnect the battery. Getting the filter out of the way allowed much better access to the lower airbox, which needed to come out, as it would be in the way of the new shield.
Next, I grabbed a piece of tag board, a pen, and a scissors and just went to work fabbing up a template of each side of the new airbox. I then taped the side pieces together, and after a few more test fits and cuts with the scissors I had this:
Next I pulled out the tagboard template, and transfered it to a more sturdy piece of cardboard. After cutting out the new cardboard template and bending it at all of the edges (I'm puposely making the shield out of one piece of cardboard in hopes of being able to use one piece of metal later, that I only have to worry about bending it and don't have to bother with joining two or more pieces together), I test fit it once again.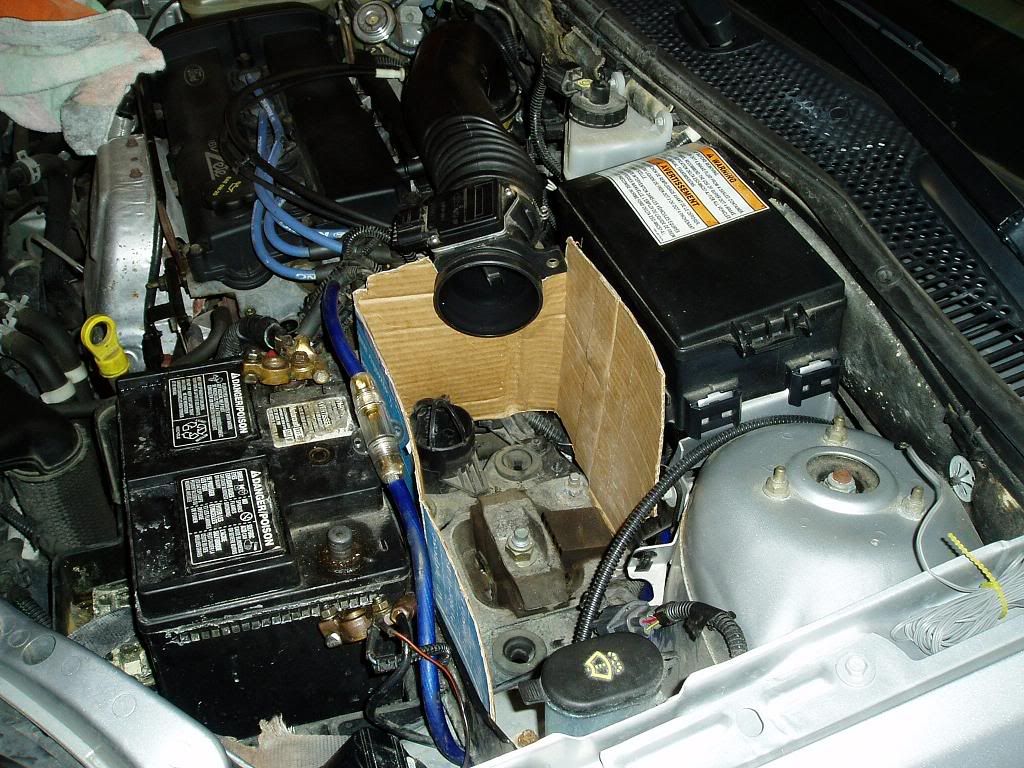 Then, I put everything back to how it was when I started, because unfortunately I have to work today and will have to finish everything up tomorrow. I'll be getting a sheet of aluminum tomorrow morning and cutting/bending the shield into shape. I plan on having two layers of aluminum for the shield, with some sort of insulation between them (possibly expanding foam like Great Stuff), and then will have weather stripping on the top to finish off the edges.
Before I install it, I plan on using a digital temperature gauge to test the intake temps both before and after. I'll update this thread as I get more done.