Years ago we wanted a way to custom make our own power steering hoses so we could add a different cooler and a dry break quick disconnect (to allow fast powertrain swaps) in our road race car. We found nothing available so we made our own. We've now made a production run available to the public!!!
Fitment:
Focus US 99-11 ALL
Here's what we have to say about them:
When it comes to handling your unique fluid transfer needs, Massive returns the most innovative solutions and highest quality.
PERFEKONNECTION Rack Fittings
Allows one to convert the OEM steering rack's inlet and outlet to -6 AN, thus making replacement of the factory hoses with custom lines possible. Add coolers, quick disconnects, custom routing and of course use far stronger and more aesthetically pleasing stainless braided lines. More than simply a modified off the shelf fitting, these are custom made in house for application. Large hex allows for tool usage. Aluminum construction that is shared with the rack prevents galvanic corrosion that is common with OE steel lines or any steel fitting. Purple anodized for long term good looks. Includes CNC Laser cut zinc and yellow dichromate plated retainer plate, new fastener and Buna-N O rings. Would require some form of AN conversion to pump side, see other listings.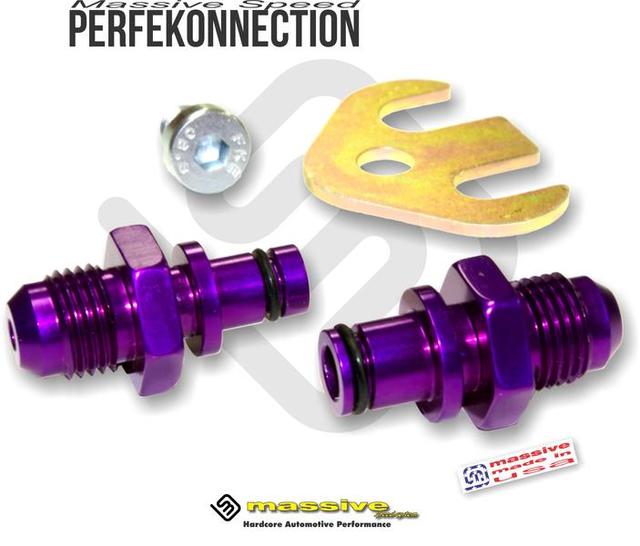 Just [highlight]$49.97[/highlight]
PERFEKONNECTION Pump Fitting
Necessary high pressure O ring type adapter fitting for the OEM Focus power steering pump to - 6 AN. Use with Massive Rack Fittings. Anodized for long lasting performance. Includes Buna-N O Ring.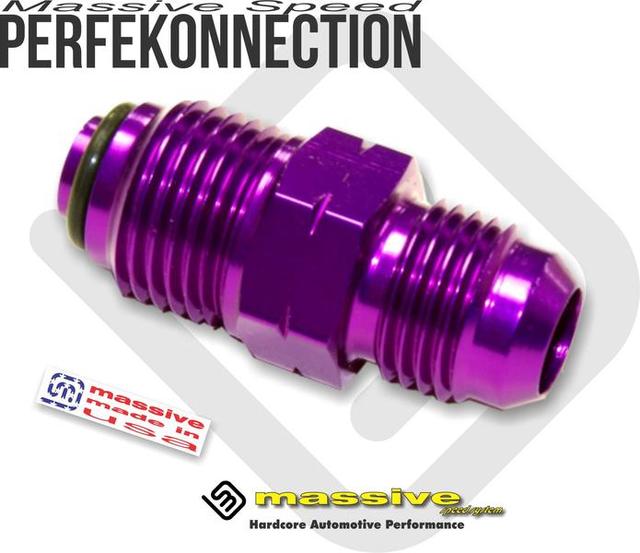 Just [highlight]$11.57[/highlight]
PERFEKONNECTION PRO KIT
Includes both of the above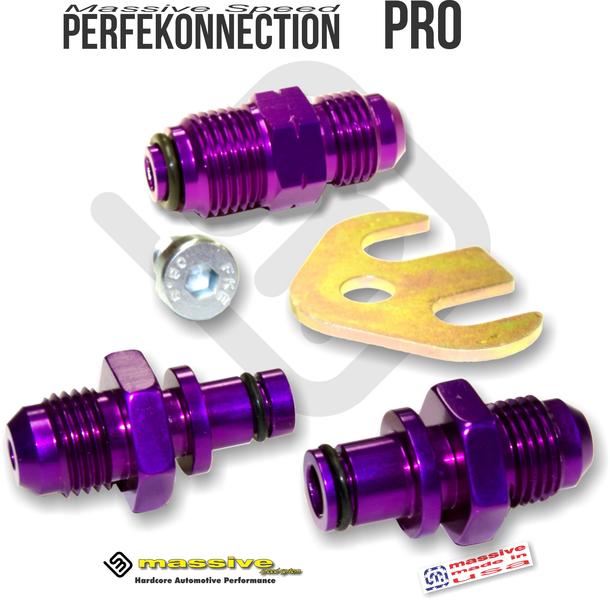 Just [highlight]$57.55[/highlight]
Still just[highlight] $5 Shipping [/highlight]on all Massive Speed branded products!
As always these products are made right here in house at Massive in the
U
S
A
!!!
Should be used with Teflon lined HIGH PRESSURE type stainless lines / fittings such as Earl's Speed Flex or Aeroquip's Teflon Racing Hose series. Alternatively, any other crimped
high pressure
type hose with AN female hose ends would be sufficient.
Find em
Here