My passenger motor mount broke. The rubber separated and all the goo is all over my engine bay. Including on my accessory pulleys :(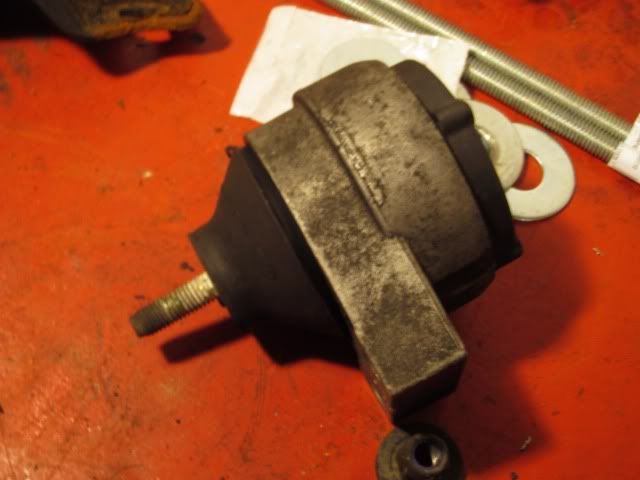 Tousley has them for $80. There are several cheap brands around $25 but the reviews all say they break within a few months' time. Being that my car has 213,000 miles on it and has officially achieved honest-to-goodness beater/project car status, I needed to fix this as cheaply and reliably as possible. So these options were not going to work.
User mellephants was my inspiration here. He just got done with the same job with the same financial constraint. In fact, somehow all three of our motor mounts have broken at about the same time, despite way different mileage on our cars... Thanks to the internet, we found a couple of options in this area of motormount repair. McMaster sells a few hardnesses of 2-part liquid urethane, the most typical ones being 60A and 80A. Each comes out to about 40 bucks after tax and shipping.
The vibrations in mellephants's car with the 80A is a bit much for me so I wanted to try the 60A. But then I found threads talking about 3M Window Weld, which is 55-60A and supposedly $10. Perfect! But when I went to look for it online, it was $20 or $25 at my local stores. Bummer.
Finally, I found other threads where guys used a Loctite roofing sealant, P/N 1402254. The data sheet on the Loctite website says only 27.5A hardness... but the internet people were saying it is not squishy. And it was $5. So, no brainer!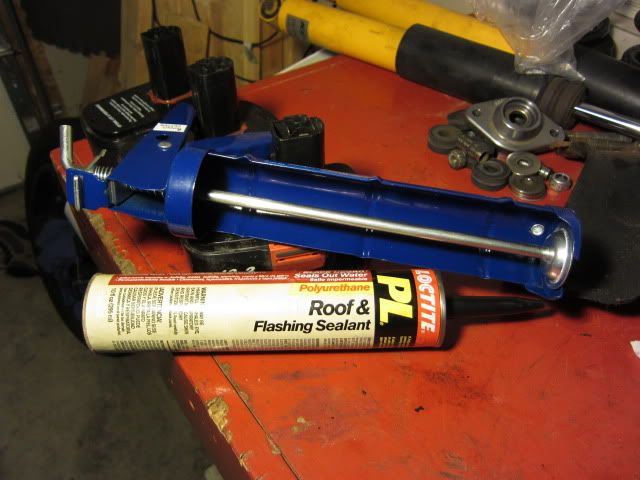 On with the how-to.
1. Support your engine then remove the bracket and mount from the car (there is another how-to about this, I'm sure) (15mm, deep 18mm sockets). Then remove the mount itself from the bracket (deep 18mm socket).
2. Gently pry off the top plastic piece and cut the rubber seal. If your mount was not broken, there will be a bunch of goo in there you need to get out.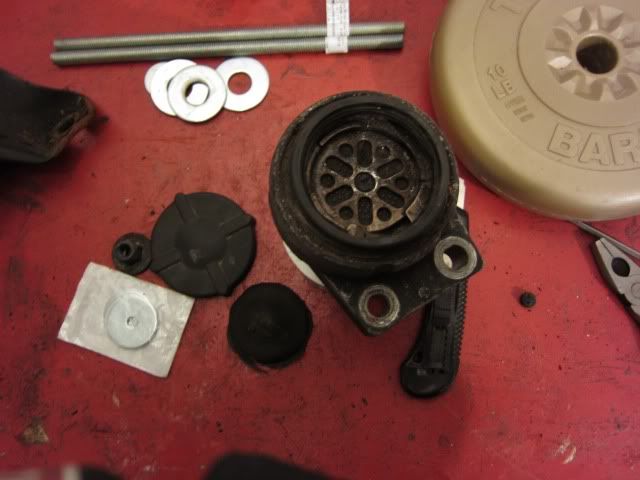 3. Cut and remove one piece at a time the rubber baffle between the two valves. I just slit it once and pulled it out, involuntarily breaking it in pieces as I pulled it through.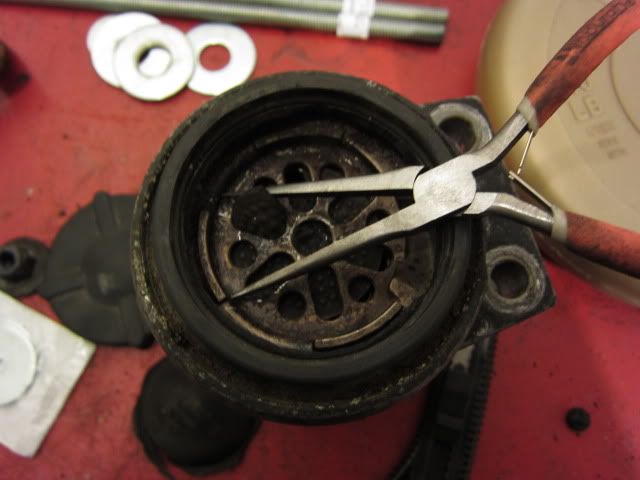 Sidebar. This fluid-filled mount works exactly like a shock absorber. The motion of the fluid is controlled by a baffle between two valves. In the upper right of this pic is the orifice that controls "compression" movement of the mount. "rebound" is controlled by the baffle covering the bottom valve.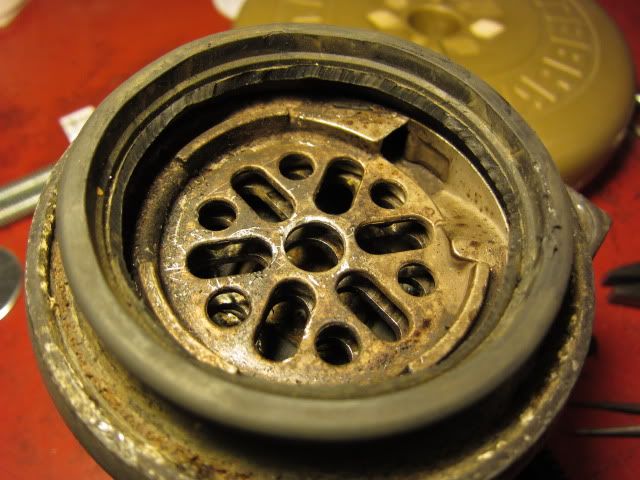 4. Clean the goo out. A healthy serving of flowing brakleen will help.
5. If your mount was already broken, tape up the edge so the urethane doesnt simply leak out. Take note here of the locating pin on the base of the stud. It is very important to align this properly so it fits back in the bracket. It should be on the opposite side as the motor.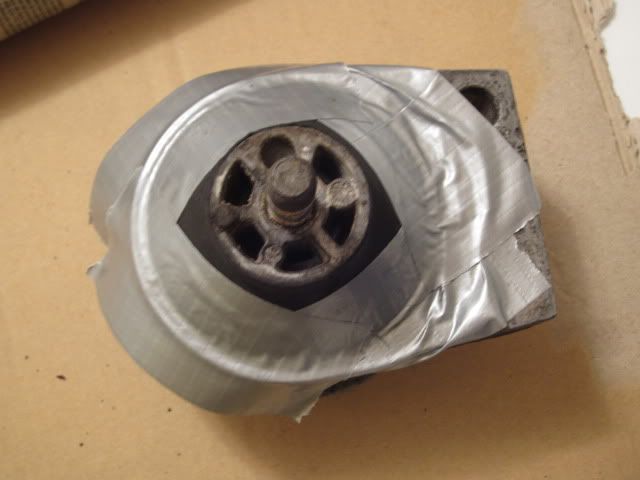 6. Grab plenty of towels you don't care about and wear gloves you are willing to throw away. Cover your workspace with cardboard or something. Warm up the mount and sealant to at least room temperature but no higher than about 90F. I used a male 3" PVC adapter to hold the mount. It fits perfect and I had it lying around from a bushing install on another car, but they are only a couple dollars if you want to buy one.
Steps 7-9 should all be done within 15 minutes to avoid setting the urethane in the wrong position.
7. Cut just the very tip off the tube, and break the inner seal of the tube with a long screwdriver or something. Then, try to jam the tip of the tube down into the side of the mount. Here we are trying to get the urethane to go under a metal ball inside the mount. Sorry, I don't have pics of that but you will see it. Squeeze a bunch in on both of the larger opening sides of the ball. then work in a circle. Eventually it will start to come out the other holes, and you can jam it back in. Just get as much in there as you can, I used about half a tube.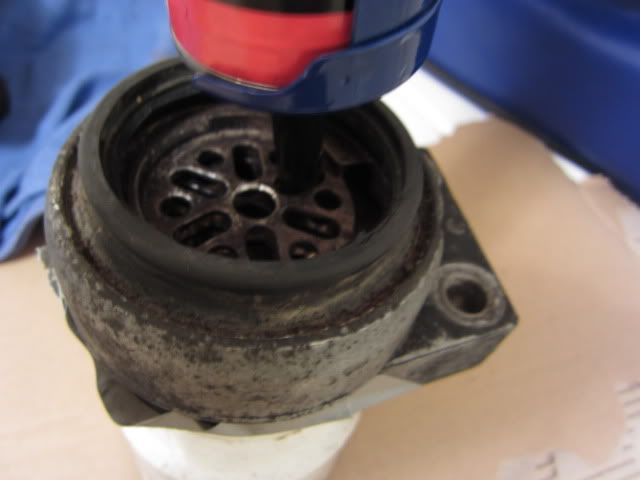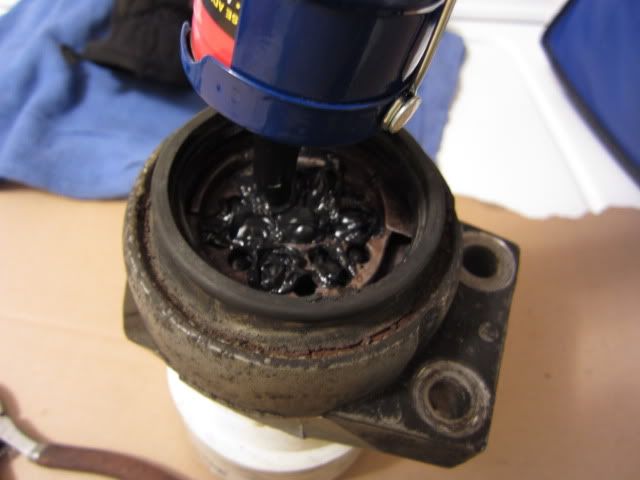 8. If I've learned anything from placing concrete, it's that vibration is your friend if you want to reduce voids. Go around in a circle and tap the mount with a hammer.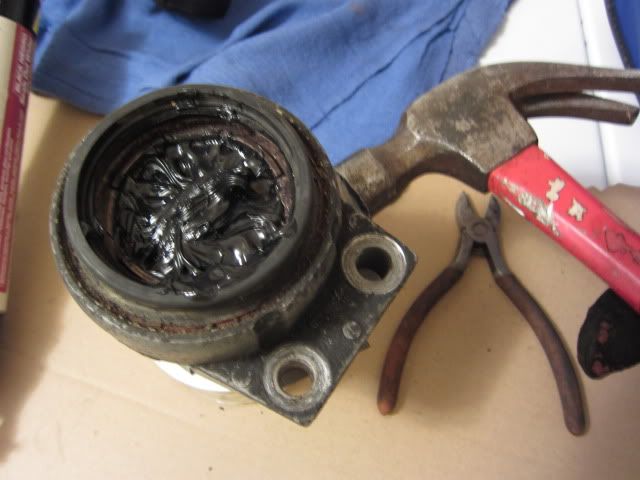 9. Load the top of the mount so the bushing part of the mount is compressed. This will give you the best range of motion after everything cures. I used 50lbs. Speaking of curing, the recommendations range anywhere from 1 day to 7 days. Most people wait 2 days. I think I will go 3 days.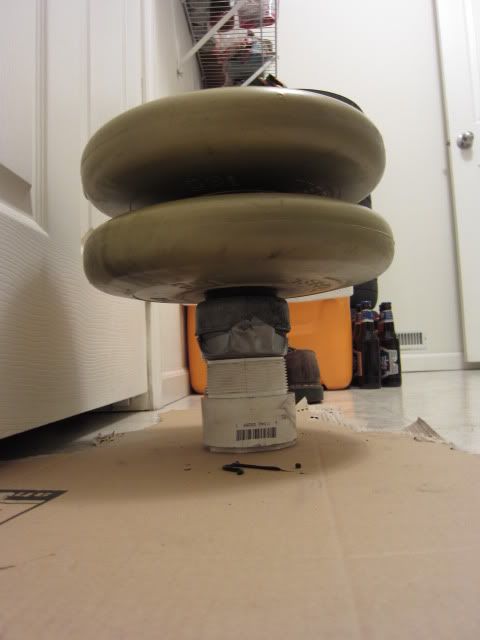 So that's where I'm at right now. I'll report back once I get it installed and running.