If the endlink isn't physically hitting something, I'll also go with bushings.
I also don't believe in this 'adjustable endlink' theory.
It is not the position of the bar that determines anything stiffness or geometry related. It is the bar diameter, mount stiffness and suspension compression that determine those things.
All adjustable endlinks do is alter the min/max travel points of the bar. They can be used to limit bar stiffness. For example, a shorter endlink will soften the car up while a longer link will stiffen the car up. This has to do with how far the body rolls before the bar comes into use. This is called preload, for lack of a better term.
Basically what it is is the point in the compression of the suspension that the bar comes online.
Really wish I had some visual way to explain this better.
Top bar is the front one.
A swaybar is a torsional spring. That is, a twisting force.
The bar is free to rotate in the bushings further than suspension travel allows. Or, the bar is not resting or inhibited from rotating in any way.
That now means the 'effective stiffness' or the bar will be determine by Geometry, The Lever Principal.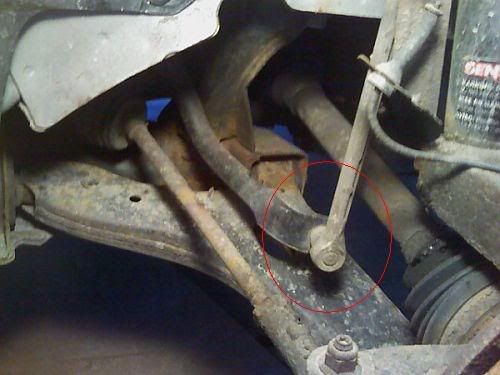 The point that's circled is what we're concerned with. For a neutral car it should be at an angle of 90° to flat level ground. Above or below that degree will alter the dynamics. A higher degree, moving the bar up, will add preload.
My crappy paint skills,
Long story short, you don't need adjustable endlinks.
My car is just as low as yours. My bar sits as it should for a neutral bar.
Look at the bushings.