Coming home at about midnight, I was racing a turbo'ed eclipse down a road about a quarter mile from my house. Surprisingly we were pulling neck and neck against eachother, my car actually out pulling it in the top end.
We approached a curve in the road where he took an inside lane and I was on the outer, closet to the center island. He started to lose his back end and started drifting into my lane. To avoid a collision at high speeds, I hit my breaks.....hard. The force of the curve and the force of the brakes applying to my FWD focus were a bad combination.
The braking caused me to shoot to the left, hitting the island. Instantly upon impact my car car flipped, took out about a 10" diameter tree, flipped a second time, took out a concrete rebar fence and landed on its wheels on the side of an embankment. Yeah, it was that insane.
Luckily, my Recaro seats had the side airbags that basically held me from getting hurt. The front airbags didn't even go off. Only injuries were cuts on my hand from glass. All i can say is these cars are DAMN SAFE.
After long fighting with insurance I ended up actually getting a decent settlement. I went car shopping for a couple of weeks and ended up going a more economic choice with a Sliver 2002 Nissan Sentra SE-R Spec V for 9k out the door. Not as nice as my SVT but it really is a fun car to drive. Having more torque then horses is muuuuuch different
. After a few mod's this baby will be pretty quick. Here's a pic: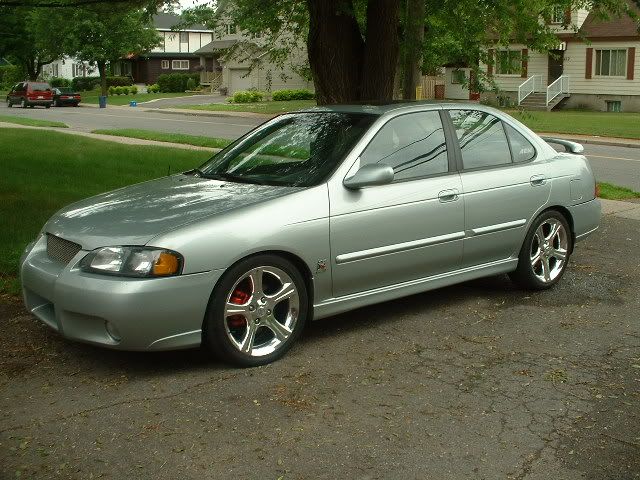 Anyways, I thought i'd let you all know there was 1 less Competion Orange SVT out there.... I'm selling some left-over parts I have from upgrades i did in the past. These include: Stock SVT Intake, Stock Shifter, Stock Throttle body, and my old CAT. PM me if you need any of these or just keep a look out in the classified forums.
Farewell fellow focus members, it's been fun but time to move on...be carefull with yo shit, racing isn't always worth the outcome.
-Jeff (BomKron)