I went 619.1 miles (according to yahoo maps) to arrive upon my SVT. I drove it back from Jackson, MS all the way to Mustang, OK (SW Oklahoma City). It was a little over a 9-hr drive back. No license plate the whole way, and I didn't even get stopped. Odd, eh?
Hmm, I wonder if I can beat everyone and keep it that way.
Here I, purple blob, am flying to my SVT while showing off my amazing aerial acrobatic abilities.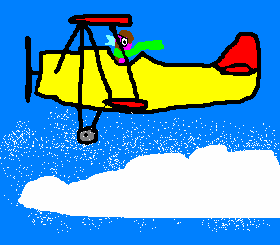 Here's me driving my SVT... um, transformer SVT home.
Then out of nowhere, Robosaurus jumped out and grabbed my car.