SpeedHut makes, in many peoples opinion the best quality guages available. They are the number one choice of many Focus owners on this forum. And you will come up with lots of info if you do a search. They are the complete lighted dials that go on your actual guages. They come with a sperate dimmer which you can either wire to your stock dimmer or have so you can dimm dials seperatly. You decided fully what your guages look like: Color, graphics, backgrounds, reverse/regular glow, everything is desighned by you. Check out their website for yourself:
SPEEDHUT
(click custom dials and get creative)
Below are my guages and you can see the green oil cluster which is what we are looking to see made available. If you dont like my choices expertment on their website and see if you can come up with your own look that you like!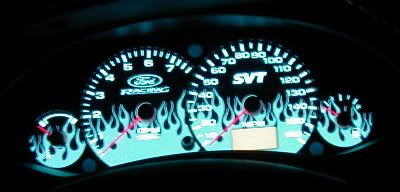 ******MY CAMERA DISTORTED PICTURES THEY ARE NOT EXACTLY THAT BRIGHT AND ARE EXTREMELY VISIBLE*******
__________________
UNDER DA HOOD: Strut bar, Clutch Masters Stg. 4 Clutch, Clutch Masters Aluminum Flywheel, Off Rode Pipe, K&N Typhoon Intake
EXTERIOR: Shorty Antenna, focus mudd flaps, FocusFanatics.com Sticker, Mustang billet aluminum fuel door,
INTERIOR: Cigarette lighter kill switch for both TC and starter, 2 Blue LED's in each air vent, Dual Guage Pod W/Voltmeter+Air/Fuel Guage, brushed aluminum switch panel, Custom SpeedHut dash (blue with silver flames), RAZO pedals, Blue dome light,
AUDIO: Pioneer DEH-P8MP Head Unit, 2 Xtant 12" subs (500W RMS 2000W Peak/each), Alphasonik PMA1000HCA (500 Watts x 2 @ 4 ohms Stereo 3000W Peak), 4 JBLs, Pac-Audio wired steering wheel control interface, Sirius Satelite Radio
---
Last edited by Alex52686; 03-13-2005 at

08:57 PM

.