With the inception of our new tension system, a superior SC pulley was a must.
Behold: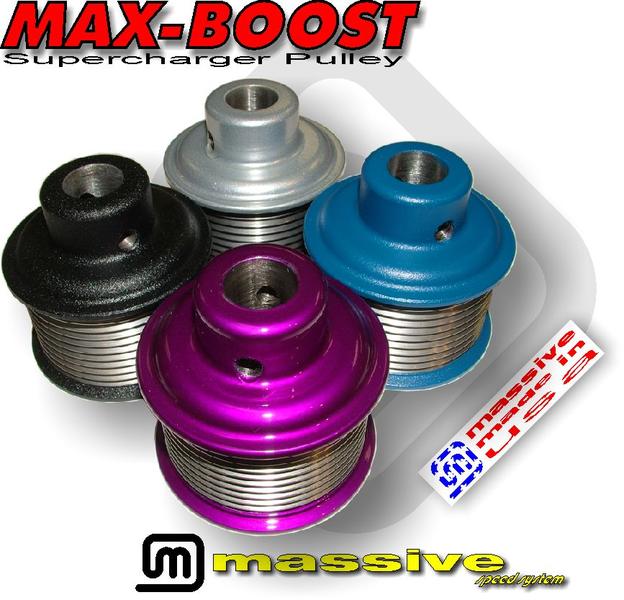 Massive has now release it's long awaited pulley system for the GT500!!! After years of research in the field and at the race track, we have produced the finest pulley system known to man!
This smaller outside diameter pulley rotates the blower at a higher rate, thus increasing boost and of course cramming MORE air into the engine. This of course equates to MORE HP. When combined with the essential tune, this provides us gains in the neighborhood of 100+ HP, AT THE WHEELS!
Crafted from a precision alloy steel to offer great strength, yet strategically machined to offer a 36% weight reduction versus stock, offering a reduced load to the blower snout bearings (essential with the now far greater RPM and torque the under-driving produces). TRUE 66mm OD (2.59In) – not an advertised size - (competitors 2.6" pulley measure out at 2.65!!!) for peak boost levels.
Massive also has drilled and tapped the pulley in two places to allow it to be affixed with the standard press fit, AND the positive lock of a dog point set screw. Can be installed as is, or send your snout to us for for in house precise blind hole drilling for the ultimate in guaranteed pulley lock. We offer this service FREE with purchase of the pulley.
66mm pulley should be combined with some form of auxiliary idler (see our Massive Adjustable Supercharger Tension System), tune, an aftermarket cold air intake (stock MAF housings tend to max out with the increased air volume) and step colder spark plugs.
Made IN HOUSE here at Massive in the USA!!!
Just $129.15!!!
Find 'em
Here
OR - take the guess work out and buy our BOOST-PAK with all necessary components bundled together and SAVE darn near $100!!!
BOOST-PAK