Seller: Bennyfocus
Location: Lock Haven Pa 17745
Contact: Pm or
benconfer@hotmail.com
Have 4 stock 15in wheels with like new studded winterforce tires size 205-60-15
I used some eibach spacers to make these wheels fit a awd ford tempo figured i would be unstopable in the winter..... till a ring broke in the engine. Now I really have no need for these as my focus will never see snow covered roads from now on.
Tires I am selling are slightly larger over all diameter. I had them on my focus for about a week while waiting for the eibach spacers to get in so i could mount them on my tempo. Had no fitment issues even with an eibach prokit. Would make a great set of winter rims and tires for your car. The tires have maybe 3k or 4k miles on them if that. Rims are painted gold. Sanded primed and painted with spray bombs really dont look bad as can be seen in pictures.
Below is how tires sizes play out so you can see the difference.
24.21in overall / 195-60-15 stock 15in size
24.07in overall / 205-50-16 16in stock option
24.68in overall / 205-60-15 tires I have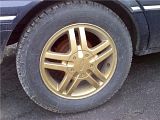 I paid a little over 300 for tires including the extra to have the studs installed and everything. Rims are not perfect had some curb rash before painted but not anything worse than other wheels I have seen. Will have them all balanced again where i bought them from before pickup so they are bolt and go.
With rims included I was thinking maybe $375 for these. Let me know not really hard pressed to sell these. If you do not want them rims I will dismount and let the tires go for 250. That puts the rims around $30 a piece which is not an unusual price for a used rim.