Edit, resolved, my friend messed up making my connector
So I'm finally trying to set up datalogging for my wideband. I set the voltage out to 2.1V at 14.7:1 with a 0.75V/afr slope, with 0V below where it hits 0 and 5V above where it hits 5.
I have my 9pin mini-DIN cable all hooked up, and copied this diagram which Ryan posted on the SCT boards to get my voltage at analog 1.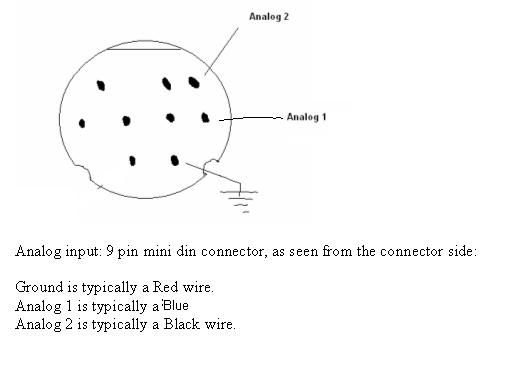 Then I go into Livelink and set up the analog1 to be (1/0.75)*v+11.9
press the green button to datalog
"bluouououooop!" the xcal comes to life and starts datalogging. I also turned on ACT and ECT to make sure its logging correctly, which it is.
Analog 1 sits at 11.9
I checked my cable with a voltmeter, and I have anywhere from 1.9-4.9V as my wideband warms up and reads from 14.2-18.8. So there seems to be a problem either with my xcal or my pinout diagram...
any ideas?