a. (See items below)
b. Pendleton, KY
c. (See prices below)
d. (See photos below)
e. Person placing ad- me, Stephen.
f. Contact Information-PMing me on here would be the easiest.
1. NBL Windshield Banner. The NBL is out of business, so these are relatively hard to find. Red in color. $8 shipped.
2. NBL License Plate frames. I have one black, and one white. $5 shipped each, or $8 shipped for the pair.
3. USABMX windshield banner. This is the new league that was formed between the ABA and NBL. White in color. $6 shipped.
4. Red and black Shadow Conspiracy seat post clamp. $3 shipped.
My camera couldnt get a good picture, but its actually pretty cool looking. Its red, with little black shadow conspiracy crows all over it. I dont think I ever used it, my current frame has an internal seatpost clamp.
5. DC shoes size 10.5. I bought these for $60 at a race, and only wore them maybe 7 or 8 times. They have been sitting in my closet for years, I figured I would offer them to someone before I throw them away or donate them to goodwill. $15 shipped.
6. Ipod docking station, I listed this in the bmx thread simply because I always plugged it in outside and used it when I was riding so I didnt crack my ipod when I fell....lol Anyways its in great shape, works fine, and I somehow have the original box and inserts for it. Uhhhh $8 shipped?
7. United Trinity 20.5tt frame in white. I used this frame for 2 years, it has its scrapes and scratches. I can send more pics, I just didnt feel like taking a whole bunch of pics because i didnt know what sort of interest there would be in it. It also comes with a bb already installed. The brake mounts have already been cut for you so you can run a small sprocket. $100 shipped.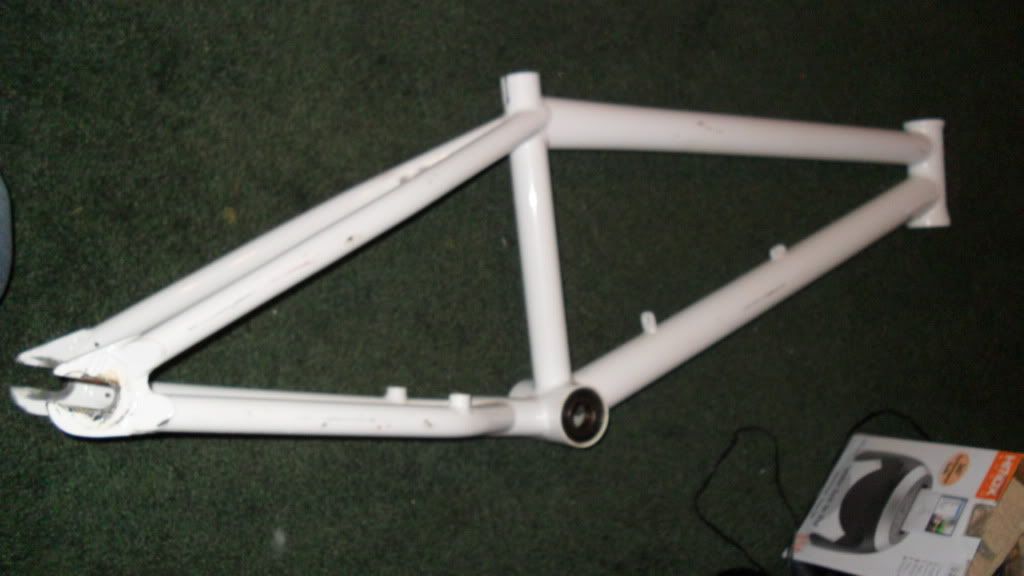 I have another whole bike that I am parting out, once I get it apart I will list more parts for sale. I have a bunch of bmx stuff. lol Thanks for looking and feel free to ask questions and request pics!