**Vote for February ROTM-I LOVE RARE PARTS!**
---
Here are the nominees:
SIXSHOOTER
Quote:


2002 Sonic Blue Ford Focus SVT #602 w/ Winter Package, Moonroof and Audiophile Options.

Suspension:
-KW V1 Coilovers
-LCR Race Camber Plates
-SPC Rear Toe Arms
-FS Front Strut Tower Brace
-25mm Progress Rear Sway Bar

Wheels:
-Keskin KT1's 17x8.5 ET30
-Nitto NeoGen's 205/40/17

Engine/Drivetrain:
-Tom's Tune via Diablo Predator
-Volant Short-Ram Intake
-CFM 65mm Throttle Body
-CFM Oil Separator
-MSD 8.5 Wires and Coil Pack
-CFM Underdrive Crank Pulley
-CFM Polished Billet Oil Cap
-Focus Central Short Throw Shifter
-All VF Motor Mounts
-Color Matched Sonic Blue Valve Cover
-Shaved Radiator Support
-Ford Racing Jet-Hot Coated Header
-Trubendz 2.5in Flexpipe
-Trubendz/Borla 2.5in Exhaust
-Poly Exhaust Hangers

Brakes:
-R1 Concepts Drilled/Slotted Rotors

Exterior:
-ST170 Front Grille
-SAP Rear Diffuser
-Reiger RRX Front Bumper
-Reiger RRX Carbon Fiber Lip
-Flat Black Painted MACH Headlights
-PIAA Glass Projector Fog Lights
-Color Matched Rear Hatch Trim
-"Steamboat" Front Euro Plate

Interior and ICE
-Pioneer DEH-7800MP Headunit
-Rockford Fosgate Punch 200w/ Amp
-Pioneer 10in. Sub Mounted in Stock Audiophile Sub Box
-All Speakers at 5x7 Pioneer 3-Ways
-PAC SWIX Interface
-Ford GT Start Button
-ST170 Center Console
-ST Silver Gauge Cluster
-MOMO Polished Shift Knob
-"Ooogah" Horn
ELIASLINCOLN
Quote:

Rare Part - Wings West WRC Spoiler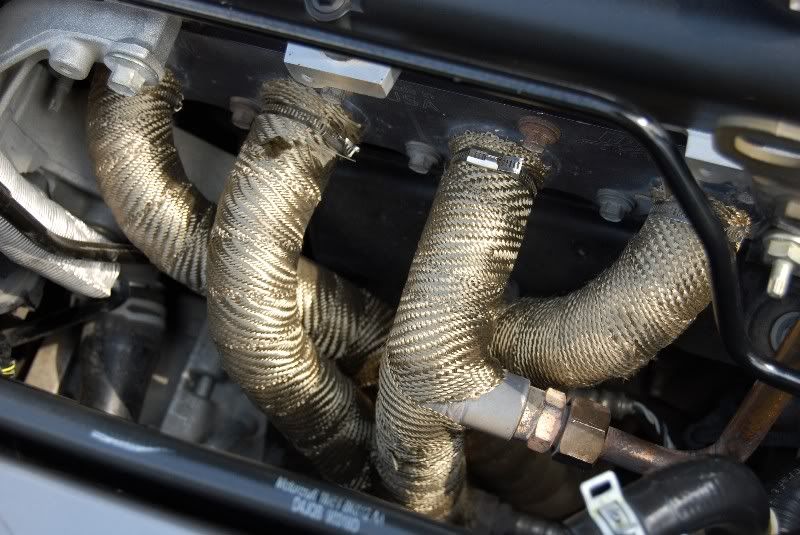 Rare Part - Focus Central 4-2-1


Ram Intake
2.5in Borla
2.5in Flex pipe
Rare 4 piece Focus Central Under Drive Pulleys
Focus Central Header
High-flow cat
MSD High Performance Coil Pack
Massive MSX 90 Low Impedance Spark Plug Wires
XCAL 3 with Tom's Tune
ATE Premium One Elipitcal Slotted Rotors
Hawk HPS Street Brake Pads
Russell Stainless steel brake lines
215/45/16 Kumho's Ecsta Xs (for autocross)
195/55/16 Gerneral Winters
420lbs Springs
KYB AGX Struts
DGR Race Coilovers
Rear 22mm SVT sway bar
FocusSport Front strut tower bar
FocusSport Rear strut tower bar

Real Carbon Fiber Shift knob
CF wrapped radio surround and gauge surround
50% Short throw Shifter
SVT center console
Black light LED Dome light
Super White LED Map lights
Liquid Grey Painted Vents
Sony Explode CDX gt310 deck
SVT Sub swap

Wrapped the whole car in Matte Black Oracle Vinyl
Wings West WRC Spoiler
16" Stock 6 spoke for winter and Rallycross
16" 10 Spoke Sparco Gara's in Black (for autocross)
Classic Black 2002 SVT Headlights
LED Eye lids w/ sequential turn signal
Radiator Lid Cover
Hatch LED's for license plate
Black Mesa Emblems
TYC Tail Lights painted black
European Washer Jets
Shorty Antenna
Tinted Clear Corners tinted
Tinted Euro Clear Grille tinted
Black calipers
RUDEL
Quote:


Currently as she sits:

Engine:
Cosworth WRC CGI Block
Focus-Power Zetec 2.3 Stroker Kit -
Focus-Power Custom Forged Pistons
Focus-Power 4340 Billet Steel Rods
Focus-Power 4340 Billet Crank
Focus-Power Billet Main Caps
Clevit Crank & Rod Bearings
Clevit Thrust Washers
Zetec Port & Polished Head
4* Valve Angle Job
Crower Titanium Springs & Retainers
Ford Racing 1mm Larger In/Ex Valves
Ford Racing Cam Adjustable Gears
Competition Stg 2 Cams
CFM Billet Oil Pump Gears
CFM Billet Tensioner Pulley
J-Fab Crankcase Vent Oil Separator PCV Delete
ARP Main / Head / Manifold Studs
Dominate Engineering Custom Intake Manifold
Focus-Central 70mm Throttle Body
K&N Cone Air Filter

Force Induction:
Garrett GTX-3582R Turbo
Tial .82 SS Exhaust Housing
Tial MVR 44mm Wastegate
Tial Q 50mm BOV
J-Fab Intercooler Support Frame
Top Speed Pro-Race Turbo Manifold
Top Speed Intercooler 3" In / 3.5" Out
Top Speed 3" Hot-side Charge Pipes / 3.5" Cold-side
Top Speed 3.5" Stainless Steel Downpipe
Top Speed 4" Aluminum Exhaust w/ 2 x Vibrant Mufflers

Fuel System:
Siemen Deka 830cc Fuel Injectors
Dominate Engineering -8an Fuel Rail
Aeromotive FPR
Top Speed Dual Fuel Pump Hanger
2 x Walbro 255s

Drivetrain:
Lentech Strip Terminator Automatic Transmission
Ford Racing Torsen T2 Differential
ATX Axles
TCE Wilwood FSL BBK
Goodridge Braided Brake Lines
DGR Coilovers & Camber Plates
Weds Sports SA90s 17x9 +35
Bridgestone RE-01 235/45

Electronic Management:
SCT iTSX
Diablo MAFia
ATX ECU / Transmission Harness
Turbo-smart Boost 2 Controller
AEM Uego Wideband Air/Fuel Ratio Gauge
Defi Fuel/Oil Pressure, EGT, Water/Oil Temp. Gauges
RS Replica Gauge Cluster

Exterior:
RS Body Panels
RS Body Trim
RS Front / Rear Bumpers
RS Front / Rear Fog Lights
RS Upper / Lower Grills
RS Front / Side Blinkers
RS Wheel Arch Liners
RS Bumper Brackets
RS Bumper Side Vents
RS Air Dam
RS Carbon Fiber Fog Light Trim
RS Carbon Fiber Splitter
WRC '99 Viking Wing
European Appearance Package HIDs
Fiberglass Fabricators, Inc. Turbo Fiberglass Hood (Option)
27% Tinted Windows
42 Designs' LEDs
Hoen H7 Foglights
Osram Indicator Bulbs

Modifications:
Battery Relocation
All 3 VF Engineering Engine Mounts
HIDs with both High/Low Beams on when selected.
European Appearance Package Interior
Autopower 4-Point Harness Bar

Ice:
Alpine CDA-9857 Head Unit
Audiophile Premium Sound System
02ZTSIAN
Quote: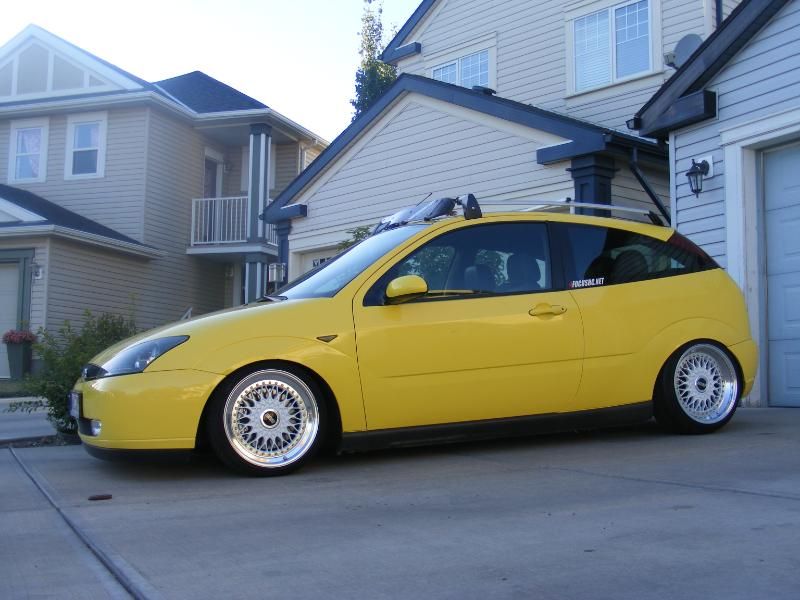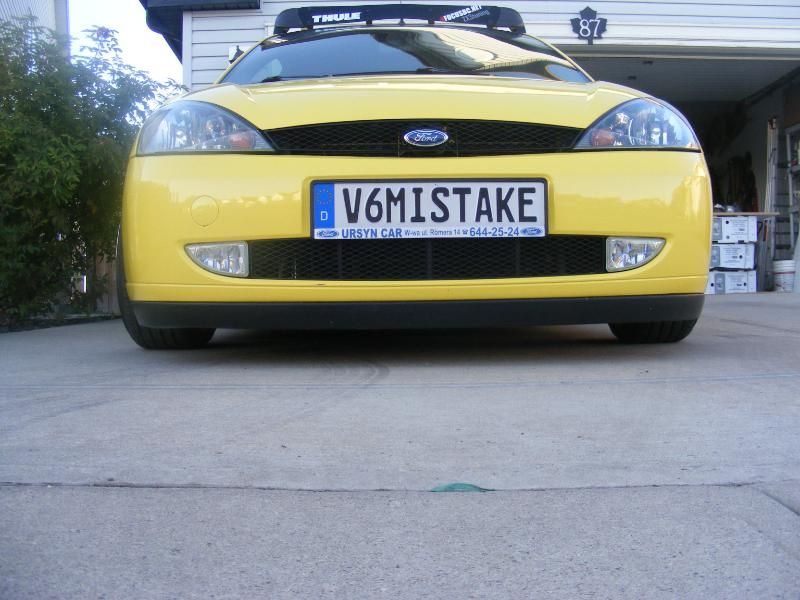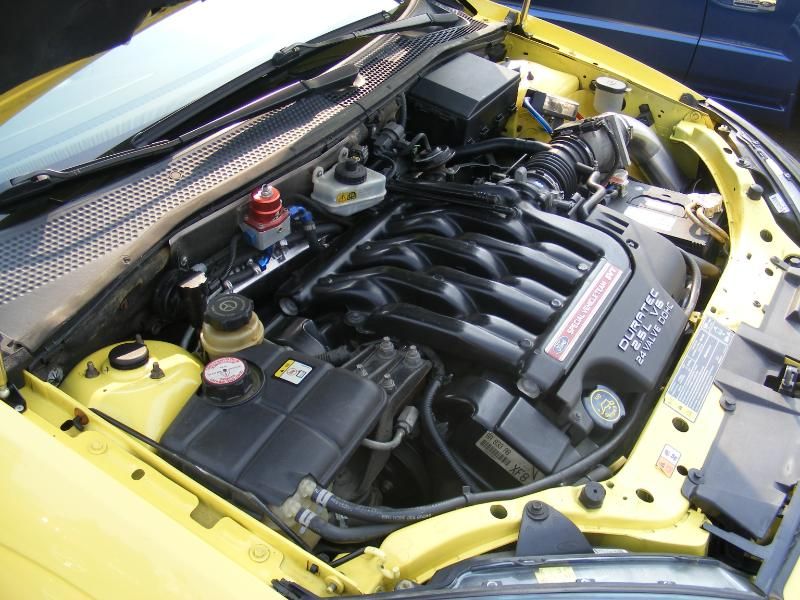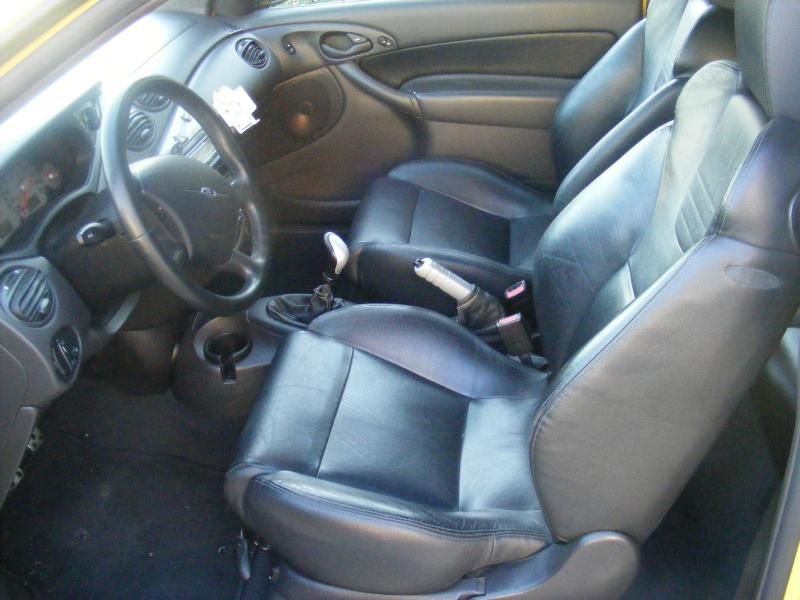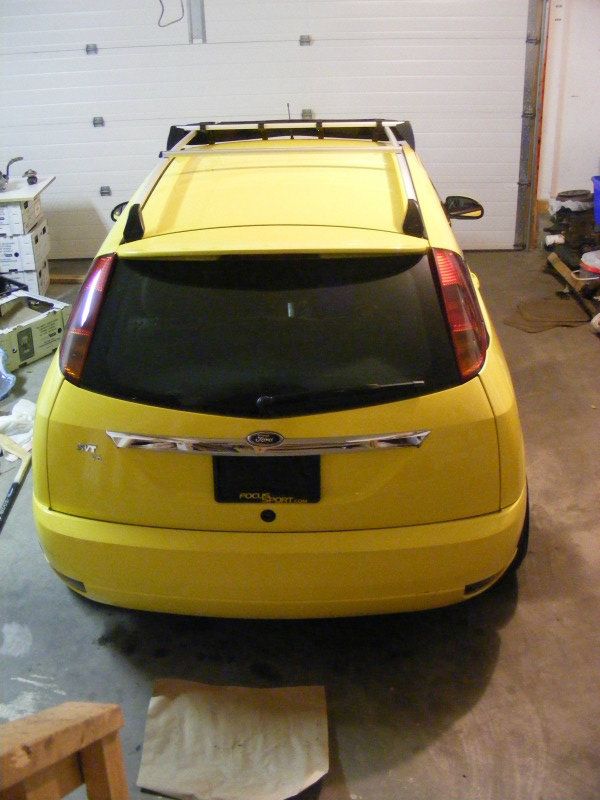 Modifications:

Performance:
- 99 Ford Contour SVT 2.5L 6 Cylinder Engine/Transmission 200hp 170tq
- Aeromotive fuel pressure regulator
- Custom 3" T304 Stainless Steel Cold Air Intake System
- Custom Down pipe
- Vibrant Exhaust System with modifed Turn down for shaved Exhaust notch
- Performance Mods By Schritt Performance And Fabrication
- SVT brake swap front and rear; Centric blank rotors, Hawk Ceramic pads, Russell SS lines, ATE Super blue
- SVT/03+ fuel pump
- Deka 15lbs batter

Suspension:
- KW V1 coilovers at full drop
- SPC rear camber bolts
- Dominant Engineering Rear Toe and Camber arms
- Dominant Engineering front sway bar links
- LCR Race camber plates
- Eibach 25mm rear sway bar
- custom rear shock spacers
- 2.8° camber front, -3.9° rear

Wheels and Tires
BBS RS 17x8.5" 32et and 17x9.5" 40et (34et actual after 6mm spacers), 1.5" front lips with 6.5" barrels & 2" rear lips with 7" barrels,
powdercoated white with Conti-3's in 195/40/17 and 215/40/17

Exterior
- 98-01 front European bumper with shaved bumper signals
- 98-01 front European rubber lip
- Trend upper and lower grills
- European Glass fogs with 3000k HIDs
- 98-01 rear European bumper with smoothed bottom valance and shaved exhaust notch.
- Smoked European Tails
- Smoked UK rear bumper lights:
- European fenders with smoked markers
- ST170 headlights with 4300K HIDs
- European Chrome hatchstrip
- R/S collection hatch wing
- 00 NA textured sideskirts
- European Folding mirrors
- European Ghia optional Roof rack

Interior
- Momo Shift knob
- ZX3 Tuning Stainless Steel Door Sills
- 2001 Ford Cougar Instrument Cluster
- Edead-45 throughout the entire car
- Alpine 12" Type-R DVC sub
- Old School Alpine Deck
- Alpine MVR-F707 (sub)
- Alpine MVR-F303 (speakers)
- Polk Audi 5x7s
- Wiring by Scosche and Streetwirez
- Custom sub box and false floor
- Black suede headliner, A,B&C pillers
- SVT EAP Recaro seats and rear bench
- SVT EAP Recaro Door cards
- Panavise dash mount and ipod holder
VOLCOMSTONE1966
Quote: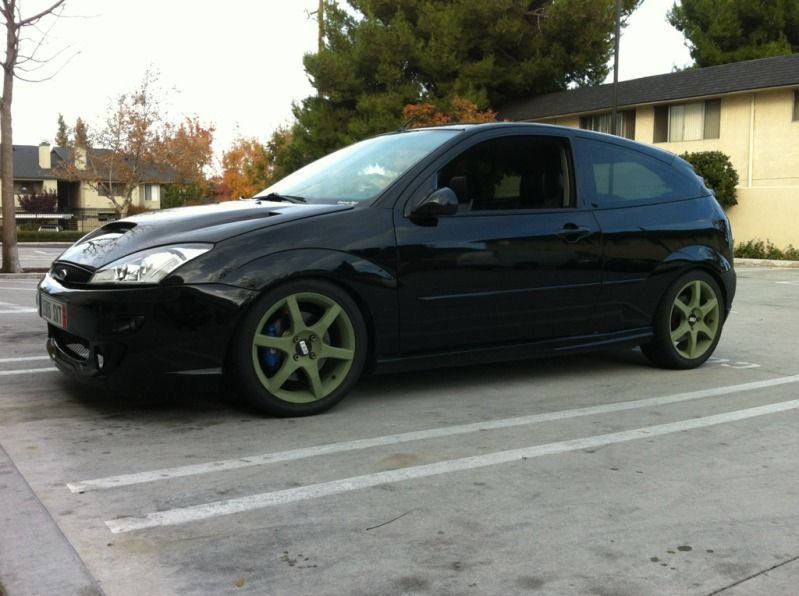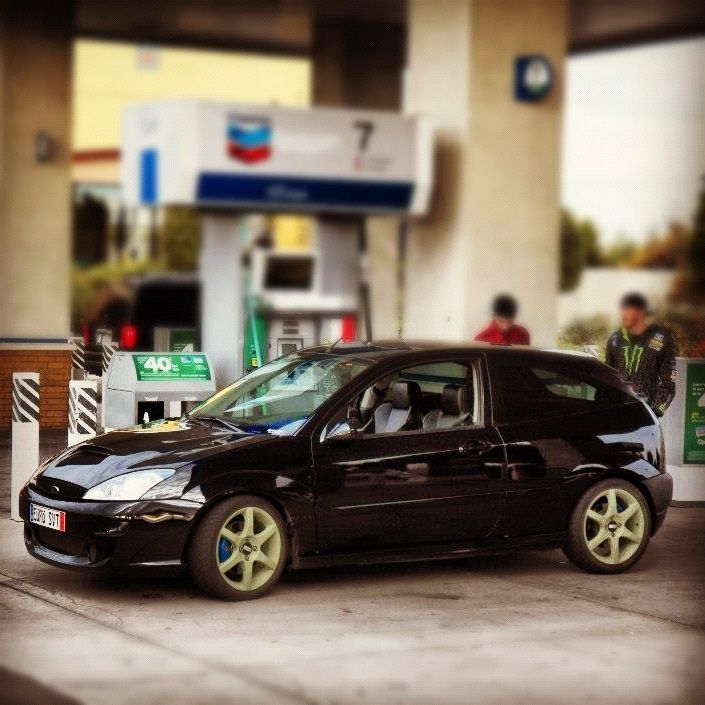 Just the hard to find stuff:

Powerworks superchager
Jay racing HFC
Saleen rims
F2 Coilovers
F2 rear control arms
F2 toe arms
RS steering wheel
RS E brake handle
RS center console
Saleen shift knob
R/S Collection front bumper
R/S Collection rear bumper
Euro Grille with locking hood latch
Euro locking fuel door
Hella Xenon HIDs 6K
Hella taillights LED
Hella/Morette turn signals LED
DTM Drop Mirrors
Voting ends February 12th!
__________________
February 2005 ROTM