**Vote for October ROTM-TEXAS**
---
Here are the nominees. I only received information from 4 members so for the other one I had to use what I could find on the site.
SVVIFTSVT
Quote: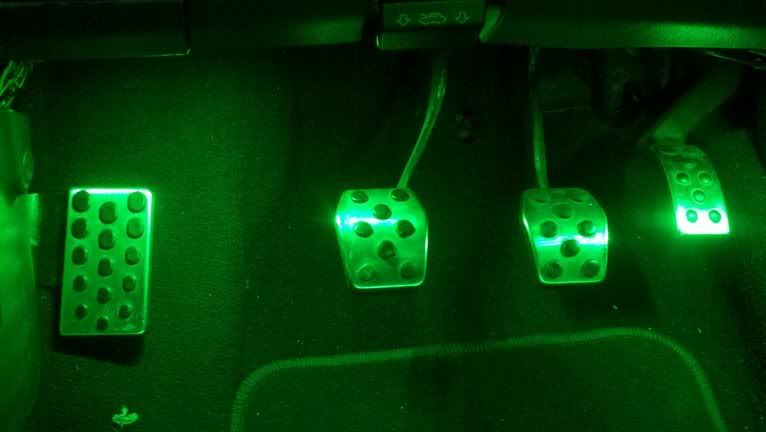 MOD LIST:
Mod List
Performance:
Custom SRI
Massive Underdrive Pulleys
Lime Green Massive Rear strut Brace
Tom's Tune
ORP
Megan Racing Springs
KYB AGX shocks/struts
CFM STS
DEI Titanium Wrapped Header
Customized Heat Extractor Hood (work in progress)

Visuals:
(other than things listed above)
Roush Midwing
CF Whale Tail
6000K Lows
3000K green Fogs
blacked out machs
Nightshaded tails and corner lights
LED lite footwells, map pockets, hatch, grills
SVT Center exit diffuser
Rerouted exhaust
Aerocatch Locking Hood Latches

ICE:
FULL Kenwood Excelon Stereo
2 12" CF cone Subs
Coaxils in front doors
Components in rear doors
300W tweeters in front doors
6.1" touch screen head unit
monochannel amp for subs
4 channel amp for doors
PS2 Slim in the glovebox (soon to be replaced with xbox360/ps3)

Future/Pending Mods:
Refinish the hood (filling in the side vents and repainting in progress)
repaint calipers, VC, SRI
Euro Tail lights (need to be installed)
Rework reverse Lights
ZINGER.637
Quote: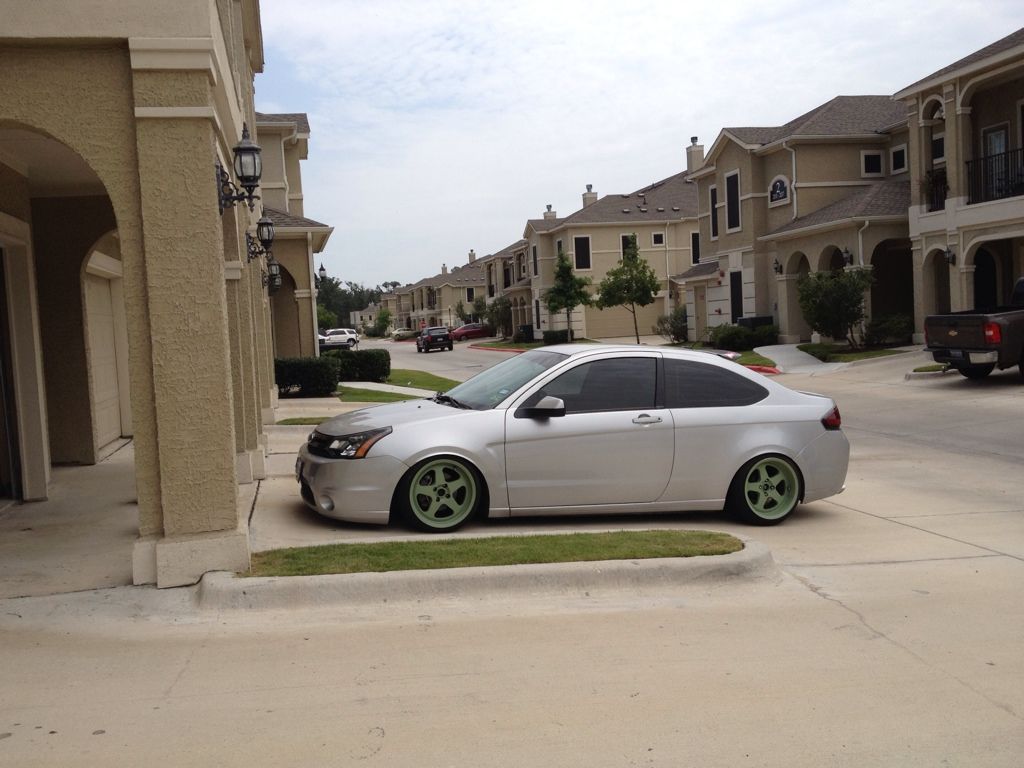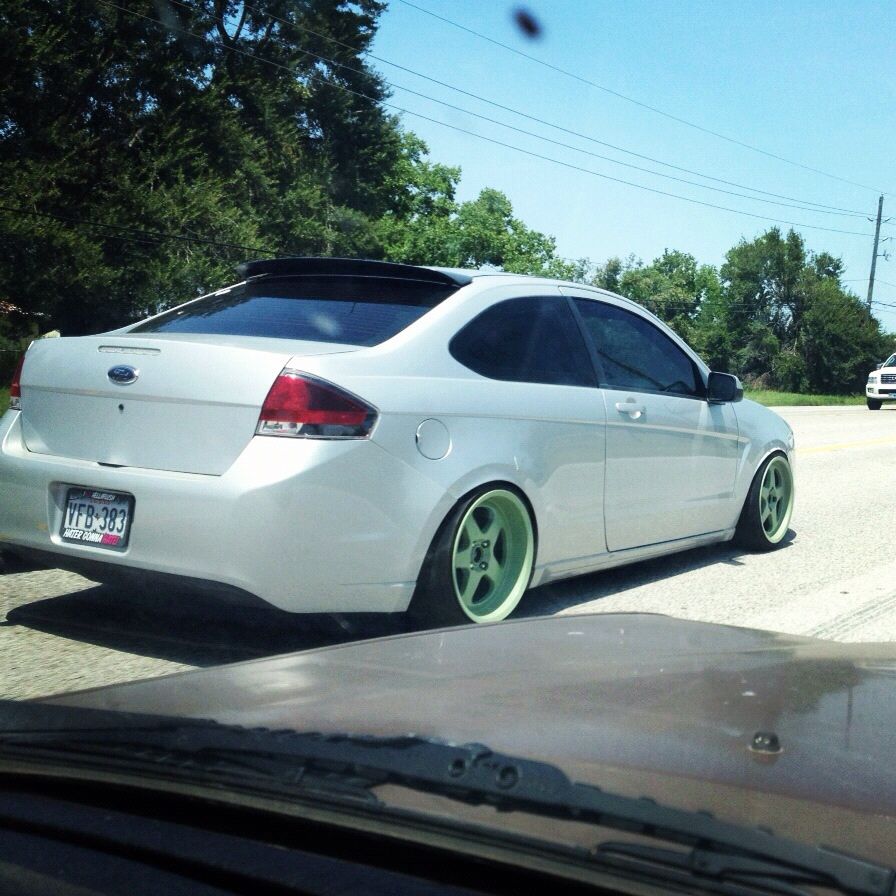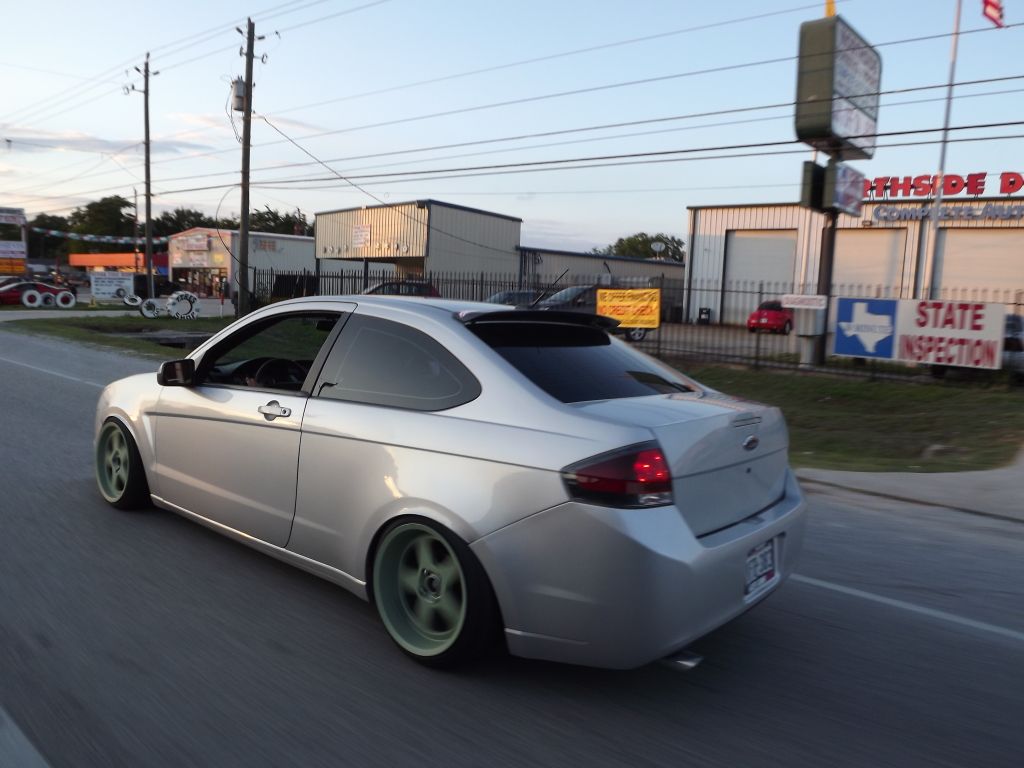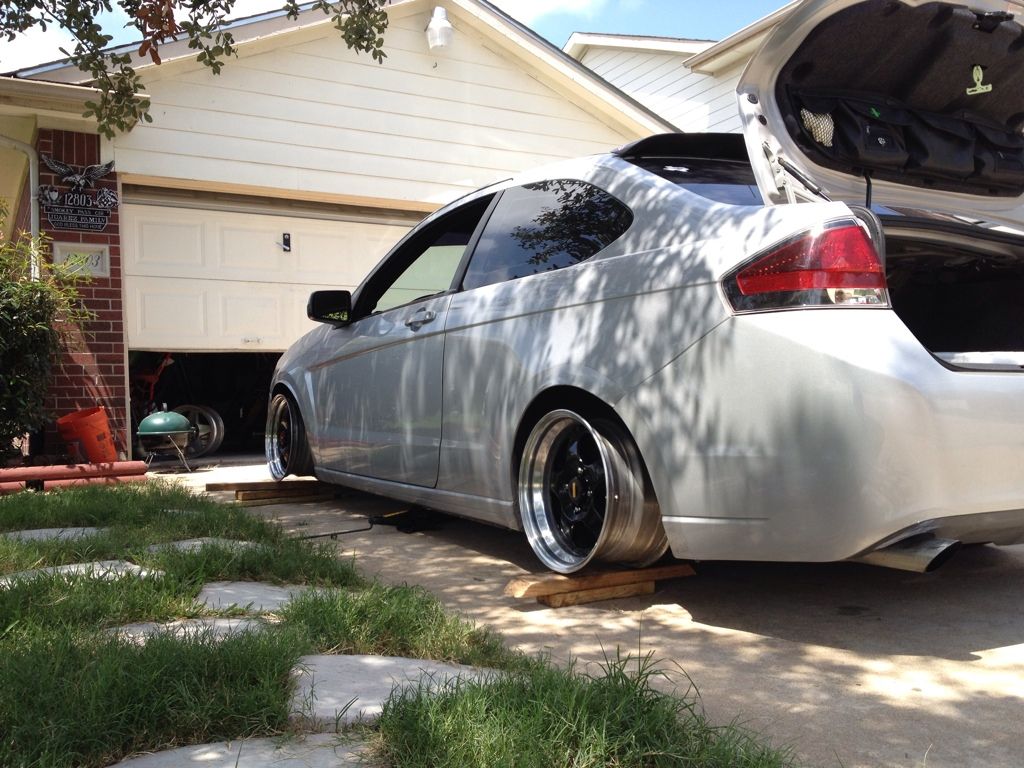 Mods:
DGR coilovers
Dominant camber arms
Custom rolled flare and pull
Magnaflow exhaust and custom tip
17x10/9 sc rep wheels
16x8 ARE wheel
16x8.5/7.5 3pc Simmons wheels-newest set
PATTACULAR
Quote: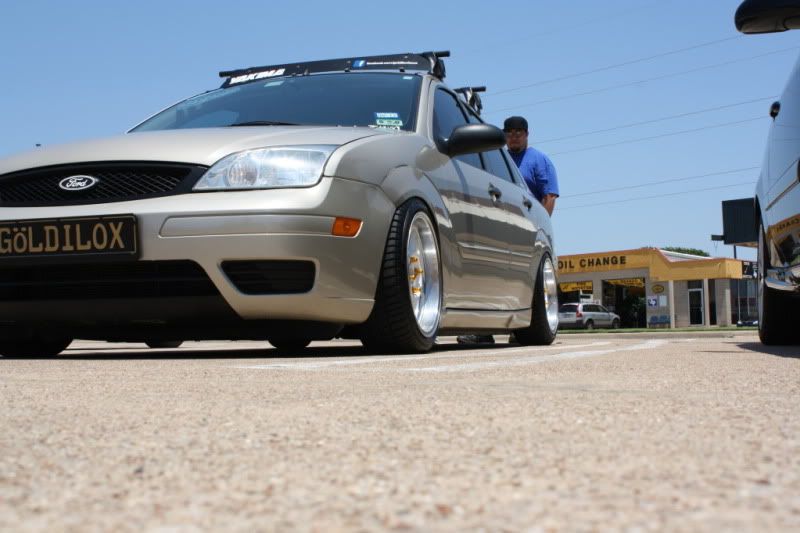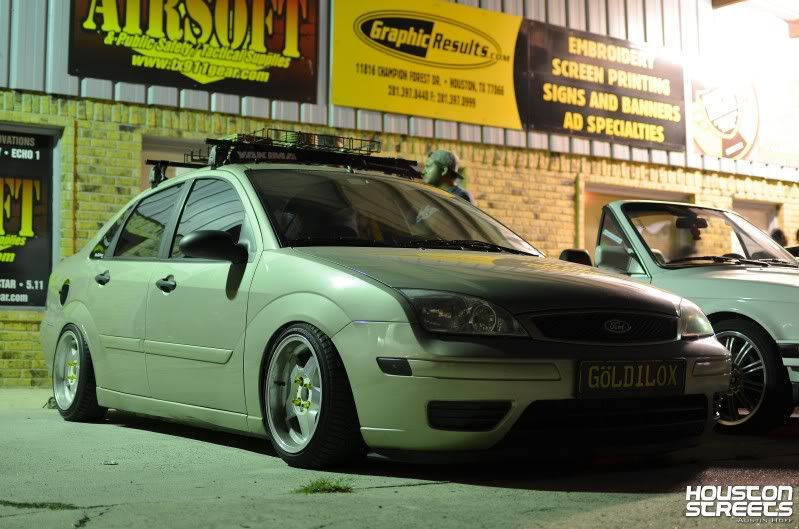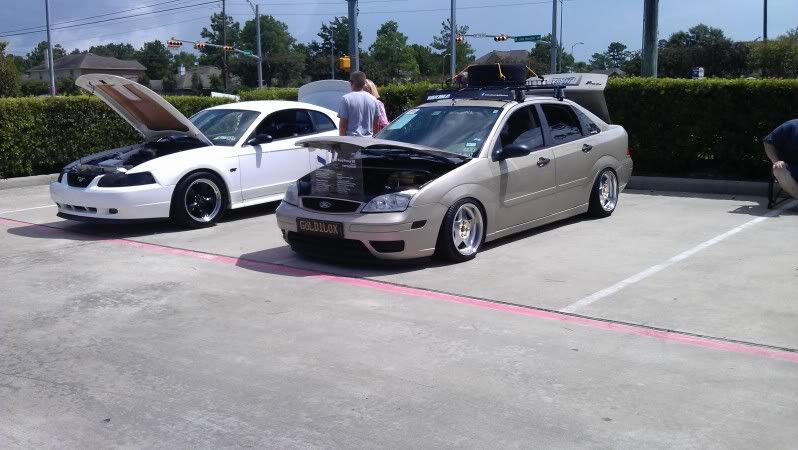 Mod List:

Engine:
Spectre Short Ram Intake
Painted Battery Cover
Painted Radiator Cover
Exhaust Resonator Delete
Dirt and Stuff
Zip-ties

Suspension:
Fittipaldi Monolithic Wheels (16x7.5 +20)
Accelera Delta Tires (195/45)
KSport Kontrol Pro Coilovers
FSWerks Front Upper Strut Bar
Ingalls Camber Bolts
BWR Gold Lug Nuts

Exterior:
"Goldilox" European License Plate
DDM 6000K Hi/Lo HIDs
Painted Lower Grille
Painted Grille
Tinted Side Markers
Home Depot Lip
Black Fuel Door
Painted Rear Diffuser
Tinted Tail Lights
LED License Plat Lights
Debadged

Interior:
Pioneer Head Unit (CD/MP3/USB/SD/DVD/C3PO)
Kicker Door Speakers
LED Dome Light
LED Accent Lights
Custom Plumber Shifter
JBL Sub w/ Amp
LED Trunk Light
FHH02A
Quote:
When I first got her


Lowered on FRPP suspension kit


Added DIY factory fog lights


Start of the current look


Added Kona roof rack and blacked out SVT 5spokes


MOD list
Performance:
Euroish air deflector for the stock intake (have pictures)
Custom exhaust with Magnaflow muffler

Handling:
FRPP 1.5" drop kit
SVT 5 spoke wheels
Kuhmo Ecsta high performance tires

Exterior:
Kona edition roof rack
DIY OEM foglights
S2 factory side skirts
Ford mud guards
Tinted tail lights
SVT style head lights with eyebrows
Tinted windows (20% upfront, 5% everywhere else)
(hatch nation stickers..lol)

ICE:
Sony Xpload headunit
Sony Xpload door speakers
200watt 10" sub in back
SLEEPYBOY
Quote: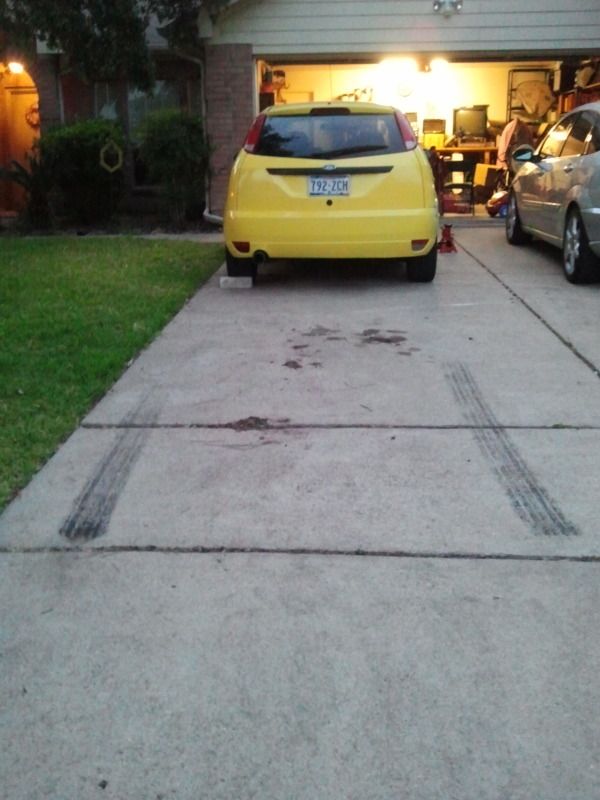 The Go:
70mm Pro Flow Technologies MAF (I think it's Pro Flow technologies
)
Short Ram intake looks like a shorter Steeda clone
65mm FC TB
Mac adj. cam gears (untuned unfortunately at the moment)
FR stg. 2 intake cam
Crower Stg. 1 exhaust cam
Gate's racing blue t-belt (more of a pretty up mod than anything)
SVT header
Custom ORP to match up to a zetec flex
CFM 2.25" SS flex
Magnaflow 2.25" exhaust
FSWerks 93 Oct tune
180* t-stat (dunno if that counts as a mod
)
Unorthodox Racing Under Drive Pulley
Center Force Dual friction clutch

Chassis and Suspension
Progress Springs supposedly 1.8" drop
SVT struts and shocks
SVT rear sway bar w/ ES bushings
ES rear upper isolators
ES lower mount or dog bone bushing inserts
FC Race short throw shifter (shortest available throw on the market supposedly lol)

ICE
Carion head unit (forget the model number)
Sony 4 Channel amp
Pioneer 2 way coaxial 6x8's all the way around
Pioneer 12" sub in a ProBend band pass box
Aftermarket white face gauges w/ red and blue markings
FR 3 pod gauge pillar w/
Actual water temp
Battery voltage (gotta keep an eye on that alternator
)
AEM wide band
Voting ends October 12th!
__________________
February 2005 ROTM