**Vote for September ROTM-COLLEGE EDITION**
---
Here are the nominees:
ZX3_BMXRIDER
Quote:
I am attending Jefferson Community and Technical College in Carrollton, KY for an Associates degree in Engineering Technology.

Mod list:

Appearance:
-Shorty antenna
-Black turn signals
-Ford Racing 17'' EAP wheels
-Nexen Tires
-15% tint all around (front window strip as well)
-Painted cowl cover
-Yellow fogs
-Home Depot lip
-Debadged
-Focus Fanatics license plate cover :D
-Black SVT headlights
-Mudflaps
-Eibach Prokit with Sportline springs
-Tinted Ford emblem with black ring

Performance:
-OBX 4-2-1 header
-Flex back exhaust system
-Chrome exhaust tip
-FSwerks CAI

Interior:
-Saleen N20 weighted shift knob
-White LEDs by drivers feet and all passengers feet.
-White dome LED
-Hatch dome LED
-"Objects in mirror are losing" sticker
-Painted radio bezel (black with red splatters)
-All AC vents painted (black with red splatters)
-Painted cup holders (black with red splatters)
-All seat levers painted (black with red splatters)
-Dash bezel painted (black with red splatters)
-Door handles painted (black with red splatters)
-Ford floor mats

Sound:
-2 Sony speakers in the front
-2 Pioneer speakers in the back
-2 extra tweeters
-JVC headunit (with ipod hookup)
-2 10'' Sony Xplod Subs (1200 Watt)
-Boss Onyx 1800 watt amp
-Radio adapter with OEM textured finish

Misc.
-OOOOOOOOGA horn!
-Misc. painted motor parts (black)
-Plastidipped stock rims for winter wheels
-Focusfest sticker

Pictures:



Photo editing courtesy of Pyroinsa. (This pic was taken before the black SVT headlights)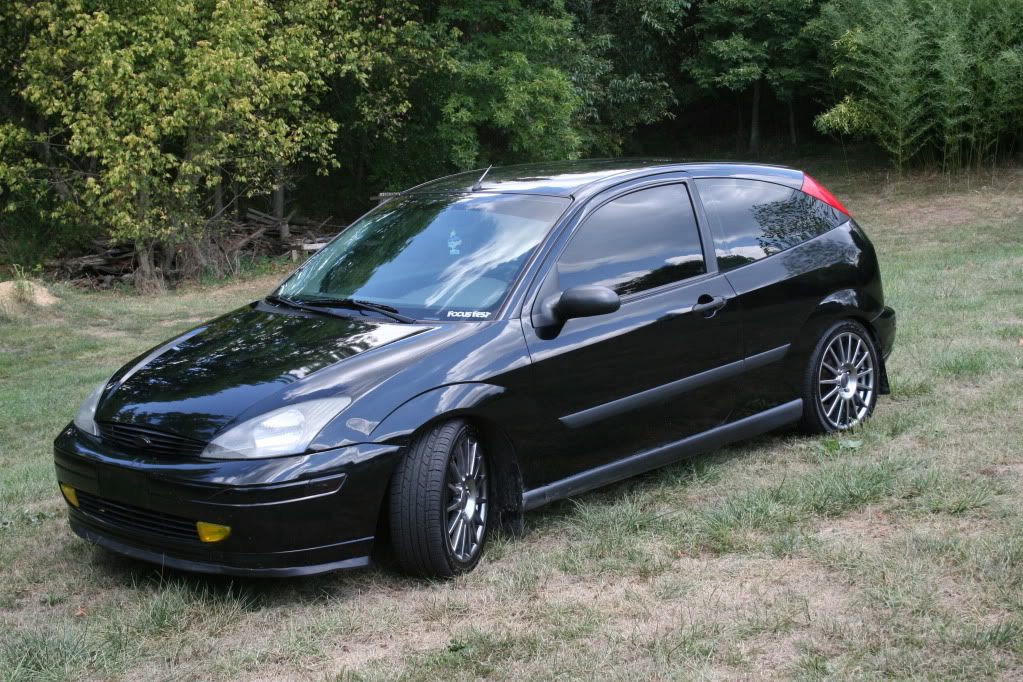 DJWRG04
Quote:
I'm currently in my second year at Western Kentucky University (WKU) in Bowling Green, Kentucky to major in Mechanical/Automotive Engineering and minor in Business Management.

This is my 2000 SE Focus named "Anya."

Exterior Modifications:[/FONT]

-Ebay "R8-Style" Headlights
-Color-Matched Vinyl Eyelids
-SVT Bumper & Fogs
-Prototype Vinyl "Anthracite" CF Hood (2/3 yrs old)
-Mid-70's Datsun 280z "Turbo" Hood Vents (Driver side vent is working ram air into Volant box)
-2005-7 SAP Rear Wing
-Thule Aeroblade Rack
-17x7.5 ET45 Koni "Lace" Wheels
-TFB Designs Brushed Aluminium & Black "Ford" Emblem Overlays
-TFB Designs "SPI SOHC" Decals
-TFB Designs Center-Cap Aluminium & Black "Ford" Emblems
-Rain-X Wiper Blades
-05-07 Cowl Covers
-Color-Matched European Grille
-Color-Matched Trunk Trim
-SVT Mirrors w/ Color-Matched Mirror Caps
-Color-Matched Door Handles
-LED License Plate Lights
-Gloss Black vinyl Window Sill Plates
-Niteshade'd Tail-Lights
-Stainless Steel Exhaust Tip
-Redline Tuning Hood Struts
-Mercury Tracer Engine Bay Light
-TFB Designs Red & Black "Sedan Revolution" Window Decal
-Massive "M" Window Decal
-FSWERKS Window Decal


Performance Modifications:

-Engine Mods:
--FSWERKS 91 Octane SCT Tune
--Volant CAI
--EFP High-RPM Dual Valve Spring Setup
--Cat-back Custom Exhaust System With Magnaflow Glass-Pack
--Mildly Ported Head and Intake Manifold
--Re-designed "Drop-Proof" Valve Seats/Rebuilt Head
--1988 Ford Escort Hi-Lift Cam
--Massive PlugWires
--MSD Coil
--Motorcraft Plugs
--EGR Delete
--DIY HI-Flow Cat (Punched a gigantic hole through it and put a piece of pipe down the middle.)
--Royal Purple 5w-30 Engine Oil
--VF Engineering Polyurethane Dog-bone Mount
--VF Engineering Polyurethane Transmission Mount
--CFM 60MM Throttle Body (added after engine bay picture was taken)
--CFM Billet Serpentine Belt Tensioner Pulley
--Dayco Timing Belt
--IMRC Manual Activation Switch
--Wrinkle Black Valve Cover w/ Brushed Aluminum Lettering & Fins
--DIY "Rain-Proof" Air-Filter Shield

-Suspension/Chasis Mods:
--FRPP Springs & Prothane Isolators
--Steeda 28mm Rear Swaybar
--Cross Drilled & Slotted Rotors
--AGX Adjustable Shocks & Struts
--EBC Greenstuff Front Pads
--Russell Braided Stainless Steel Brake Lines Front & Back
--Russel Speed Bleeders
--Painted Calipers
--Moog Serviceable Front End-links
--Moog Ball-Joints
--Aluminum Hub-Centrix Rings
--Massive Rear Strut Brace
--FSWERKS Front Strut Tower Brace
--CFM Polyurethane Exhaust Hanger Bushings


Interior Modifications:

-Fully Working SVT Gauge Setup
-"Blackwood" Finish Euro HVAC Surround & Euro Clock
-Full SVT Interior (Steering Wheel, Center Console, Etc...)
-Sony Xplöd Head Unit
-Euro Dash Pockets (Lower Driver & Passenger Airbag)
-SVT Steering Column Radio Controls
-Heated Seats
-Rear Dome Light (Lincoln LS)
-SoundGate ZUNE Audio & Control Interface
-SVT "Audiophile" Door Speakers
-Xtant 1000 Amplifier with Two 12" Xtant Subs
-Illuminated Door Lock Buttons (Sometimes...)
-Aftermarket Rubber "Ford" Front Floor-Mats
-Ford Foglight Switch
-TFB Designs Brushed Aluminum & Black Shift Pattern Vinyl
-TFB Designs Brushed Aluminum & Black "Ford" Airbag Emblem
-Knock-off AutoZone "Momo-Style" Shift Knob
-Blacked-out Sun Visors
-Front and Rear Crystal White LED Dome Lights
-Charcoal Black Painted "Oh-S#!t" Handles and Dome Surrounds

Pictures:


PYROINSA
Quote:
University of Phoenix
BSM in Business management
MODIFICATIONS

EXTERIOR:
-SVT sideskirts
-SVT spoiler
-SVT doorhandles
-SVT Degas cover
-SVT HVAC controls
-SVT sub enclosure
-Euro RS collection rear bumper cover
-Euro taillights
-Euro facelift grille
-Pro-Dtm front bumper cover
-Spec-D tuning projector headlights with daytime led driving lights
-Foglight mod
-VIS laser fenders
-Color-matched mirror caps
-Debadged
-Custom silver 3rd brake light with black "Loading..." decal
-DiY shorty antenna
-30% tint
-AVS ventshades
-Euro front plate

INTERIOR:
-Custom iPhone mount
-Color-matched vent rings

I.C.E.:
-Dual touchscreen DVD
-6x8 Alpines (4)
-Alpine 4-channel amp
-Alpine 500w mono amp
-Rockford Fosgate 8" sub

ENGINE DRESS-UP:
-Steeda spark plug cover
-Steeda billet oil cap

PERFORMACE:
-Injen SRI
-Magnaflow exhaust

SUSPENSION:
-KYB-AGX adjustable shocks/struts
-Megan Racing 2" lowering springs
-Massive endlinks
-Steeda strut tower brace
-Focus Sport rear stress bar

WHEELS, TIRES & BRAKES:
-17" Konig Hotswaps

MISC.:

MIKE_MAC
Quote:
I'm attending St.Clair college for Mechanical Engineering: Automotive Product Design and I'm currently in my 3rd year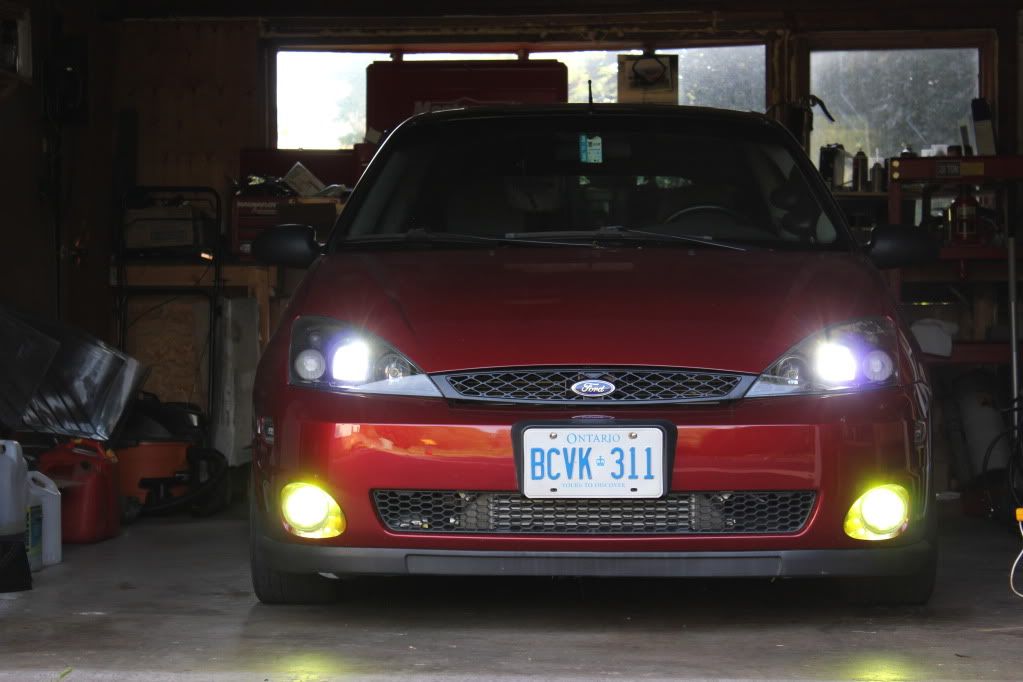 Mods

Exterior:
2 tone Red/Black paint
16" Rota slipstreams
Blacked out Machs
Tinted rear tail lights and 3rd break
black side markers
Euro grill knock off
SVT front and rear bumper swap
Custom made antenna

Interior:
Sparco Grip pedals
Carbon fiber radio surround w/ 2 gauge pods
AEM wideband, oil pressure, volts and boost/Vac gauges
Saleen gauge cluster
custome made leather shift/ebrake boot

Proformance:
Procharger C1 w/ 2.55" pulley
CFM 5.7" crank pulley
Precision turbo FMIC
Diablo sport MAFia
siemens deka 60lb injectors
MSD coil and wires
all three vf polyurethane engine mounts
CFM 65mm throttle body
Port matched 2k manifold
Comp cams stage 1 w/ STR cam gears
SVT header
SVT ORP
Borla catback
CFM adjustable short throw shifter
Centreforce aluminum flywheel
SPEC stage 3 6-puck clutch
SVT brake swap
Hawk HPS pads
Koni STR.T shocks
Tein H-tech springs
Voting ends September 12th!
__________________
February 2005 ROTM
---
Last edited by Chick; 09-06-2012 at

01:59 AM

.