Friday night they went to Florence to visit my uncle in the hospital and they got in a wreck. They arent really too sure what happened. They can't really remember because it happened really fast. The cop said it looked like they had a blow out. But the Michelins they had had less than 20k on them and my dad said it didnt feel like a blow out. But anyways, they wound up going into a guard rail. My best friends family came to my house and said my parents were in a "little" accident, but the car wasnt driveable at the moment. So I am thinking it was a little fender bender, something not very bad. Later when they were in the hospital my dad sent me all the pics of the crash. Oh and by the way they are 100% fine. My mom was sore Saturday and my dad is still a little sore because it all happened on his side. But yea, no broken bones or anything bad. Pretty neat! Ford for the win!!! Here are the pictures:
This is the fender, I dont know if you guys remember the thread I posted about bumping into my moms car a couple weeks ago, but this is where a mark was. lol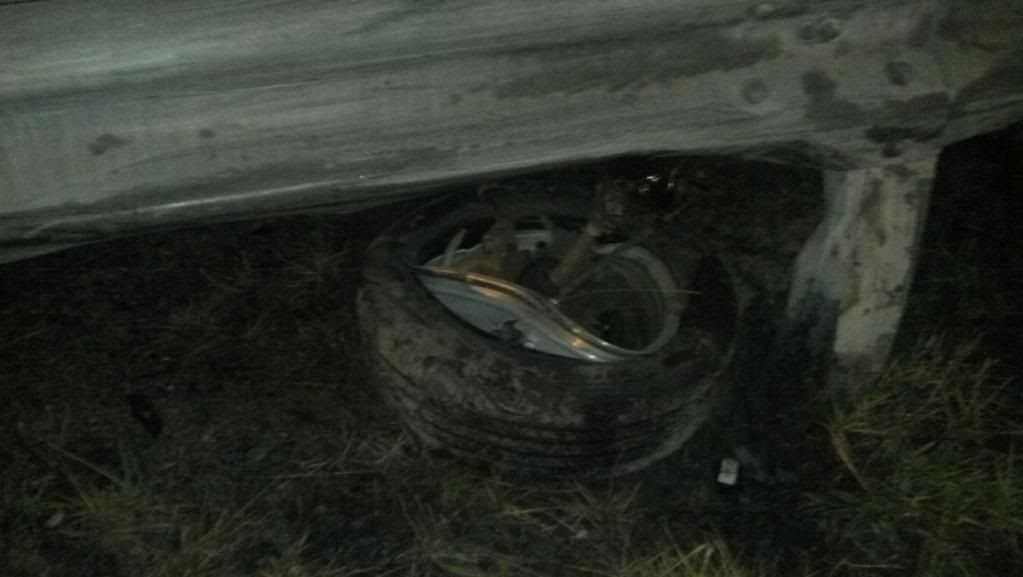 They hit so hard it ripped the strut tower assembly and the whole wheel off. It was stuck to the guard rail and my dad said nobody could get it out.