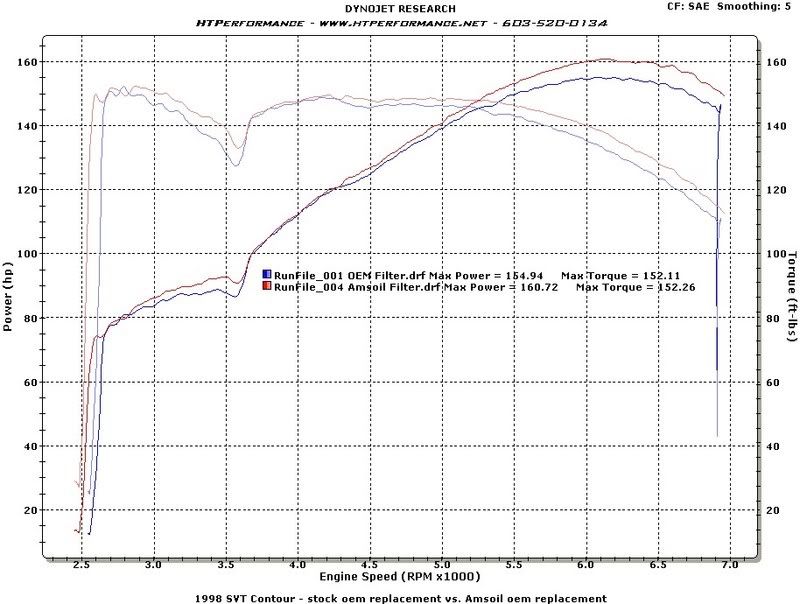 Above is a dynograph from my all STOCK 1998.5 Ford SVT Contour w/ 80k Miles. I ran 2 runs with a new OEM Paper Filter, and then 2 runs with a new AMSOIL Ea Nanofiber Stock Replacement Filter. What you will notice is the
6 peak HP
gain at 6200 rpms, and the
8 ft-lbs of torque
at 3500 rpms! Quite a difference just from replacing a filter!
CLICK HERE TO LEARN MORE ABOUT THE TECHNOLOGY.
I was so surprised by these results! I was actually expecting to see a decrease in HP and TQ thinking that to have superior filtration you'd have to give up something.
As I did more research and thinking on the subject, I realized that they have the ability to control the construction of these filters to the nano/micro level. This give them higher control on the homogeneity of the pores in the media, unlike paper/pulp filters which have very non-homogeneous pores, which would likely result in more turbulent airflow.
Also as you go towards the nanoscale you expose more surface area, and have larger overall area for air to pass through!
Here is a comparison of the size of cellulose fibers versus the AMSOIL Absolute Efficiency (Ea) Nanofibers.
I was so happy with the results of the dyno test, that I want to extend to you all, my dealer cost on these air filtration products.
If you are interested in continuing to get dealer cost/wholesale pricing on other AMSOIL Products I'd be happy to set you up as a
Preferred Customer
.
Promotional Price list:
Ford Focus Panel Filter (EAA524-EA) - $26.00
Ford Focus Cabin Air Filter (WIX 24808) - $13.75
Contact me for other makes/model vehicles
Quote:
Designed to replace stock oil-wetted gauze or foam conical filters that were supplied with custom induction systems produced by K&N, Injen, S&B, Green, AIRAID, AFE, TrueFlow and more. Offer better efficiency, excellent airflow and are cleanable.
Universal Cone Filter Sizes:
3" ID Tubing Connection x 5" filter element height (EaAU3050) = $42.00
Check out the other sizes listed
HERE
and then PM me for pricing details.