I had my big two day event on July 12-13. I almost didn't make it due to some car problems right before the race.
So that noise I heard? I was way off. I must have been hearing a different noise when I had the car in neutral standing still. Maybe mistaking the sound of the air intake or something for the rotating noise I heard when driving at certain RPM. I was inspecting the car on the Monday before the race and couldn't find anything. I got an alignment done since I installed the Tokico suspension (I had some random problems getting those installed as well, company shipped me wrong hardware and the shock stems were too large for the original Focus mounts. I had to drill them out to get them to fit) While getting the alignment done I had the shop try and diagnose the noise for me and they had no idea. They said it was my tires or wheels being unbalanced even though I've swapped sets and still heard it. They say it's nothing serious so I'm fine to drive it. Thursday night comes and I'm putting the skid plate on, I spot grease flung all around the passenger side inner CV joint. I checked that same CV joint earlier in the week and it looked fine externally, no leaking grease or anything, but can't really see much with that boot on heh. At least now I know exactly the problem. I was kind of surprised cause usually CV joint problems you hear when you turn the car and it's an entirely different noise from what I was hearing. Mine would just do it at certain RPM randomly and turning it has no affect, you hear it regardless.
It was too late Thursday to call any part store so I had to wait until Friday morning. I call up about 4 parts stores in the area and they all tell me they can get me the part... next week. With the race tomorrow that wouldn't work. The SVT front axle is slightly different from the standard Focus so finding the part is a challenge. I give Autozone a try and luckily they can get me a remanufactured CV axle at 3pm that day.
My boss lets me leave a couple hours early since I have no idea how long this will take. Turns out, removing the passenger side CV axle is really easy and I have the old busted one out in about an hour. Autozone calls me to let me know the part is in so I take the Datsun over to pick it up. And I got the new axle installed in less than an hour. New one only cost $50 after the core charge so not bad at all really. I took it for a test drive and everything is perfect, no noise or problems. It's probably a good idea to replace the driver's side axle as well since usually if one goes the other one is going but I had no time. I may do it before the next one.
Onto the race...
There's about 40 entries total. My class (Prepared FWD) only has three cars: myself, Dodge Daytona and.. Focus ST! This guy spectated a previous rallycross and said he was planning to race his Focus ST this year... I never thought he would since it's a brand new car and I wouldn't thrash on it offroad.
There's two courses each day and Saturday's were all tight technical courses with lots of quick turns. My times started out a little rough, on my first run I screwed up my line and was headed the wrong way around a gate which would give me an offcourse penalty (worst time in your run group + 15 seconds). Instead I just aimed the car at the cones and took them out which got me a 2 cone penalty but much less severe than off course (+4 seconds). The rest of my runs were pretty smooth and I only had a couple more cone hits that day.
The new differential and suspension changes made a big difference. There was one long slightly uphill curve that previously I'd have to really fight the wheel to keep it in line and I'd have to be easy on the throttle. With the new limited slip differential, I could just put the throttle down and the car would just pull itself easily through the turn.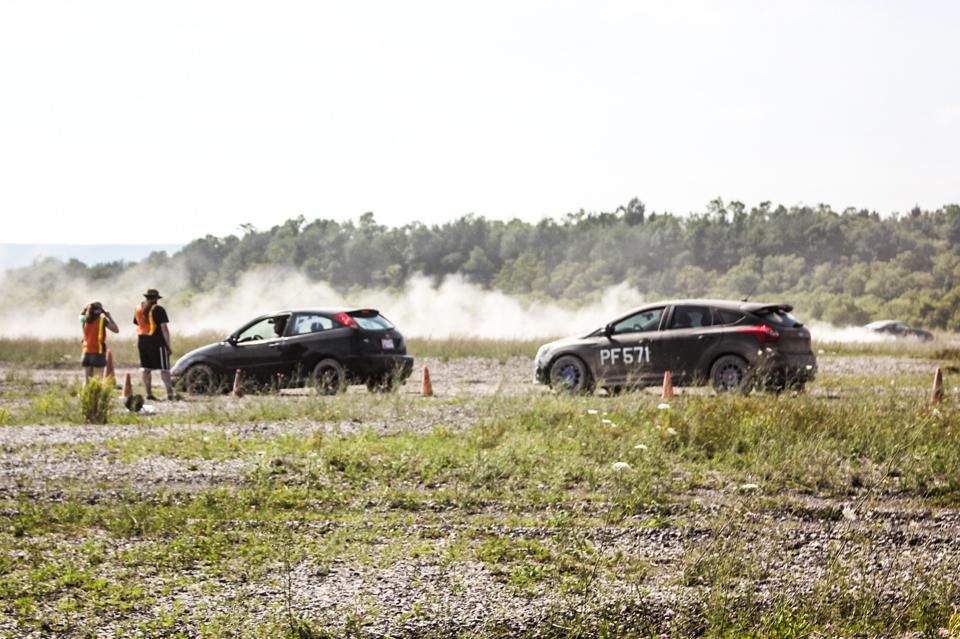 At the end of the first day, I was first in my class and about 40 or so seconds ahead of the Focus ST. The Dodge Daytona actually beat the Focus ST as well. Turns out I didn't have much to worry about. Driver experience matters a lot and this was the other guy's first event.
The SCCA rallycross chair invites everyone out to a bar/steakhouse a few minutes away in Frostburg so about 20 of us pile into our rally cars and drive into town. The college town is empty since it's the summer and apparently this steakhouse/bar closes in 30 minutes... However, they're so excited to have customers, especially 20, so they don't mind staying open late and letting us clean up in the bathroom (we all looked like coal miners after standing out in the dirt and dust all day).
I was planning to camp the first night with the other drivers but no one felt like camping after the long day. We all wanted AC, showers and a shelter that was already built. So instead a bunch of us got a few rooms at a comfort inn and we camped out in the hotel rooms.
On Sunday the Focus ST driver didn't show up. He wasn't running a skid plate so he was concerned about hurting his car which I fully understand. He said he's going to have one on and be back next event.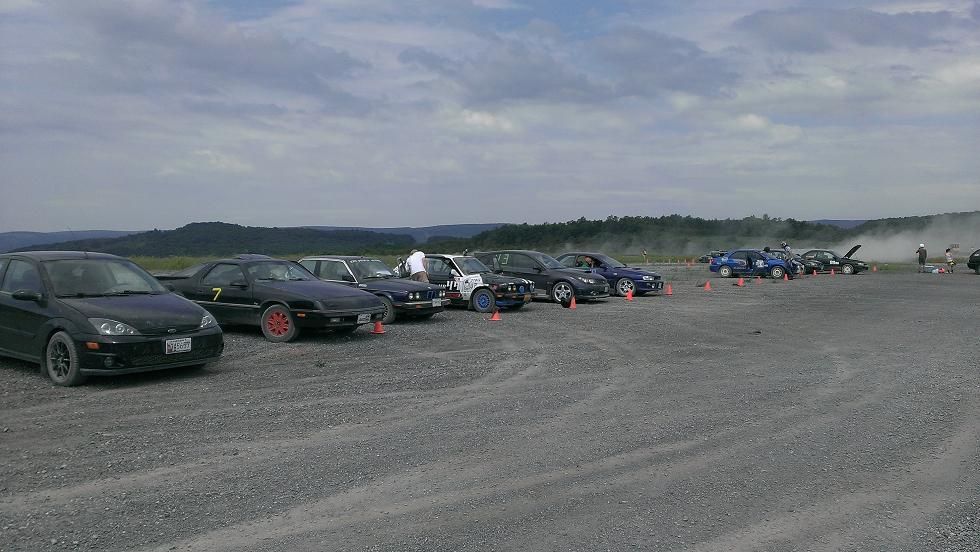 Sunday's courses were longer and faster speed courses with a lot of slaloms and large sweeping turns. I struggled a bit with the slaloms since I disconnected my front sway bar to give better traction. My first couple runs are a little sloppy as I adjust to fighting the wheel more but once I get used to it my times come down.
There's one long horseshoe turn that you are forced to drift if you want to be quick. On one run I nailed it perfectly, swinging the back end out and putting the car sideways through the apex while I adjusted the throttle to keep the wheels spinning. It was about a 3 or 4 second drift to get all the way through this big horseshoe. As soon as I was lined up with my exit out of the turn the wheels got grip and I launched forward. The corner worker that was watching that turn came up to me afterwards and told me it was the most beautiful drift he had ever seen.. wish I had it on video.
So my final results for the day.. I was first for all FWD cars. I beat all of the Stock and Prepared RWD cars and a few of the Modified RWD cars. I think in another couple events I could be first for all 2WD. I was surprised I beat a lot of AWD cars as well. Overall I'm pretty pleased and impressed with how the car is holding up. I have some more tweaks to make before the next event but each time myself and the car do better.
Thanks again to Schroeder02 on here for the LSD install and Tom for getting me the new tune with wideband right before the race.
Also found out recently that the Washington DC region has been chosen to host the Northeast Division championships in September. Will be nice to see some people from outside the area coming down.