On April 7, 2008 we held an open track day with the Greater Washington Sector of the Mercedes Benz Club.
In all, we had approximately 60 cars come out to play. There was a real mix from AMG Benz cars, Ferraris, lots of Porsches, a LONE SVT focus...
The morning was damp, with only 1 incident. A Honda S2000 backed into the wall "gently" in turn 10, but suffered only cosmetic damage to the car. The driver was not injured.
I am a complete idiot...
I am very meticulous about preparation for the track, but I forgot to charge the batteries in the camcorder!
So, I was lucky enough to have Dave following me in his MAZDASPEED 3. So, this gives you a different perspective.
Dave's car is FAST. This was only his 2nd time to the main circuit at Summit Point. He did a great job.
I held him off as long as my little legs could pedal. In the end, on the main straight, his 230+ HP was too much for my little stock car...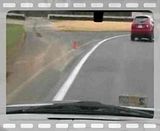 I thought I knew fast, Dave thought he knew fast. We didn't know fast...
At the last minute, we had a request from a driver to join us. He brought along a retired CHAMP CAR!!!!
To put it in perspective, I consistently turn 1:38 lap times on the main circuit. Respectable for a stock 4 cylinder car.
The Champ car - a LAZY 1:15 in the morning and then in the afternoon, a measley 1:07 !!!!
I check my mirrors - A LOT and I got a glimpse of him coming out of the carousel about 1500 yards behind me in the esses. I was flat out on the straight between turns 9-10. As I hit the exit of 10, I looked into the mirror and saw his rear wing. He was past me and GONE by the time I got my hand back in the window for a point by.
Incredible, crazy fast. More video of the champ car and others in the next day or so.
All in all a GREAT day except for my minor and as yet, undiagnosed hiccup at high RPM.