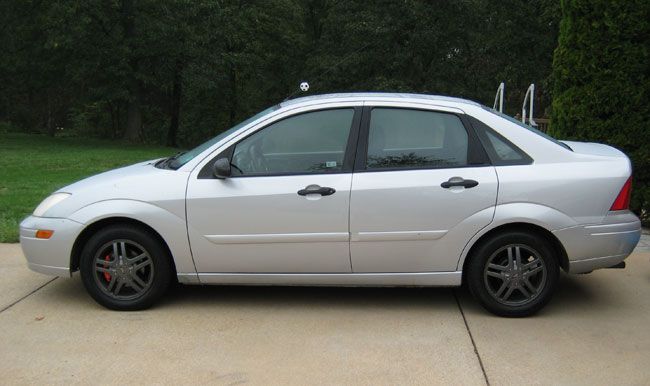 This is my 2000 SE Zetec, I also have a 2003 SE Split Port, you can see my other posts about the Famous Intake Valve Seat Drop on that one....these are cars for my kids, 17 year old daughter and 16 year old son.
But this post is about that mysterious rough idle issue with the Zetec. I have read a ton of blogs and posts about this issue. I spent that last 5 months trying to fix this problem and spent way too much $$. I started by changing the fuel filter, and snapped off the plastic elbow on the fuel pump so I had to change that too.....it was better but not fixed. I then started looking for vacuum leaks, and found that the two lines going from the DFPE sensor were cracked and weather worn, better but not fixed. I then changed the PCV line which was worn and was collapsing (very common).....better but not fixed. I then changed the motor and transmission mounts....better but not fixed. So then I changed the EGR valve and the Mass Air Flow sensor....you guessed it....better but not fixed. So I pulled the throttle body off and cleaned it completely. No change...... So I pulled the EGR Solenoid and cleaned the foam filter inside.....better but not fixed. Changed the DFPE sensor, no change.
Now understand this car was running great on the throttle, but would idle so rough it was shaking the entire dash board. It was much worse in reverse, and completely undriveable with the AC turned on. So I finally gave up, I took it took a local mechanic friend and said HELP
......
They ran some tests, reset the computer, reset the idle speed and also determined that the EGR valve that I had put on was not working correctly. Still rough.....so he says....where the !#$@#$$ did you get those motor mounts. I said from Orielly's. He said.....we only use Ford Factory motor mounts on these cars....they are finicky about that for some reason......
So I pulled all the mounts and returned them to Oriellys, no questions asked, they were great about it, and got my money back.....ordered the motor mount, trans mount, and anti roll mount from Ford. Replaced all three......and guess what....it is like a new car. You actually can't tell it is running at idle....in gear....with the AC on. Believe or not, I have this same Orielly's motor mount on the other Focus with the Split port and it works just fine.....
Absolutely unbelieveable.....all because of some cheap Chinese parts I spent hundreds of dollars and countless hours
Hope this helps others to save money and time! A wise man once told me.... Education costs....just don't take the class twice!