Hello Everyone,
I am going to clarify a few things and post a short guide on how to back this project.
This project is running from March 3-31, 2013. If after March 31, 2013 the project has not reached its goal ($22,000 raised), the project is cancelled and we will not have another chance at an alternative console tray.
On Indiegogo, you can back the project securely using Paypal (you don't need to make an Indiegogo account). You can also not use paypal and pay by credit card. You will be charged immediately when you back the project but then if the project does not reach its goal, you will receive a FULL REFUND. Also when you back a project, you can choose to be anonymous on the project page.
It is better to back the project sooner because these projects will get featured on the main page if they are getting a lot of backers, thus leading to more chances of further funding. Also, it can gain the attention of local newspapers who may run the story and thus we get more exposure. They ran a story for this other Indiegogo project when it reach $6000 in funding.
How To Back Project
Step 1:
Click this link
http://igg.me/at/TRES/x/2498758
Step 2:
You should now be on the project page. Scroll down and click the correct perk on the right. You should click "Early Bird Special" where you will be mailed 1 black tray for $20 (US and Canada) or $25 (International, any country other than US and Canada).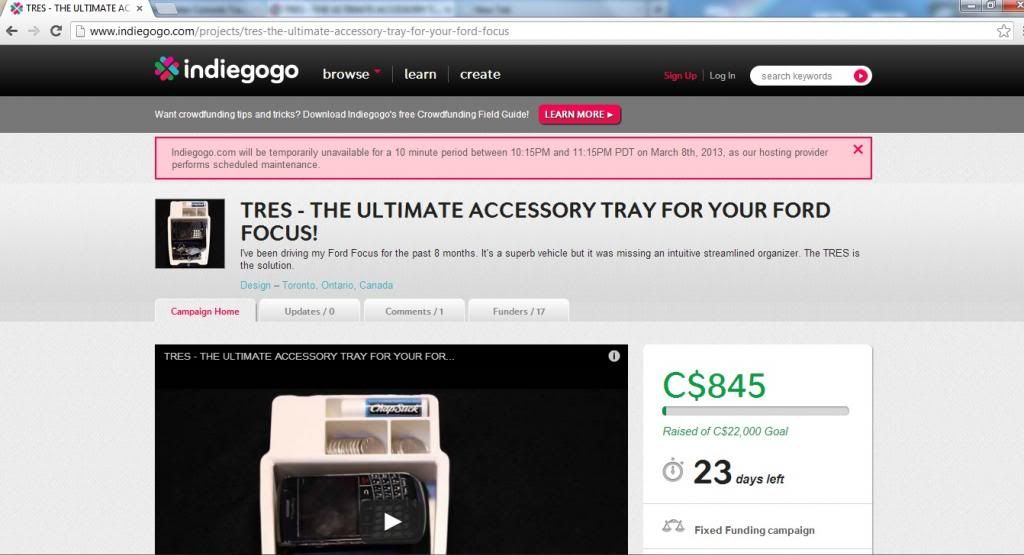 Step 3
: Enter Your email Address and click Continue
Step 4:
Fill Out Your Shipping Information and then Click Paypal button
Step 5:
You'll be redirected to Paypal. Either sign in with your Paypal account or enter your credit card info and press continue
Step 6:
You will be charged immediately, and on the next page, you can choose whether to be anonymous or display your name and contribution on the project page.
Step 7:
Spread the word.
Step 8:
March 31: 11:59PM. If Project reaches $22,000 in funding or more, money will transfer to me and I'll pay supplier who will immediately begin making the mould. If Project does not reach $22,000, receive a FULL refund in 3-5 days (in original payment method).
EDIT: Thanks for the merge mods :)