My poor car! First it got hail damage, then a reversed battery cable fiasco, now this??
So a few weeks ago I was cruising along, a few cars behind a utility truck. The utility truck had an insecure extension ladder on it and it fell off. The ladder broke apart when it hit the road. One half went careening into the right lane of the freeway, got kicked up by a nice looking white Bonneville GXP (which came out way worse than my car, he messed up his rim and front end), the ladder flew up and caught my bumper, and I smoked it hard, busting the wheelwell fastening bracket and scratching up the paint on the lower bumper and a little bit on the fender. The other section of the ladder bounced once on the road, bounced again and did a matrix flip over the roof of my car, missing my windshield by about a foot. (We'll just gloss over the story of how much shat came out when I saw that ladder coming towards my face) The bro in the Bonneville pulled over and the truck kept going, and about 4 other cars went after the utility truck. I never actually saw the truck, and I know I should've handled the situation differently.
To be honest, I didn't even think to stop and check for damage. I thought I just ran over the one section of ladder and thought it didn't damage my car. Silly me. I stopped at a Subway about 5 minutes later to pick up lunch and saw the horror. My bumper was hanging off on the passenger's side. So many emotions ran through me at one time. I was mortified, angry, sad, hungry and horny. (OK, that last one was unrelated
) I was able to pull the bumper back up and snap all of the little clip guide things back into place, though the fastener in the wheel-well area is completely destroyed. Also, the tire had a huge chunk taken out of the sidewall, so that will have to be replaced ($$$). I just put my Blizzaks on last weekend anyway. I also believe that the headlight was affected somehow, as the inside of the lens suddenly gets hella condensation when I wash the car.
Overall, the bumper isn't damaged enough to claim it under insurance. At some point I'll probably sand it down and fix it myself. The problem is the fastener causes the bumper to get all gappy all the time, even after I push it in with my knee. Looks like we're going to be doing some redneck fixing to keep it aligned properly.
Moral of this gripping tale: People with utility trucks should fasten their goddamn loads, and if I ever hit anything dropped by a vehicle again I will be going after his ass like a rabid cheetah in heat. Those
be fast.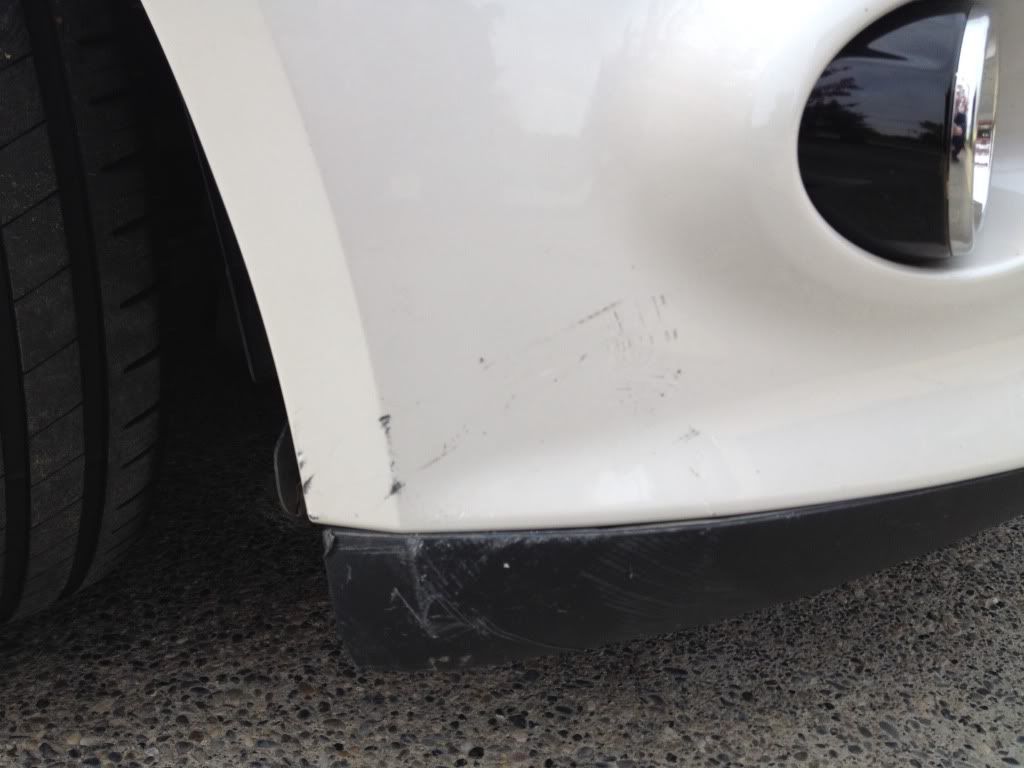 How the bumper looks now: