Saturday I was out running some errands with my mother. We got back to the Focus, put our things in the trunk, hopped in, and went to drive off. Suddenly, the TRUNK AJAR warning came on, so I got back out to open and close the lid again, thinking it was just mistaken somehow. It wouldn't open. The key fob wouldn't open it, nor would the button on the trunk lid itself. I released it using the emergency release inside (by crawling in through the back seat opening) and shut it. Driving off, the warning came back on.
Upon getting home, the trunk still wouldn't open and the car was still convinced the trunk was ajar. After an inspection I found the culprit: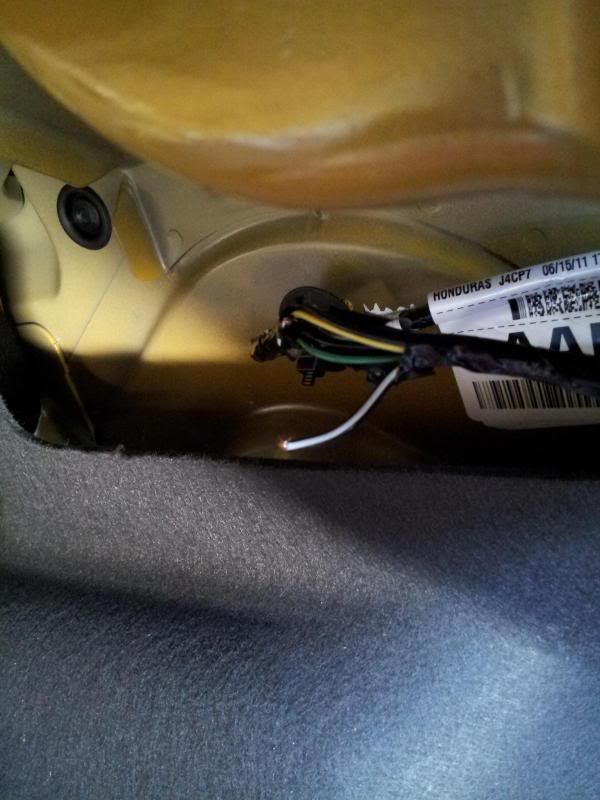 Cut wire. Notice how there's no loom or protection of any kind there? While it doesn't pass through metal (though it looks like it in the picture), it appears that over time the moving and folding of the wires as the trunk lid is opened and closed caused the wire to weaken, and it finally broke in half.
Today I drove it in to work to let a coworker who does electrical reconnect it - thus documenting the problem and avoiding any potential future warranty issues (thanks to Mike for fixing it, by the way!). As I was backing up into the bay though, he called out to say my reverse lights started flickering - and then they cut out entirely.
Following a repair of the wire, it and the rest were then taped up and covered in a section of wire loom, as they should have been from the factory. The reverse lights work again, the trunk opens as it should, and the warnings are gone from the cluster.
The rest of the wires were still in good shape but that one had had enough and split in two. So sedan owners, check to see if your wires are covered, and if not note that you could have a problem if one weakens like this one did.