Assuming all new cars are heading the same way in terms of electronics, maybe this retrofit is a bit more complicated than just swapping leveling modules and lights.
In my case (2006 VW Jetta), in order to swap autoleveling OEM Xenon's, i need to change wireing harness (12 pin vs 10 pin), all new hardware (lights and leveling mechanism, etc) plus i need to get into the lights electronic module (aka Central electric module) and change the long coding (its basicly the car's electronic DNA; bytes and bits; accesible via the OBD2 port using a the famous "Vag Com cable/software) so that it can send the correct xenon voltage along with enabling the shutter mecanism (it what diferenciates a Xenon vs a Bi-Xenon).
Here's a screen shot of the software itself inside the headlamps module: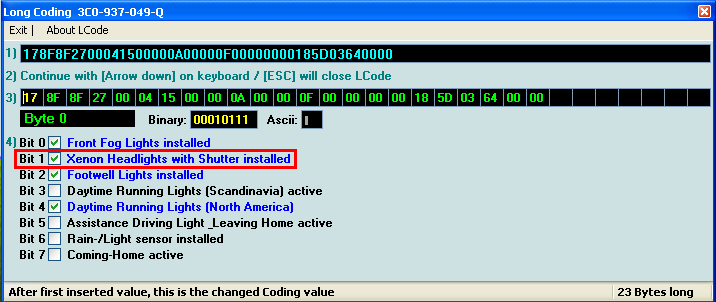 Note that Xenon option needs to be ON, or checkmarked in order for the electronics to work properly.
Anyway, im telling all this just to give you guys some direction in terms of what challenges could appear on the way of doing such a project (hope in the Focus its just a hardware thing), not to preach VWs stuff lol :)