Quote:
Originally Posted by
Bwill9886
If you are wanting it to remove the headlights, just use a bigger standard screwdriver.
Agreed...
Quote:
Originally Posted by
Ox-y-GenIII
Ok, I'm going to post pictures of what I have right now. Can someone guide me as to where to plug everything in and such? I have installed other kits on older vehicles that didn't need a harness (just plug and play), this is a little confusing.
Just for reference the engine bay - old pic but still helpful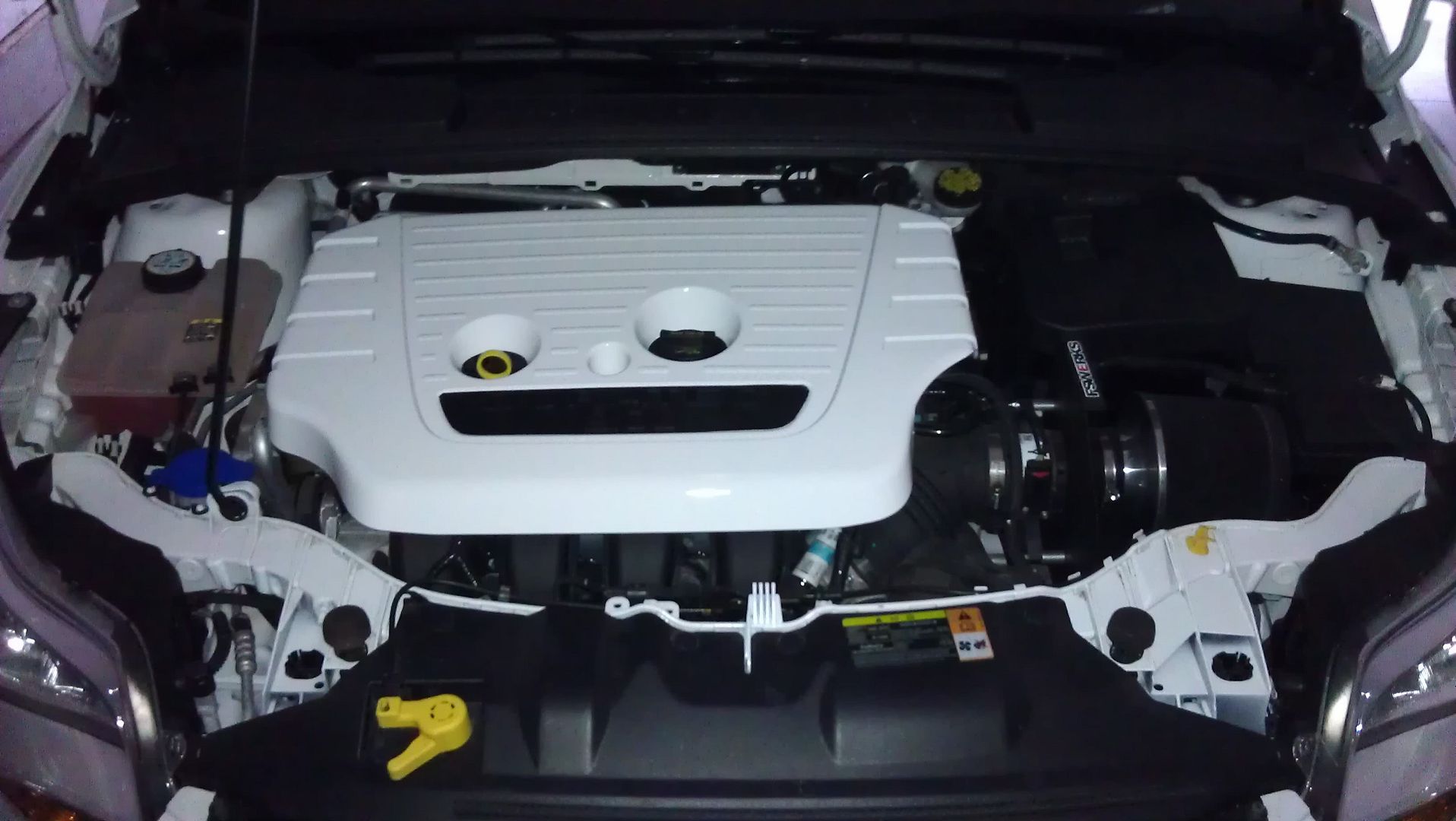 The resistor (yes just one is what I have for now, I ordered this a few months ago)-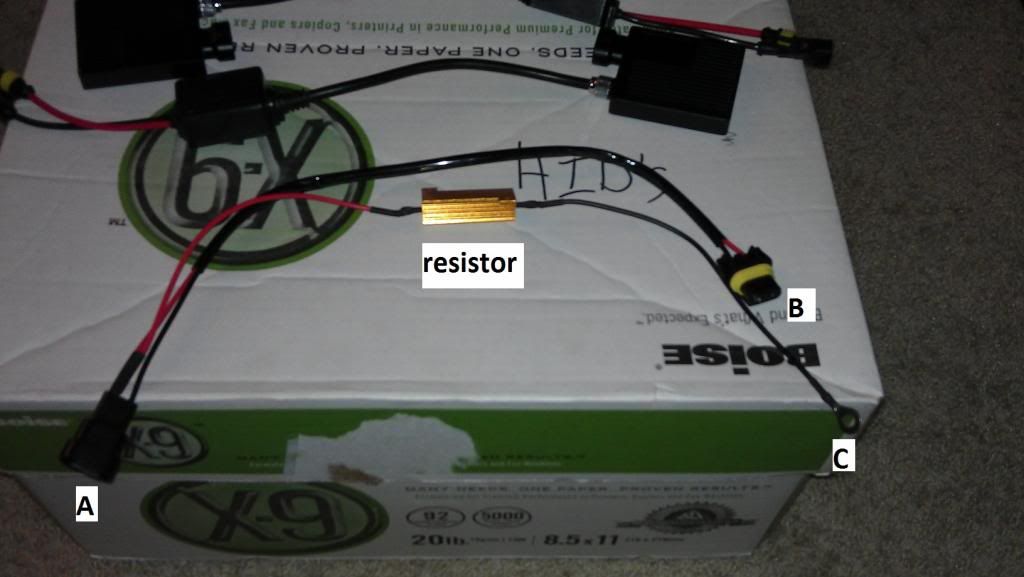 The wiring harness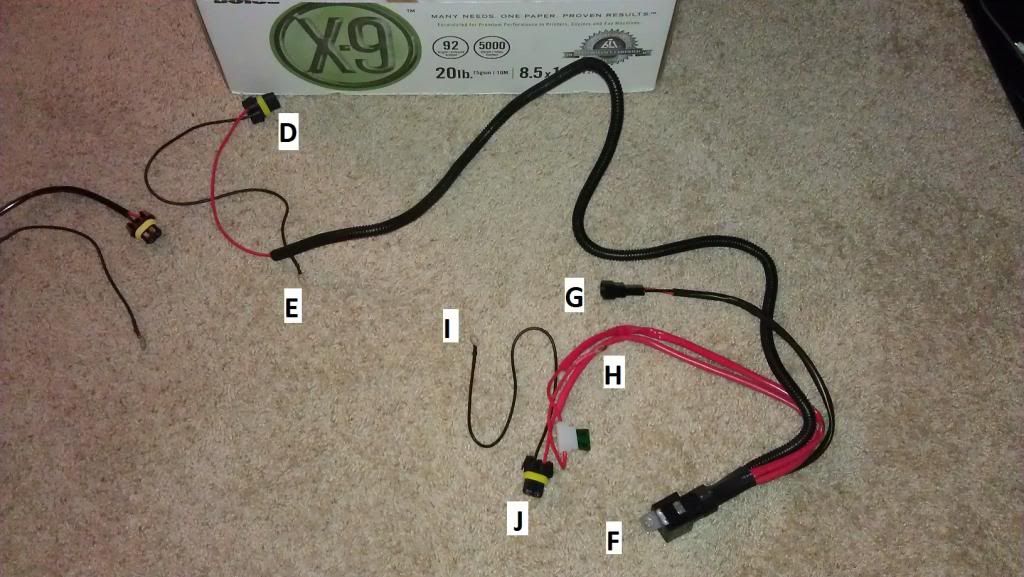 Also where do I connect the ballasts themselves? to the headlight power supply or later in the chain? Thanks ahead of time, if I can get a good description I will try to install these again tomorrow. I don't work til Wednesday so I'd like to try.
But here... something just for you, using your diagram reference Ox-y-GenIII
Ok.. from your pictures and label... I'll see if I can peice it together for you... It helps to assemble them ahead of time to get an idea.
Now.. Unfortunately I took them out of my car, but you wouldn't be able to see it anyways... I had them tucked under, but I will lay it out for you.
Facing your car with the hood open, remove your headlight assembly, Use a large flat head; should work fine. You will either need to make a hole in your rubber cap, or find a way around it because there'll be a lot of wires going in and out.
OK, so you don't have 2 Resistors, so this will give you a Bulb dip error, but will still work. Instead of connecting it to a resistor harness, you will simply let it hang free inside the headlight assembly. But will need to know the process since it's going to be repeated on the driver side, also as a reference to anyone else who has 2 resistors and would like to try it.
So, whenever I refer to (A) or (B) on the passenger side, just think of it as the old halogen lamp connector.
Remove the bulb and replace it with your HID bulb.
Feed both Resistor wire (A) and the HID double wire through the hole in the rubber cap, and connect (A) to the old halogen wire and the HID to the bulb and replace the rubber cap over the opening. (For you, you will just be running the HID connectors from your Ballast through the cap on this side.)
Ground the end (C) on to the chassis or somewhere in the engine compartment, I undid one of the bolts holding the fender and looped it and tightened it down there. Let end (B) hang loose on this side, DO NOT CONNECT IT. (For you, you will have the old halogen wire remain inside the assembly unattached.)
OK... now the tricky part, hopefully I can explain it all.
Remove the driver side headlamp assembly and repeat the above process. HOWEVER, you will need to connect resistor connection (B) to the relay harness at (G).
Ground the Relay and Resistor on the same place on one of the bolts securing the fender well.
Connect relay (D) to the passenger side ballast and (J) to driver side ballast.
Ground connector (E) to the bolt used for the resistor on passenger side, if you decide to get one.
Ground connector (I) to the bolt used for the resistor and relay on the driver side.
Finally, connect (H) to your (+) lead on your battery.
Relay box (F) mount does nothing... might be additional grounding, or just a mounting hole.
PS. Be absolutely sure you keep track of your ground wires.
PSS. you might want to mount those resistors onto the chassis, they get extremely hot, I just taped them over the wheel well by their wires and let them dangle... seemed to work OK