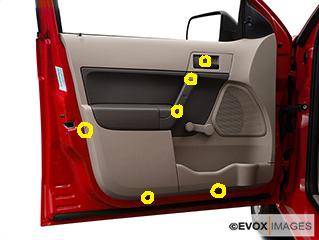 There are three screws around the edges of the panel and 4 torx bolts in the panel itself.
To remove the door-pull and access the lower torx bolts, start at the top and pry it outward with a firm motion, but do not force it off.
Once all six pieces of hardware have been removed, make sure the power window panel has been unplugged and removed, remove the mirror base cover and unplug the power mirrors.
When there's nothing left holding the door in place, pull firmly outward on the bottom of the panel until you hear the tabs release with a pop. Work your way up the sides and lift the panel gently to remove it from the window trim. You will then need to release the cable on the door handle and unplug the power lock.
Edit: If I get a chance, I'll make a video showing how to remove the door panel. I've done it so many times now its almost second nature to me.