Quote:
Originally Posted by
badazz2010focus
Exactly how hard was it to pull these apart and do those little pieces of plastic serve a purpose? because if I where to pull mine apart I'd just do it to remove those pieces of plastic
Literally the hardest part is pulling the lenses off.
I did 280 degrees for 15-20 mins in the oven and slowly worked my way around the lens with a screw driver.
Eventually you get enough loosened and it just pops apart.
Then you take out the halogen metal reflector that says "focus". Grind a little around the hole so the bowl of the reflector sits in the old bulb hole correctly. Tighten the nut on the back.
The picture of these
http://www.theretrofitsource.com/pro...oducts_id=3181
shows you what they look like. On the back side it is threaded with a nut. So basically you open your housing, take the metal "focus" piece out, round out the hole, drill a small hole below it for the solenoid wires to run through, slide projector in, and tighten the nut on the back, aim and reseal.
Put them on the car and aim them, pull them off and tighten the nut more. Put them back on the car and check the aim again, do the final tighten, put them back on and make sure you got it right
Then I took a heat gun and went around the inside channel where the lens pops in and peeled all the old adhesive out. Then put in 3M window-weld butyl tape and heated it then replaced the lens.
It's honestly a few hour project. I took all day to do it like 10am-6pm, but that included running out to try to find a new aimer and taking it nice and slow. If I did it again I could probably do it in 3-4 hours if I was moving quick.
It's honestly very easy and the output is so much better than stock. Finally HIDs without getting flashed!
Slammed 2.0 has a "how to" on it here
How To: Open your headlights/Retrofit projectors
I followed that and it worked fine for me, there is one picture that looks very tricky because of the chrome reflector. His looks like he actually cut a hole in the whole back of the reflector.
This is his picture where it looks like he cut the reflector and just has the lens inside the housing.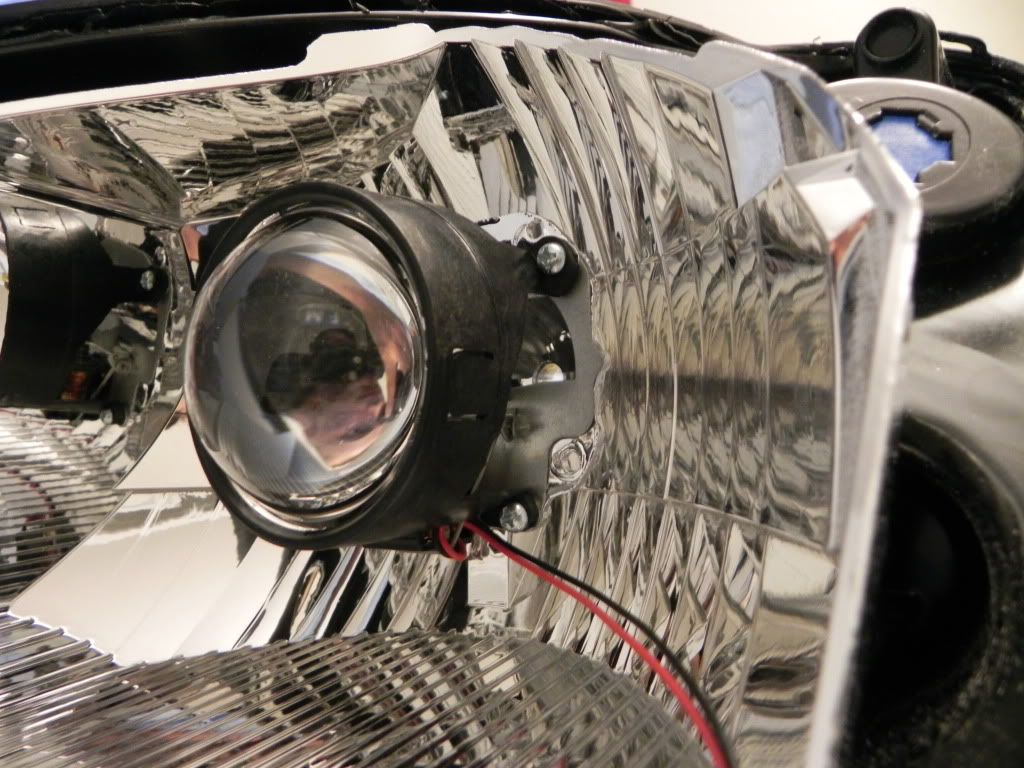 This is how it actually looks, more from the side so you see the back bowl of the projector