Hello to all! So you're thinking about painting your Ford Focus grill? Not sure how to go about doing so? No problem! With this step by step guide and pictures, courtesy of fellow member
TritonX4
, you will be able to paint like a pro in no time!
Be sure to read through it all before starting on your project!
First you need some supplies, these can be found at most automotive shops around you. Remember it doesn't hurt to ask!
Items you will need:
1.
Sandable primer(Preferably black)
2.
Dupli-colour High Gloss Black(Acrylic enamel works wonders)
3.
Dupli-colour High Gloss Clear(Again try to get the Acrylic enamel one)
4.
320/800 grit wetordry sand paper(can usually pick up in a variety pack from 3M)
5.
320 grit sanding sponge(Highly recommended for getting the inner curves and contours of the grill easier)
6.
Dupli-colour wax and grease remover prep(doesn't have to be Dupli-colour, just as long as it wont leave a residue on the surface)
7.
Automotive masking tape(sticks to the surface better then painters tape)
**Scotch tape masking tape will work too**
*Optional supplies*
1. 1000/2000 grit wetordry sand paper
2. Rubbing compound
3. Micro-fiber cloth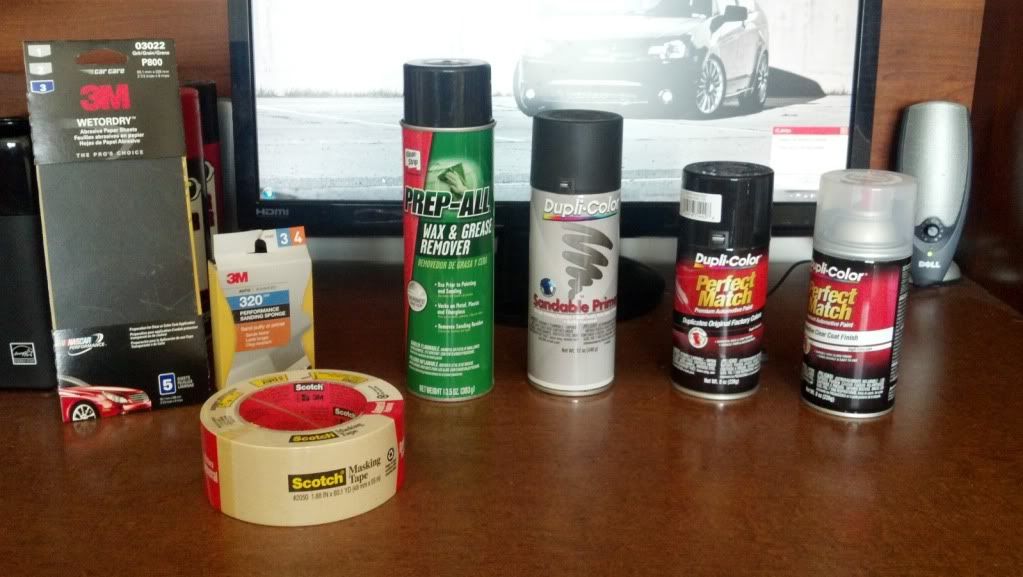 Now that you have your supplies, lets begin.
Step one:Removing your grill
Remove your grill from the car. To do so, open your hood. You will see 4 plastic retainers on top of the grill, remove these with a flat head screw driver. Then pull up on the plastic gently to remove the second part.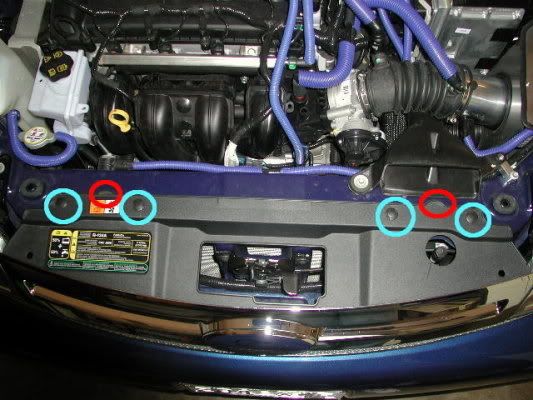 Photo belongs to BradWhite from his thread how to remove headlights.
How to Remove 08 Sedan Grille / Headlight
Okay, now there are 2 hooks on the bumper holding the grill. Gently push down on the bumper where these hooks are located while at the same time pull the grill forwards. Use a flat head for this if need be, be careful not to gouge your bumper!
Step two:Cleaning your grill
Now that you have your cars grill in your hands, take your Painters Prep(Wax and grease remover) and wipe down the entire grill very thoroughly, get all the nooks and crannies. If you take your time in the first few steps, I promise it will pay off at the end.
Step three:Masking your grill
This step doesn't have to be done, but is recommended to save you time. You will want to mask of the black parts of your grill, unless you want to take the time to clean the honey comb part. It is a good idea not to paint over the safety warnings on top either. Be sure to not have any tape touching the chrome! Once painted when you remove this tape it will take some paint with it.
Step four:Sanding your grill
This is the
MOST
important step to getting good paint adhesion! If you cut corners on this step it will show down the road, as paint will chip and peel easily. Take your 320 grit sand paper or sanding sponge and dry sand the finish of the chrome until it becomes dull in colour. It should resemble a brushed steel look if done right. If sanding a grill with Dark Chrome, then yours should look like the picture.
Step five:Cleaning your grill(again)
Yes you have already done it, but it's good measure to clean it again after sanding it, for the best adhesion.
Step six:Priming your grill
Make sure to use long fluid passes with the paint can. Start off the grill and end off of the grill. Start of with 2-3 light coats, your coats should look almost dry as soon as it contacts the grill. Let stand for 5 minutes a coat. Once dry, apply 1-2 medium coats. Your coats should have a wet look to them when applied, but they should not run or drip. Once it looks wet, leave it.
Remember to flip the grill 180 degrees to paint the underside!
Repeat the spraying process for the underside. Let the primer dry for 15 minutes.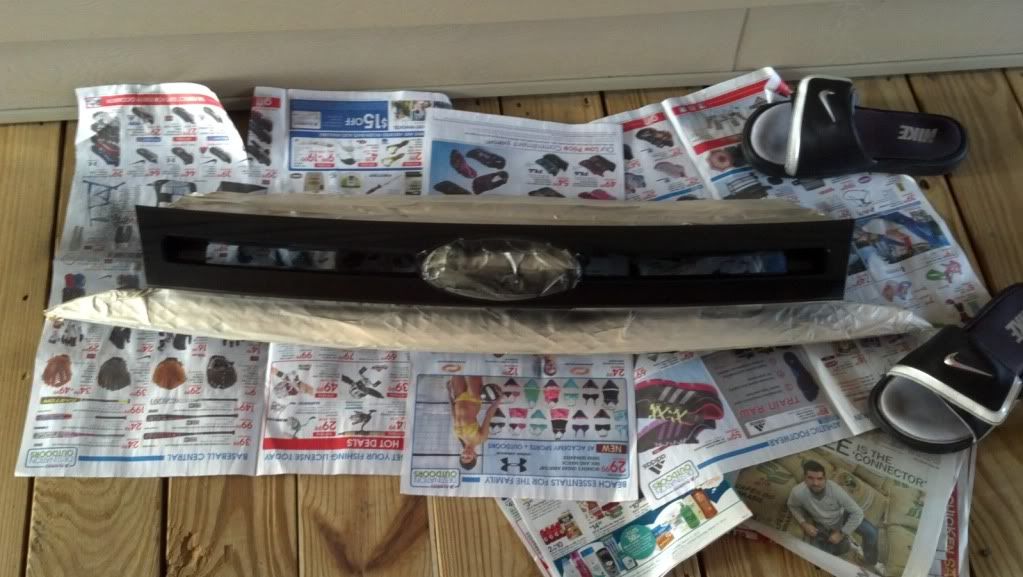 Step seven:Painting your grill
Now, don't worry too much about runs or drips as you are going to have to wet sand your grill anyways. For now focus on getting the entire thing covered in an even layer of paint. It's a little tricky to see where you have painted over the primer, don't worry, after 3 coats it will retain its gloss, compared to the flat of the primer. To start off, apply 2 light coats, spraying them evenly and try not to get drips or runs, but don't sweat it if you do. Let each coat dry 10 minutes. Apply a 3rd coat but thicker, it should have a wet look when applied. Let sit for 20 minutes. You need the paint to some what cure for the next step or else it won't turn out right.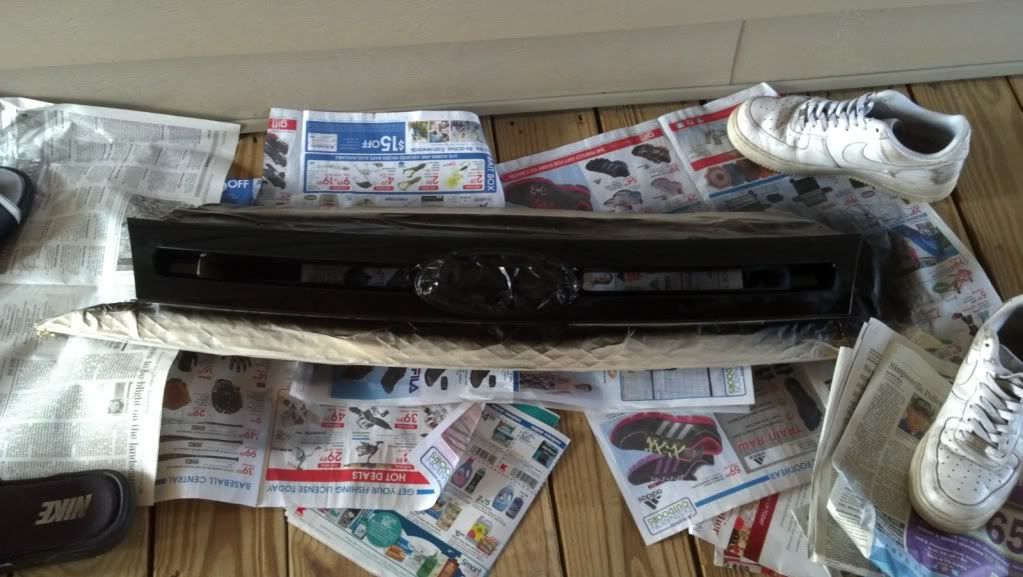 Step eight:Sanding your grill(again)
Now that your grill has dried for 20 or so minutes, get out your 800 grit wetordry sand paper and a bowl of water. Soak your paper in the water get it all wet. The goal is to knock off all the "high points" left over from the rough primer. So take your wet sand paper and begin rubbing it over your grill lightly, you don't need to apply much pressure for this. If you have some runs or drips you might need to use a little pressure. Be careful tho, you don't want to make a low spot in the paint. Remember to rinse the paper in your bowl of water ever so often to wash of the paint dust. Wipe down the grill with a damp lint free cloth to get rid of any paint dust.
Step nine:Clear coating your grill
You're almost done! Just a few steps to go before you can admire your work. If this step is done right you won't need to do anymore sanding or buffing. Just like with the other paint, you will need to apply some base coats first. So spray on 3-4 light layers of clear. They should look almost dry when applied. Wait 10 minutes to dry. Next apply 4-5 more coats of clear, you're going for a medium coat each time, it should look very wet when applied, if it doesn't it won't feel smooth when dry, it will feel bumpy. It is a big thing not to get any runs or drips in the clear. They are fixable but it will cost you time and money(have to use more clear coat). Let dry 20 minutes. If you have runs or drips take your 1000/2000 grit sand paper and wet sand the clear coat. Wipe off and repeat step 9 till it comes out smooth and glossy.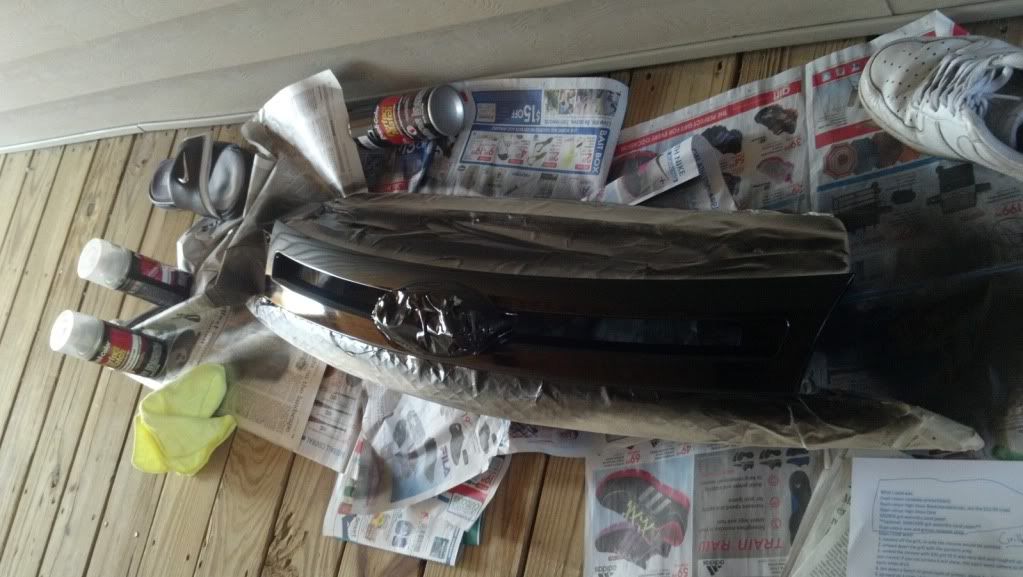 Step ten(optional):Buffing your grill
**Wait 3 hours after apply clear before doing this step**
So if you want a perfect grill that screams look over here, then do this step. Take your rubbing compound and micro-fiber cloth. Put some compound on your cloth and begin rubbing in small circles on your grill, make sure to get all the nooks and crannies. Once applied to your grill take a clean section of the cloth and begin buffing out the grill, making sure to buff off and compound left. Repeat as many times as you want to get your desired finish.
You're done! Now you have a sweet grill that will defiantly set you apart from others!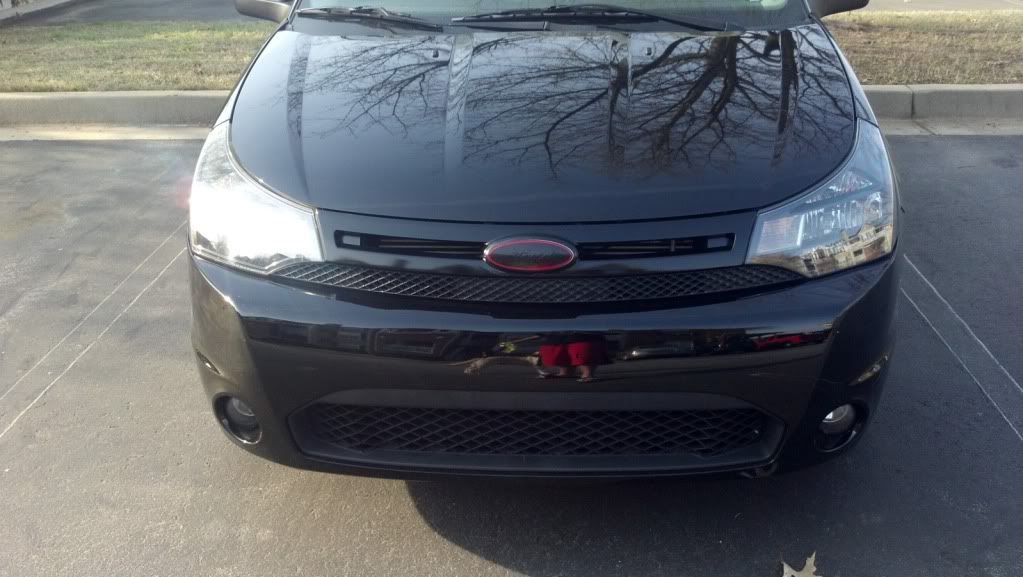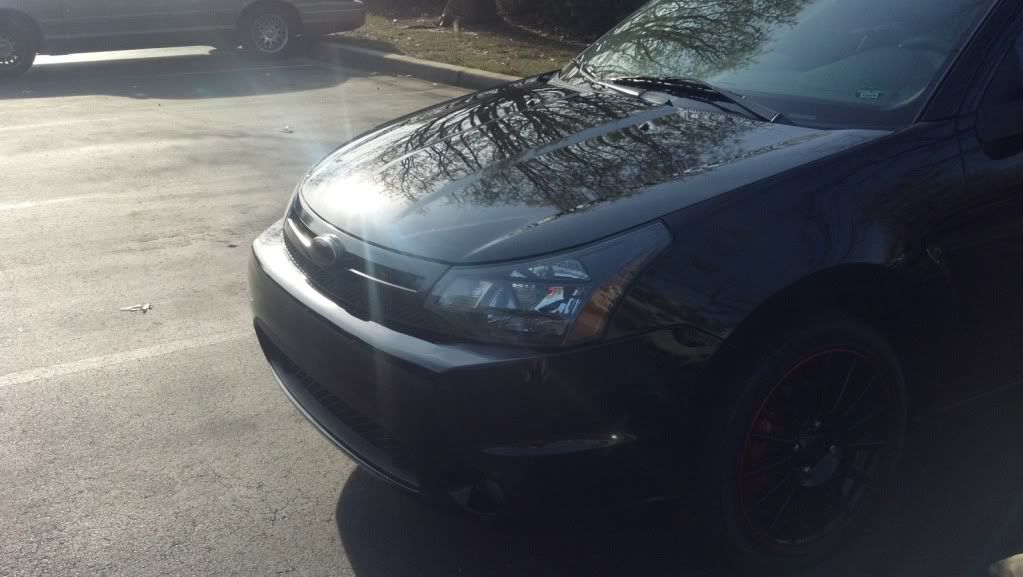 TritonX4's 2011 Black SES with Gloss black grill
A couple final notes. This is to see if people read first, but you can remove your ford emblem from the grill to save you the time and effort of masking over it. Flip your grill over and you will see two nuts attached to two plastic bolts. Removed them with an adjustable or a socket, your choice. Once removed carefully push on the plastic bolts until the emblem falls off.
To reinstall your grill, simply push the grill straight in. Then reattach the 2 piece retainers on top and you're all done.
I can't think of anything more to add at the moment but if I do, I will edit this post. Hope this helps people out there on FF!
Thanks again to TritonX4 for his step by step pictures!
Feel free to post pictures of your painted grill in here too!
My 2008 Ice Blue S with Gloss black grill