I did this along with my other mods and have decided to share, I figured yes it puts my car apart from the rest but i don't want to be stingy either. So, I'll share with other Foci members how to do this and mind you, the possibilities are endless with this mod, the amoutn of LEDs is up to you.
Supplies Needed:
Wire (i used 16 gauge but that was overkill, any gauge works though)
Wire strippers
Electric tape or Heat shrink tubing
LEDs w/resistor (your choice of color, amount and size I used two 3mm super bright blue)
Soldering iron with resin core solder (acid core works but as i found out its more of a pain and the fumes are horrible smelling)
Glue (to help make this stay)
Staple gun (just a generic, a regular stapler may even work)
To Take Off The Door:
Screwdriver and torx head bits (size unknown sorry, small... )
Extension and ratchet/socket set
Here Is The Result of this mod: (not including the door handles.. or the window panel, both of those are on another how-to)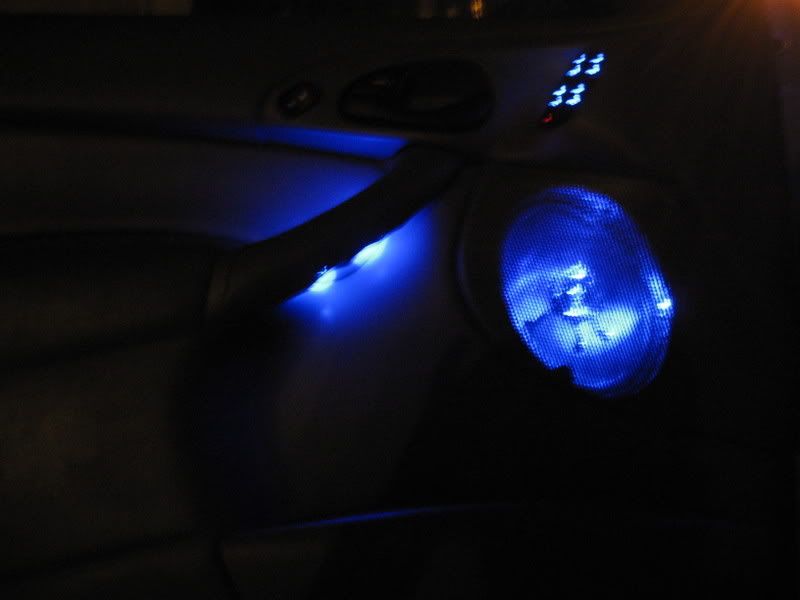 Here's How You Do It.
First off take off your door panels.. it's quite simple and there is a how-to around here somewhere if you need help.. however the short and easy explanation.. along the side and bottom there are torx screws, behind the door handle that opens the door there is one hidden and pop off the fixed door handle cover and there is two regular bolts in there(you'll need an extension
Ok now carefully disconnect everything from the door cover, you'll be using this to make some measurements.
Once it's off decide where you want you're LEDs to be places. i made it easy and placed them on the sloped side and top that way it's already half aimed.
Now that you have decided on the placement measure (doesn't need to be exact) the spacing so you know how much wire to cut.
Go inside and solder your LEDs in a series. It should go like this: (for 2 LEDs)
12v supply>>>>>>resistor>>>>>>+LED->>>>>>>+LED->>>>>>>Ground
With it soldered (AND COOLED .. I have to say it you know someone will burn themselves)insulate it as you wish.
Take that door panel and Carefully staple the lights and wires in place, taking care not to staple the wires together (shorting it out) if you want you can insulate the wires seperatly so you can pull them apart a little easier
(NOTE: DO THE STAPLING WHERE THE SPEAKER COVER ON THE FRONT SIDE OF THE DOOR WILL COVER THE LITTLE PRICKS OF THE STAPLE, IF NOT YOU WILL SEE THE STAPLES TRYING TO COME THRU)
Like so: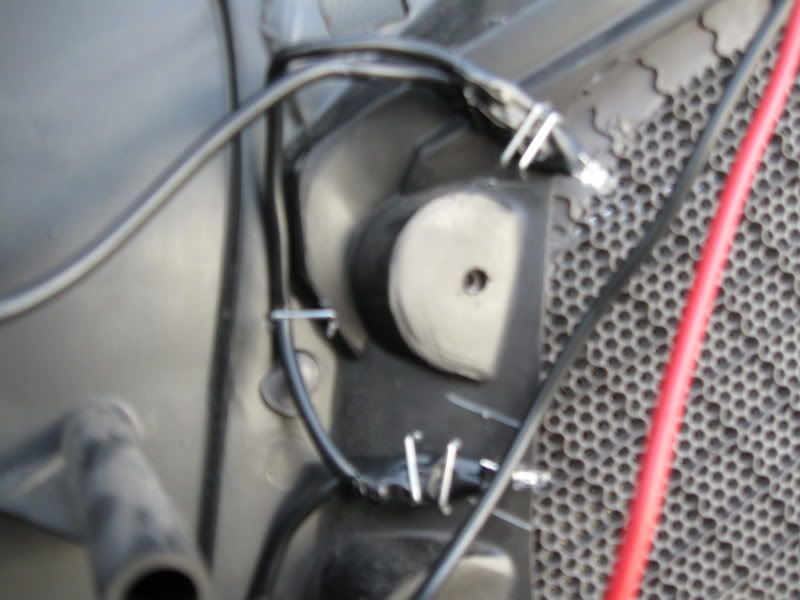 Now you are pretty much done. If you did this right you ill be able to aim the lights later once you have them powered. I just took off the little cover where the window buttons are and use a long flathead screwdriver to aim them after the sun went down, be gentle with them but they will bend around a little.
Also if you want to ensure the staples and wires hold in place use a dap of superglue (i used gorrilaglue) on the staples to hold them once dry.
If you want to know how to power them.. look for my other How-To i will be posting shortly after this one.