I know, what I'm worrying about is that there won't be much light passing through the blue tape. Now I'm figuring, lets say the blue tape is too dark and not enough light is passing through. I can possibly wet sand it a little bit with very fine sand paper, but I don't think that will work too well. I'll test that out before I actually put it on. Now I also though, its not bright enough, put on a more powerful light!!
What I was wondering, what wavelength does the white LED cover? Remembering my physics, if it is a broad spectrum, the it does indeed include both the red and blue colors. This way I'm thinking, I replace the standard bulbs with high intensity white LEDs, put on the blue tape and leave on the red tape for the km/h. This way I get it all.
If anyone wants to be my ginny pig I would appreciate it. In the meanwhile, I'm going to look where I can find blue transparent tape, and I have access to ultrabright white LEDs so I can test it before I actually disect my car.
**EDIT
**
Ah I found on ebay I think what I'm looking for. Honestly it looks like the same thing. It is non adhesive which I may be more comfortable with actually. It probobally is the same company as well. What makes me feel more comfortable buying this is that it says people have used it on their gauges and it shows a picture of one.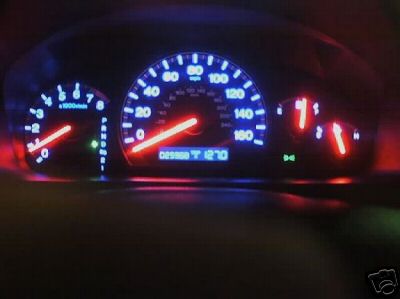 Think its real? Think if I do it, it will turn out this good?